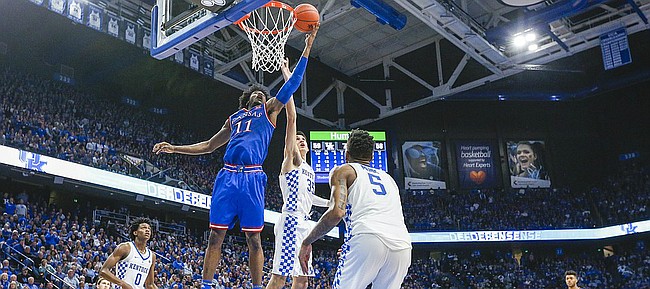 Lexington, Ky. — It was a wild and taxing week for the Kansas men's basketball team, which lost for just the second time all season and endured a string of off-the-court news that threatened to steal the team's focus.
But the week ended with the second-ranked Jayhawks walking into hostile Rupp Arena on Saturday night and walking away with a thrilling, 79-73 victory over No. 4 Kentucky.
"I thought it was great," said KU coach Bill Self when asked about his team's focus. "I think our focus was pretty good (Friday), too. When some things hit, it, obviously, is a punch in the gut and, naturally, you're gonna be distracted. But I think our guys feel good about each other and I was really proud of 'em.
"That (off the court stuff is) not gonna go away immediately. But it's nothing for these players to hang their heads about. The train doesn't stop moving. You still gotta do your job and perform and nobody cares what the excuses are. I'll deal with that more than anybody else. That responsibility's on my shoulders and not theirs."
Noticeably giddy when the final horn sounded on the season's second win over one of college basketball's traditional powers, the Jayhawks themselves said their minds were fixed on basketball and little else from the moment they woke up on Saturday until the time they left Rupp Arena.
"We forgot about that until you just asked," said senior point guard Frank Mason III in a matter-of-fact manner. "Coach tells us focus on the things we can control and I think we do a pretty good job with that and we just have to do that moving forward and not get distracted by anything."
Added freshman Josh Jackson, who said basketball provided a welcome escape from the program dominating headlines for other reasons this week: "No matter what's happening off the court, basketball, when we're out here, it's always our main focus. And I think everybody did a really good job of just staying focused today."
Sophomore forward Carlton Bragg Jr., who was suspended late Thursday night for a violation of team rules that Self said was not related to the reported rape at the team's on-campus dormitory in December, did not make the trip and no update was given on his status.
Regardless of when, or even if, Bragg returns, Self said he was impressed by his team's approach and resolve in a tough place to play.
"Sometimes when you're a little bit depleted, a lot of times that creates more focus," Self said.
Jackson's shot falling
The Jackson Five is already taken, but the Jackson Three has a nice ring to it.
Kansas' victory was sparked by a pair of 3-point swishes from freshman Josh Jackson, who, for the third game in a row, made a big impact with his outside shot.
"Josh's two 3's to start the second half took the lid off and we were pretty good from there," Self said. "He's made eight his last three games, at above 50 percent. I think that's an area that's getting better and, of course, if he makes shots then you gotta guard him. That's something he's worked hard on and I think it is evolving nicely."
Said Jackson of his game-changing triples: "I find times where I'm in practice shooting with the guys and they're all making threes and it gets kind of contagious a little bit. I kind of opened it up for us a little bit. It got kind of contagious."
AAU atmosphere
With so many high-profile players on the floor, Las Vegas-style hype filling the building and the fact that neither team really lost much no matter what the outcome was, Self said the game had an AAU feel to it.
"If you go to an AAU tournament, it's kind of like the showcase game," Self said. "If you win or lose it doesn't matter because it doesn't affect the bracket. And that's kind of what I thought about this game. Of course, I know it means a lot to the fans of both schools and there's a lot of tradition on the line."
That tradition, which has been well documented, certainly meant something to the Kansas players.
"Statistically, it didn't mean anything more than any other win, but pride for us," freshman Mitch Lightfoot said. "We were fighting for each and we were fighting for our coaches and we were fighting for all those fans back home. We wanted to get a 'W' for everyone. And it was kind of cool to have it happen how it did."
Kentucky still leads all of college basketball in all-time victories, with 2,222, but Kansas crawled one game closer and now has 2,205.
Guinness World Record
The featured attraction in a night full of all kinds of pregame and in-game hype and excitement was the Kentucky crowd's attempt to break the Guinness World Record for loudest indoor crowd in history.
Gunning for the Sacramento Kings' record of 126 decibels, set in 2013, Big Blue Nation topped that mark thanks to the efforts of 24,418 screaming fans.
The record breaker came just before tip-off, when the crowd reached a verified level of 126.4 decibels.
This and that...
Kentucky's lead in the all-time series with Kansas dropped to 22-8, including a 7-2 mark in Lexington.... The Wildcats lost for just the fourth time under John Calipari in games which they led by 10 points or more and now have lost back-to-back just eight times in seven seasons under Calipari.... The Jayhawks improved to 5-1 this season in true road games and 9-2 in games away from Allen Fieldhouse.... KU is 3-1 all-time in the SEC/Big 12 Challenge and has won two straight over the Wildcats and two straight in Rupp Arena.... Former KU coach Larry Brown attended Saturday's game.
— See what people were saying about the game during KUsports.com's live coverage.
---
More news and notes from Kansas vs. Kentucky
---