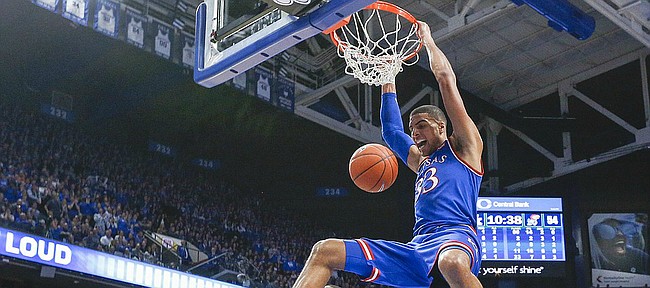 Lexington, Ky. — World-famous ring announcer Michael Buffer found the stage so big he even tweaked his trademarked slogan and said, "Let's get ready for roundbaaaaaaall!"
And 24,418 basketball-crazed spectators, most anticipating a slaughter that would send them home from Rupp Arena in a euphoric state, let out a roar.
The pre-game buildup centered on the celebrity coaches on both benches, the four McDonald's All-Americans in Kentucky's starting lineup and the one in Kansas', plus his senior teammate, the national-player-of-the-year candidate.
In other words, this was just a routine day at the office for Kansas fifth-year senior Landen Lucas, ever the plow horse among thoroughbreds, the unnoticed foundation holding up the magnificent mansion.
Photo Gallery
Kansas basketball v. Kentucky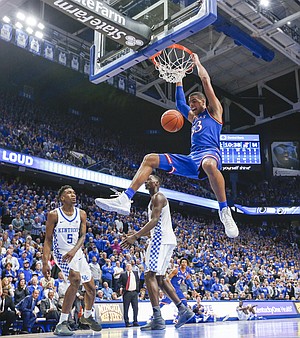 View a gallery from Saturday's blue blood matchup between the Kansas Jayhawks and Kentucky Wildcats at Rupp Arena in Lexington.
Not surprisingly, Lucas willed and wiled his way to a big second half to help Kansas defeat favored Kentucky, 79-73, Saturday in a game the Jayhawks trailed by 12 points in the first half.
No way Kansas had a chance of winning Saturday, not with freshman Bam Adebayo emerging of late for Kentucky with dunks heard 'round the college basketball world.
Lucas is more of a stealth enforcer. He didn't come out of high school with a nickname or much of a shot at developing into a pivotal player at a school that attracts NBA post prospects the way president attracts headlines.
Yet, there he was again, standing his ground, keeping at bay the more muscular, broader, longer, 20-sculpted-pounds-heavier Adebayo, who looks about five years Lucas' senior instead of four years younger.
Even with Udoka Azubuike gone for the season and Carlton Bragg suspended, Lucas had plenty of help, from a coach who mixed defenses, playing a 2-3 zone and a triangle-and-two, along with his preferred man-to-man, and a forgotten reserve, Dwight Coleby, but in many ways Lucas was as important as just about anybody on the floor.
He finished with 13 points, made 6 of 6 field goals, had five rebounds, a block and a steal and didn't turn it over once.
Adebayo gave Kentucky 10 points and eight rebounds.
The number that best captured Lucas' impact: Kansas outscored Kentucky by 13 points in the 27 minutes Lucas played before fouling out. In the 13 minutes he sat, Kentucky held a seven-point advantage.
"Without Landen, I don't know where we would be," said Jackson, co-star of the game with Frank Mason. "He's just an amazing force down there. He really helps us out. Without him, I don't know who would have guarded Bam."
At that point, Mason interrupted: "I would have guarded him."
Podcast episode
Josh Jackson and Frank Mason break down KU's comeback at Kentucky.
It hasn't quite come to that, but if ever it does, Mason won't back up an inch. Mason and Lucas have been around long enough to know a 12-point deficit in the first half means nothing when stacked against the meaning of the next possession. Mason uses strong will, savvy and amazing athleticism to make plays that belie his height.
How does Lucas consistently get it done against bigger, faster, quicker, much louder talents?
"Just being in the right spots," Coleby said. "He's been playing so long, so he's one of the best sealers there is, so he knows how to get angles, just knows how to be in the right spot. I'm always asking him how he does it because I'm trying to learn how to do it too."
Intimidation doesn't enter Lucas' world because he has spent the past five years battling more athletic and skilled basketball players daily in practice: Jeff Withey and Joel Embiid blocked his shots. Perry Ellis tied up his feet with fancy footwork.
McDonald's All-American Cliff Alexander came on board to keep Lucas on the bench, but by the end of the season, when Alexander was suspended, Lucas started.
A year later, Cheick Diallo, MVP of the McDonald's game and so much faster and bouncier, was sure to plant Lucas right back on the bench. Didn't even come close to happening.
Good luck trying to find an event at a track meet in which Lucas could defeat Jamari Traylor, but Lucas eventually beat him out too. Hunter Mickelson had a much more natural knack for blocking shots and far more range as a shooter. He sat and watched Lucas play his spot.
Azubuike showed serious promise until a wrist injury knocked him out of the season in December.
Not to worry, one more McDonald's All-American stood taller in the talent department, but Carlton Bragg didn't make the trip and has been suspended indefinitely.
Lucas helped Kansas give John Calipari just his sixth loss in 135 games in Rupp Arena (Bill Self is 132-3 in his last 135 Allen Fieldhouse games) and when sent praise KU's way, you could see plays made by Jackson and Lucas dancing in his head.
"We don't normally lose here, but Kansas, you got to give them credit," Calipari said. "They came in here and all the plays they had to make in the second half, even when we made a run to make it close again, they were effort plays, too. They were tip-ins, they were grabs, they were second and third shots."
They were basketball plays made by a player who knows how to block out doubts and doubters as well as he does potential rebounders trying to gain advantageous position on him.
This was the perfect stage for the imperfect prospect and he didn't miss his shot at a slice of fame. In fact, he didn't miss a shot period.
— See what people were saying about the game during KUsports.com's live coverage.
---
More news and notes from Kansas vs. Kentucky
---