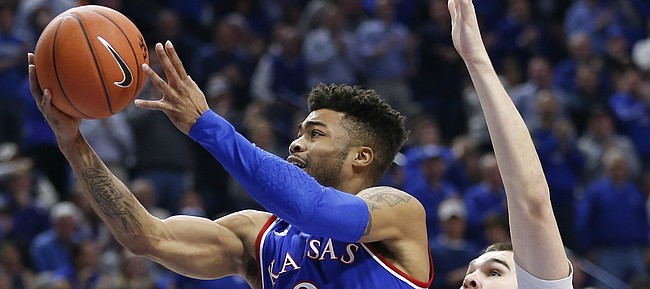 Two of college basketball's marquee programs gave a national audience a show worthy of the hype Saturday night at Rupp Arena, where a short-handed yet invigorated Kansas team recovered from its first-half issues to win 79-73 at Kentucky.
The usual Jayhawks carried No. 2 KU, which avoided the program's first back-to-back losses since 2013. Senior point guard Frank Mason III scored 13 of his 21 points in the second half, freshman Josh Jackson gave his team a 20-point, 10-rebound double-double, junior guard Devonte' Graham chipped in 12 points and seven rebounds and senior center Landen Lucas went 6-for-6 from the floor, with 13 points and five rebounds before fouling out.
Despite a slow start offensively, KU (19-2) shot 50 percent from the floor versus the Wildcats (17-4), who had five players in double figures, led by 18 points apiece from Malik Monk and Derek Willis.
Photo Gallery
Kansas basketball v. Kentucky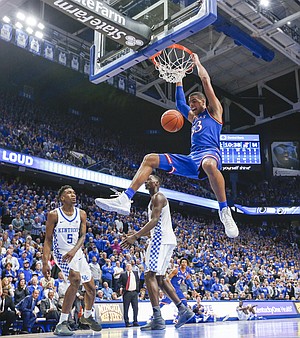 View a gallery from Saturday's blue blood matchup between the Kansas Jayhawks and Kentucky Wildcats at Rupp Arena in Lexington.
Here's a quick look back at some of the action:
• The game turned when: Kansas strung together an outburst of layups late in the second half in the midst of a Kentucky scoring drought.
Jackson set off the game-saving stretch by posting up inside, and tipping in his own miss. The next trip down the floor, Mason got his first 3-pointer of the evening to drop. Kansas scored again without a Wildcats answer with Mason dishing to Lucas for a layup. Graham ran the floor with Mason to put back a miss, and after Jackson drove to set up a Lucas bucket in the paint, KU had turned a one-point deficit with 8:13 left into a 10-point lead with 4:41 on the second-half clock.
The undermanned Jayhawks trailed by as many as 12 points in the first half, when they failed to connect on any of their eight 3-point attempts and were out-rebounded 21-15. But KU only trailed 32-27 at intermission thanks to a strong close to the first half and 10 points off Kentucky's 10 turnovers in the first 20 minutes.
Though it seemed borderline unfeasible when KU struggled offensively much oft the first half, the visitors actually took a lead shortly after halftime, thanks to back-to-back 3-pointers from Jackson. Those big baskets gave the Jayhawks a shot of confidence in a challenging venue, and Graham, Lucas and Mason soon followed with pivotal buckets of their own in a tight game between two of the nation's foremost teams.
Kentucky, of course, didn't go away quietly in the final minutes, but Jackson's hot second-half start and KU's ensuing resurgence allowed the Jayhawks to close a tumultuous week with a signature road victory.
• Offensive highlight: Thrown into the rotation with sophomore big Carlton Bragg out due to a suspension, backup junior forward Dwight Coleby triggered one of the better sequences of the first half for Kansas with some active hands in the middle of KU's 2-3 zone.
The 6-foot-9 Coleby poked the ball away inside when freshman guard De'Aaron Fox played loosely with it. In a matter of seconds, the Jayhawks were scoring — a rarity for KU in the first half of the blue-blood showdown.
Sixth man Lagerald Vick soon after had the ball in his hands and gave it up to Graham near mid-court before making a mad dash for the rim. The give-and-go worked flawlessly, as Graham lofted a pass toward the hoop and Vick flushed home a two-handed alley-oop, cutting the Kentucky lead to 31-27, the slimmest margin in more than 12 minutes.
• Defensive highlight: Active on both ends of the floor, KU freshman sensation Jackson propelled himself toward a huge night with timely defense.
Out of a timeout, with the Kansas offense in a first-half funk, Jackson swooped through a passing lane on defense to give his team a simple basket.
The 6-8 freshman took off with Fox's pass for a breakaway jam and a couple of KU's eight fast-break points in the first half, which cut Kentucky's cushion to 25-17.
• Key stat: Points off turnovers. Kentucky not only gave away the ball too often on its home floor, the Wildcats often did so in circumstances that directly led to points for Kansas. While UK only scored seven points off the Jayhawks' 12 giveaways, KU cashed in 21 points via Wildcats miscues.
• Up next: The Jayhawks will be back in Allen Fieldhouse after two games on the road versus top-25 teams. But KU will face another highly-ranked opponent, No. 5 Baylor on Wednesday (8 p.m., ESPN 2).
— See what people were saying about the game during KUsports.com's live coverage.
---
More news and notes from Kansas vs. Kentucky
---