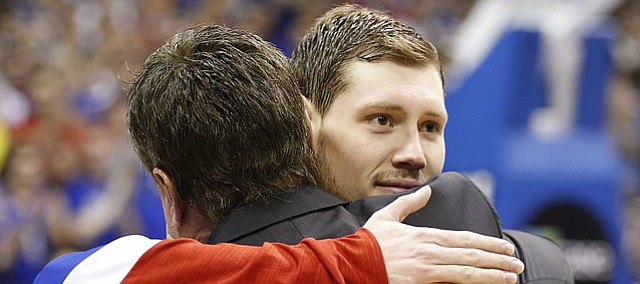 Before getting to the three senior speeches following Monday's wild, come-from-behind, 73-63 victory over Oklahoma at Allen Fieldhouse, Kansas coach Bill Self asked the crowd to give it up to "the rest of the team for their efforts and how they represented (you)."
And then, Self turned to two specific players and had a little fun.
"Devonte, wouldn't it be special to come back next year and do a senior speech," Self said to KU junior Devonte' Graham, who sat smiling under the north basket.
As if cued by the head coach himself, the fans then broke into a chant of "One-more-year, one-more-year," which only made Graham's smile grow.
Photo Gallery
Kansas basketball v. Oklahoma (senior night)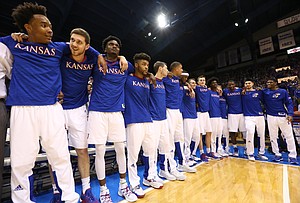 View a gallery of images from Monday night's game between the Jayhawks and Sooners at Allen Fieldhouse.
Self continued: "And Josh, I can't imagine you could have more fun anywhere than to come back here for three more years," he joked with freshman guard Josh Jackson.
To that, the fans responded with a different chant: "Three-more-years, Three-more-years."
It remains to be seen, of course, whether Graham and Jackson heed the wishes of the Kansas fans, but three players who definitely won't be coming back followed Self's comedy skit with heartfelt speeches of their own.
Quickly, a few highlights from each:
• Tyler Self:
To the crowd — "This university is not what it is without you guys. You bring it night-in-and-night-out and you've willed us to some wins. You guys are amazing."
Podcast episode
Following a long Senior Night at Allen Fieldhouse, Kansas basketball coach Bill Self takes questions from the media regarding KU seniors Frank Mason III, Landen Lucas and Tyler Self, and gets into how the Jayhawks recovered offensively down the stretch to top Oklahoma.
To Andrea Hudy — "You took a 150-pound scrawny white kid and turned him into a 175-pound scrawny white kid."
To Coach Self — "Dad. You gave me the opportunity of a lifetime. I got to live out a dream and I'm so grateful for it.... The thing that I respect the most about you is that every player that comes here leaves a better person."
• Landen Lucas:
To the crowd — "Coach gave us all about five minutes to talk, but my mom told me not to listen to him, though... I want to thank you fans and I love how passionate you guys are about this school."
To KU staffers Brennan Bechard and Jeremy Case — "Those guys hung a banner, so don't hold back because we want to hang a 2017 banner up there."
To Coach Self — "I remember when I first got here he told me this was going to be the only night I start here, Senior Night.... You're such a great coach and I love playing for you."
Parting words — "This is not really the last goodbye because we want to come back here with a national championship to celebrate."
• Frank Mason III:
To his family — "I love you guys so much. Everything I do is for you. My son's here and this is his first game he's ever been to and I'm happy to have him here."
To Coach Self — "I can't believe that I got a chance to play (for) the best coach in the world, not just on the court but you teach us to become a better man every day and we thank you for those things."
To Coach Kurtis Townsend — Like coach Self said, if it wasn't for you I wouldn't have had a chance to play here. I appreciate everything you do and I love you so much and I thank you."
To his teammates — "I love you guys. The memories we have is something I'll never forget and I just want you guys to know I've got you guys' back for the rest of our lives."
To the fans — "I'm really sad that I don't have a chance to play here any more but I'll definitely get back in town a lot. If I had the chance to play four more years here, I swear I would."
Jayhawks No. 1
With just a week left to play in the regular season, Kansas climbed into the No. 1 spot in the country in both the Associated Press and USA Today coaches polls on Monday.
Following losses this past week by previously-undefeated Gonzaga and a Villanova team that so often this year has been ranked just ahead of KU, the Jayhawks jumped from No. 3 to the top of both polls.
KU received 58 of the 65 first-place votes available in the AP poll and 23 of 32 in the coaches poll.
Kansas is the sixth school to be No. 1 this season. The preseason No. 3 team in the country, KU spent three weeks at No. 2 in January, and was No. 3 in 10 of the previous 16 rankings. Kansas fell to No. 7 — its lowest rank of the season — following a Nov. 11 overtime loss to Indiana but defeated Duke in New York the following week and hasn't dropped out of the top five since.
This marks the 13th-consecutive week in the top three for the Jayhawks, who have been ranked first by the AP 64 times in program history and 25 times in head coach Self's 14 seasons in Lawrence.
This is KU's 109th week within the top five during the Self era.
Jackson does it again
For the second consecutive week and seventh time during his outstanding freshman season, Kansas guard Josh Jackson was named the Big 12 Conference Newcomer of the Week.
Jackson averaged 16.5 points a game last week and added eight rebounds and 4.5 assists while turning the ball over just three times in two KU wins.
Jackson's seven Newcomer of the Week honors tie him for the second-most in the 21-year history of the Big 12. The nearest Jayhawk with as many Big 12 weekly newcomer nods is guard Tyshawn Taylor, who earned four during the 2008-09 season.
Jackson's latest honor moved him past former Texas star Kevin Durant (six, in 2006-07) and within one week of tying former K-State standout Michael Beasley (eight, in 2007-08).
This and that...
KU now leads the series with Oklahoma, 146-66, including 16 consecutive victories at Allen Fieldhouse dating back to 1994.... Kansas finished the season 14-1 at home and is now 758-110 all-time at the fieldhouse, including a mark of 220-10 under Self.... KU now has won 15 Big 12 games for the second year in a row and fourth time under Self.
— See what people were saying about the game during KUsports.com's live coverage.
---
More news and notes from Kansas vs. Oklahoma
---