Bill Walton, enabled by a split screen, turned Saturday's broadcast from Austin into a long, strange almost unlistenable trip. Faye Dunaway and Warren Beatty had roles in the biggest blunders in the history of the Oscars, Hollywood's annual evening of self-worship.
On Monday, it was the Kansas basketball team's turn to trip all over itself. Carlton Bragg Jr. went in for a dunk and the front of the rim blocked it, sending him falling onto his back. Josh Jackson opened with a missed dunk and couldn't stop turning it over.
But you just knew it wouldn't last. Walton, Beatty and Dunaway, once great performers, are way past their prime.
The Jayhawks are just heating up, ready for the postseason. No way they were going to let Fearless Frank Mason's final home game end on the court where he arrived as the guard nobody else but Towson wanted, and immediately went to work at building higher hopes and finished as a Kansas legend.
Photo Gallery
Kansas basketball v. Oklahoma (senior night)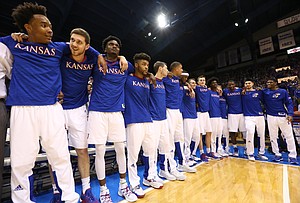 View a gallery of images from Monday night's game between the Jayhawks and Sooners at Allen Fieldhouse.
No way Devonte' Graham was going to let Mason's final Allen Fieldhouse memory be a bummer, so in a span of 1:57, he swished a trio of 3-pointers.
Jackson stopped turning it over, turned up the defensive heat, cleaned up on the glass. Lagerald Vick heated up from outside, making all three of his second-half 3-pointers, and Mason, Graham, Jackson and Vick used their quickness to apply full-court pressure that wilted Oklahoma's offense.
In his final game in Allen Fieldhouse, Landen Lucas did what he does, battling for position, starting fas tbreaks with outlet passes after eight defensive rebounds and two blocked shots.
Podcast episode
Following a long Senior Night at Allen Fieldhouse, Kansas basketball coach Bill Self takes questions from the media regarding KU seniors Frank Mason III, Landen Lucas and Tyler Self, and gets into how the Jayhawks recovered offensively down the stretch to top Oklahoma.
And then there was Mason doing what he almost always does, dominating down the stretch with relentless drives, runners and long jumpers.
Mason led Kansas from a 12-point deficit in the final 9:44, gift-wrapping another happy ending for the 16,300 spectators who watched him grow into a Kansas basketball giant over four years, such a winner that his coach, Bill Self, called him, "the best guard I've ever coached and the national player of the year."
Kansas finished on a 31-9 tear and Mason was the best player on the floor, giving the audience that included his son Amari, 5, a second half to remember. He scored 15 points, had five assists, two steals and one turnover in the final 20 minutes and finished the night with 23 points, six assists, three rebounds, three steals and a blocked shot.
"He was terrific down the stretch, as were Devonte' and Lagerald," Self said.
Opposing Big 12 players, especially the players who chase him around all night, speak of Mason in respectful tones.
"Very tough," Oklahoma's Kameron McGusty said. "I mean, he can shoot it, he can get to the basket, he's super-quick. I mean, it was very tough to guard him."
After checking out for the final time at Allen Fieldhouse with 12 seconds left, Mason cried as Self embraced him. Oklahoma coach Lon Kruger must have been crying tears of joy on the inside, knowing he won't have to face him again, unless the teams meet in the Big 12 Tournament.
"He's terrific," Kruger said of Mason. "Like Kam said, he can hurt you in so many different ways. He's become such a good shooter, and with a guy who's that quick and he can also shoot it, if you step at him at all, he can go by you. He's strong. He's got such good instincts on finishing, getting his body into you. He just knows how to play, great competitor. You add that all together, that's why he's maybe the best player in the country."
Mason's one of a handful of players with a shot at the Wooden award, which is a handful more than the number of players who have grown more in four years than Mason did. Mason wears that number on his jersey, which one day will hang on the wall.
— See what people were saying about the game during KUsports.com's live coverage.
---
More news and notes from Kansas vs. Oklahoma
---