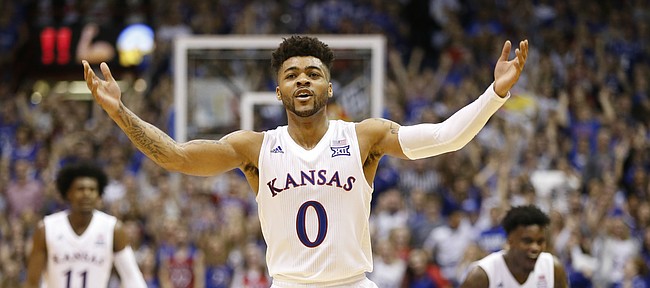 The West Virginia comeback it was not, but there sure were moments when it looked — and sounded — like it.
After a sloppy and sluggish 30 minutes of basketball against last-place Oklahoma, No. 1 Kansas woke up in a big way and buried the Sooners, 73-63, with a suffocating 31-9 surge to the finish line on Senior Night.
"I told our guys, 'We're running out of time,'" said KU coach Bill Self after the emotional night. "These guys are confident, but I think they think that, whatever the situation, they can flip the switch, which is a bad trait. You get behind like this in a game that really matters and you may not and probably can't.... But defense sparked it, and we could run in transition and, when we ran, we were pretty good."
The wake-up call that came just in time improved Kansas to 27-3 overall, 15-2 in Big 12 play and set the stage for three Senior Night speeches from Landen Lucas, Frank Mason III and Tyler Self that would not have been the same had Kansas not found its footing in time to avoid what would have been an embarrassing and difficult-to-swallow home loss.
Photo Gallery
Kansas basketball v. Oklahoma (senior night)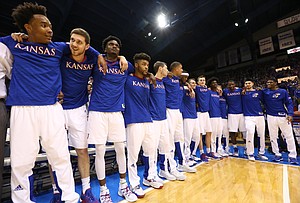 View a gallery of images from Monday night's game between the Jayhawks and Sooners at Allen Fieldhouse.
"I don't think I would've even wanted to give one if we had lost," said Lucas, who finished with eight points, eight rebounds and two blocks in 28 minutes.
The victory marked KU's 34th consecutive win in its home finale, dating back to the 1983-84 season and may not have come had it not been for Lucas and fellow-senior Mason, who combined to bookend KU's run with spectacular and subtle plays that ignited the Kansas comeback.
The first play came after a miss by OU, when Lucas fought to quickly gather the rebound and fired a bullet of an outlet pass to Mason, who drove hard to the rim for a three-point play. Later, with KU suddenly leading 69-62, Mason broke the defense down and floated a lob to Lucas, who finished with a two-handed slam.
Podcast episode
Following a long Senior Night at Allen Fieldhouse, Kansas basketball coach Bill Self takes questions from the media regarding KU seniors Frank Mason III, Landen Lucas and Tyler Self, and gets into how the Jayhawks recovered offensively down the stretch to top Oklahoma.
It wasn't always so pretty. In fact, Self, forever looking at things through a coach's eye, joked about an overall bad night being viewed through crimson-colored glasses because of the outcome, and Senior Night festivities predetermined smiles for everyone.
"That's about as poor as I think we've played," Self said of the first half before adding, "(The) halftime talk was so good that we go from being tied to down 12."
After an ugly first 20 minutes that saw the two teams tied at 28 at halftime, Oklahoma (10-19, 4-13) opened the second half right where it started the first — by scoring at will and forcing Kansas into some ugly and uncharacteristic mistakes.
Down 12 midway through the second half, the Jayhawks woke up and started competing as if they hadn't already won the Big 12 title and something truly was on the line.
Of course, at Kansas, especially in Allen Fieldhouse, something is always on the line, and it was the pride from the players on the floor and the mind-numbing noise from the fans in the stands that helped Kansas make their run.
"We just got the No. 1 ranking in the country and I think we were playing for that most of all tonight," said senior Tyler Self, who started and played three minutes before enjoying a late curtain call in the final seconds. "We don't want to lose that the first night having it. That's something we want to keep for the rest of the year."
More spurts like the final eight minutes and it might just happen.
First was a layup from Mason with 9:40 to play. KU's leading scorer struggled to shoot the ball all night but scored when he needed to. On the ensuing inbounds pass, the Jayhawks flashed a little pressure, a la the West Virginia comeback from 14 down in the final 2:58, and Mason came away with a steal and immediate assist to sophomore Lagerald Vick (11 points) for one of his three 3-pointers in three attempts. That pulled the Jayhawks within four, at 56-52, and sent the Fieldhouse faithful into a frenzy during the home finale.
From there, KU's defense stiffened even more, first forcing OU to call timeout on an inbounds attempt and, seconds later, forcing a five-second call.
"I wish we could pressure like that all the time," Self said. "You can't, playing that many minutes, but we certainly picked our spots and really, really guarded down the stretch."
Freshman Josh Jackson (11 points, 12 rebounds and 8 turnovers) followed up the tough "D" with a hard-driving, up-and-under layup down the lane and, all of a sudden, after a 14-4 run, KU trailed by just two, 58-56 with 6:50 to play.
Digging even deeper into its bag of tricks, KU forced a shot-clock violation on OU's next possession and then got back-to-back 3-pointers from Devonte' Graham (16 points, 4-of-8 from 3) in the corner opposite of KU's bench to blow the roof off of things and give Kansas a 62-58 lead.
A Mason bucket after another KU stop put Kansas up six and pushed the knockout run to 22-4, from trailing 54-42 to leading 64-58.
From that point, things were merely a formality and Kansas cruised to an easy-on-the-scoreboard victory as fans serenaded Mason with chants of "M-V-P, M-V-P" in the final home game of his career.
"That's all great," said Mason, who led KU with 23 points and six assists. "But, with me, it's all about the team. I'd rather win a national championship than be named player of the year."
Kansas will close the regular season at 5 p.m. Saturday at Oklahoma State.
— See what people were saying about the game during KUsports.com's live coverage.
---
More news and notes from Kansas vs. Oklahoma
---