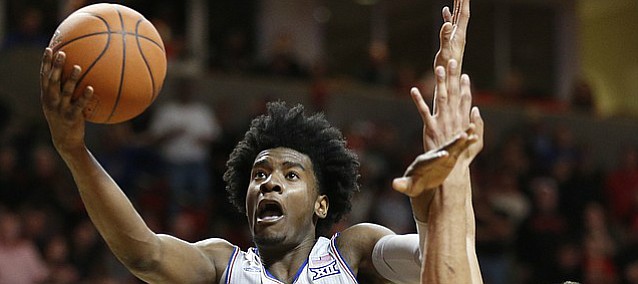 Lubbock, Texas — Josh Jackson arrived at Kansas with a sophisticated basketball mind and perpetually revved motor, but in the months of November and December he flashed teenager moments.
He quickly gained a reputation as a hothead with referees, who slapped him with technical fouls to show who's boss. At other times, he charged full speed ahead right into a defender who already had established position.
He was a teenager then. He turned 20 Friday and said he felt older when he woke up.
Nothing about the way Jackson took over the game Saturday afternoon in United Supermarkets Arena and led Kansas to an 80-79 victory against Texas Tech had a trace of teenager to it.
Photo Gallery
Kansas basketball v. Texas Tech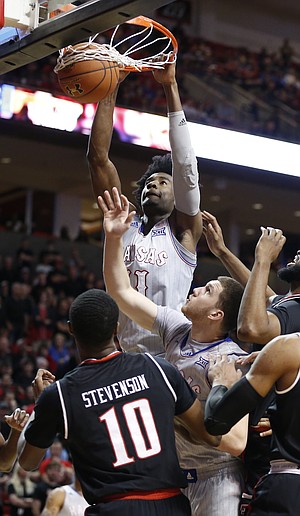 View a gallery of image from Saturday's game between the Jayhawks and Red Raiders in Lubbock.
Freshmen do grow up and Jackson played very much like a senior on his way to a long NBA career.
He played all of about 20 seconds, didn't get whistled for a single charge against a team skilled at drawing them, had the ball in his hands a ton and committed just one turnover on his way to a 31-point, 11-rebound, four-assist masterpiece on 12-of-15 shooting.
The 13,806 spectators saw him at his very best and will think about the game when they're channel surfing and stumble on an NBA game a year or 10 from now.
Afterward, Texas Tech coach Chris Beard was rightly proud of his experienced players for doing what they did to slow down Frank Mason, win the battle of the boards, and turn it over just twice in the second half.
Podcast episode
Bill Self on Josh Jackson's big day and KU's one-point win at Texas Tech
Deeply impressed would be the best words to describe the Tech coach's take on Jackson.
"I thought about asking him after the game, 'Hey, Jackson can I borrow a couple hundred dollars? I'll pay you back next year when you're in Lubbock,' 'cause he's not coming back to Lubbock," Beard said.
True. Chances are, Jackson won't ever step foot back in Lubbock.
The same can be said for the rest of KU's one-and-done players regarding Lubbock. But Jackson does set himself apart in this respect: There never has been one who unpacked his bags to the same extent as Jackson.
No one else quite ranks with him in terms of both giving and receiving as much from the experience as Jackson.
Joel Embiid, more raw than Jackson when he arrived, improved at a more rapid rate, but injuries ended his season prematurely. Andrew Wiggins in many ways seemed to approach his stay as a layover on the way to the NBA.
Xavier Henry brought a good attitude and grew his game, but doesn't have the athleticism or quite the same motor as Jackson, and wasn't as ready for the jump to the NBA.
Jackson's been all in from Day One and it shows in how steadily he has improved the past three weeks.
With a game so advanced in so many ways, it was easy to forget he was a teenager when his competitive spirit and pumping adrenaline would get the best of him. But he was a teenager and teenagers by definition sometimes do things that experience teaches them to count to 10 before doing again.
"From where he came earlier the year, he plays so hard, he's competitive, it took him a while to kind of understand college officiating, but now he acts great on the floor," Beard said. "He acts like a pro. He lets the game come to him. From where I was sitting, I don't think he forced one shot."
Good point. Nothing about the freshman's 40 minutes seemed forced.
Jackson drove hard to the hoop early for points and when the lane became clogged, he stayed under control and found open shooters in the corners, again making me think that point guard one day could become his long-range NBA position. One beauty to his approach is that he never plays like someone auditioning for the NBA. He plays like a kid desperate to win to keep the court, and in this game he did so with Frank Mason on the bench, disqualified by five fouls.
Desperate to win, yet under control, a sign of growth.
"Josh is kind of a high-risk, high-reward player," Kansas coach Bill Self said. "His assists-to-turnovers (ratio) will never be 3-or-4-to-1 over the course of a season because he's going to take his chances, which we like, but today I thought he picked his spots really wisely."
The most entertaining spot Jackson picked to try an aggressive play came in the second half when he took a defensive rebound out of the sky, quickly wound up and fired an outlet pass that Devonte' Graham chased down and flipped back to Lagerald Vick for a dunk.
"I used to play quarterback back in the day," Jackson said. "No I'm kidding. I saw him open and just threw it. Landen makes that pass all the time. I just threw it and didn't really think about making a mistake. I think that's the biggest thing we've got to go out and do, just play with a free mind."
Jackson's been shooting with a freer mind and hit a nice free-throw line jumper off the dribble to stop a Tech run in the second half. He also made 2-of-4 3-point shots and has made 15-of-28 in the past seven games. If you thought Jackson had that kind of a 3-point shooting run in him, raise your hand. Now stare into a mirror at the face of a pathological liar.
Jackson's no longer a teenager, but is still a freshman, so he'll make mistakes here and there. But he's also really smart, so if and when he stumbles on the court and elsewhere, chances are good he'll learn from it, check his emotions the next time and let his brain take over.
After his best performance as a college basketball player, Jackson sounded sure he has room to grow during his Kansas career.
"Every now and then everybody's going to have a bad game or not play as well as they normally do, but I think there are definitely a lot of places where I can improve in my game," Jackson said. "Free throws is definitely one of them, ball-handling. I think if I get that under control and start doing better in those areas, I'll start to progress a little more."
Kansas needed him to be the best player in the game Saturday and he delivered, which was just good enough to escape Lubbock with a 22-3 record and solo hold on first place in the Big 12.
— See what people were saying about the game during KUsports.com's live coverage.
---
More news and notes from Kansas vs. Texas Tech
---