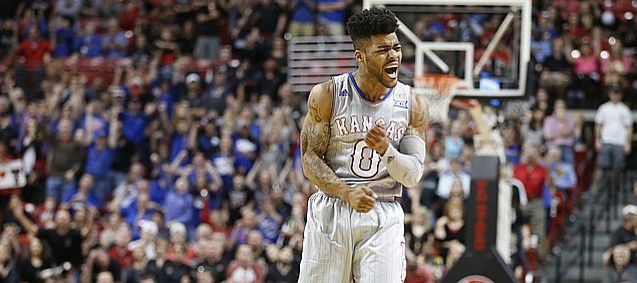 Lubbock, Texas — Battling an illness throughout the week but still able to practice, Kansas senior Frank Mason III gutted out a season-low 26 minutes to help No. 3 Kansas hold off a serious threat by Texas Tech, 80-79, on Saturday at United Supermarkets Arena.
Mason, who entered the day as the Big 12's leading scorer at 20.4 points per game finished an uncharacteristic 4-of-13 from the floor for 12 points, five rebounds, one steal, two turnovers and no assists. Eleven of those 12 points came in the second half, including a monster 3-pointer with 7:28 to play.
"Frank wasn't himself tonight and he was laboring," KU coach Bill Self said after the game. "He practiced the last couple days but he's dragging. He's dragging. We got about as much out of him as I thought we could today.... He still made a couple of big plays."
Photo Gallery
Kansas basketball v. Texas Tech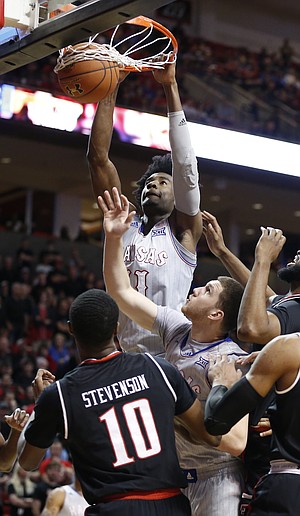 View a gallery of image from Saturday's game between the Jayhawks and Red Raiders in Lubbock.
Despite the rougher-than-usual day, Mason's teammates said they appreciated their point guard's willingness to lay it on the line for the team.
"It was big time," senior forward Landen Lucas said. "He's our leader and he knows that, so to come out here and play a little sick, with foul trouble too, that's a couple things going against him. He stepped up and made sure we came out of here with the win."
Added junior Devonte' Graham, who slid into Mason's spot whenever he was on the bench: "He's the leader of our team and we go when he goes and, once he fouls out, I just have to step up in his role and take over that leadership and try to help close the game."
Graham, with a huge assist from Josh Jackson and his 31 points, got that done, but Self said KU may have been fortunate to get the outcome it got given the production discrepancy between the starting guards.
Podcast episode
Bill Self on Josh Jackson's big day and KU's one-point win at Texas Tech
"Whenever our guards are going against guards and they (Tech's Keenan Evans and Niem Stevenson) get 47 and our guys combine for 20 or whatever, that's not a good day," Self said. "I think Devonte' and Frank and everybody on our team would tell you that Stevenson and, obviously, Evans, were better than us today. But our guys did find a way to get it done."
Lucas solid
Though he was disappointed with what he saw on the stat sheet in the first column he checks after every game — rebounds — Kansas senior Landen Lucas more than made up for his five-rebound performance with a solid offensive game.
Lucas finished 5-of-7 from the floor for 13 points and enjoyed moments where he took over the game, particularly in the first half when KU continually fed him the ball in the post.
"It ended up being part of the plan, after early on we saw we had an advantage," Lucas said. "In the second half we did it a couple times, but, really it was just get Josh the ball."
After the game, Self explained the situation that inspired the Jayhawks to take advantage of Lucas' 6-foot-10, 250-pound presence in the post.
"They played (6-8 forward Zach) Smith on Josh coming out," Self said. "So that put Landen on their 6-6 guy and he played good. Gotta make free throws, though."
Lucas, a career .643 shooter at the line, finished just 3-of-6 from the free throw line, including a big miss of a one-and-one situation in the final minute of a tied game.
Sneak peek at March
Shortly before KU's one-point win at Texas Tech on Saturday, the NCAA Tournament selection committee, for the first time ever, released an early look at the Top 16 seeds for the upcoming tournament.
Following the lead of college football, which tracks the standings for entry into the College Football Playoff during the final several weeks of the season, the NCAA elected to do the same to try to generate even more buzz for what is widely regarded as one of the greatest sporting events in the world.
According to the committee, Kansas entered the day as the No. 2 overall seed and earned a No. 1 seed in the Midwest region, which would finish in Kansas City, Mo. Defending champ Villanova was the No. 1 overall seed and the Wildcats joined Kansas, Baylor and Gonzaga as the four No. 1 seeds.
A lot can still change, of course, between now and Selection Sunday, which is slated for March 12.
This and that...
Kansas now leads the all-time series with Texas Tech, 33-4, including 16 consecutive victories and a 13-4 record in games played in Lubbock.... KU's 10th Big 12 victory of the season marked the 23rd consecutive season in which the Jayhawks have won at least 10 conference games.... Kansas is now 7-1 in true road games this season and 11-2 in games away from Allen Fieldhouse.... KU's victory kept the Jayhawks in sole-possession of first in the Big 12 race, one game ahead of Baylor, which defeated TCU, 70-52, on Saturday.
— See what people were saying about the game during KUsports.com's live coverage.
---
More news and notes from Kansas vs. Texas Tech
---