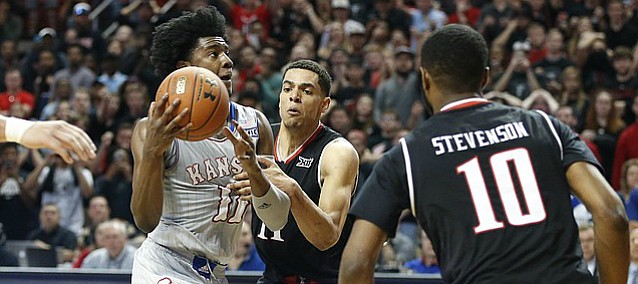 Lubbock, Texas — If Saturday was any indication of how the upcoming year of his life is going to go, Kansas freshman Josh Jackson is in for a heck of a ride.
One day after celebrating his 20th birthday, Jackson, who admitted he woke up "feeling a little bit old" on Friday, erupted for 31 points, including the game-winning free throw with 2.8 seconds to play, to help No. 3 Kansas sneak past Texas Tech, 80-79, at United Supermarkets Arena.
Despite building leads of as many as 12 points in the first half and 10 points in the second, the Jayhawks (22-3 overall, 10-2 Big 12) found themselves in a wild, back-and-forth nail-biter during the final 10 minutes of the game.
And just about every time the Jayhawks needed a play, it was Jackson who delivered, scoring 11 of his game-high 31 points in the final 10 minutes, including a four-point stretch that put the Jayhawks ahead 79-77 and set the stage for the final free throw.
Photo Gallery
Kansas basketball v. Texas Tech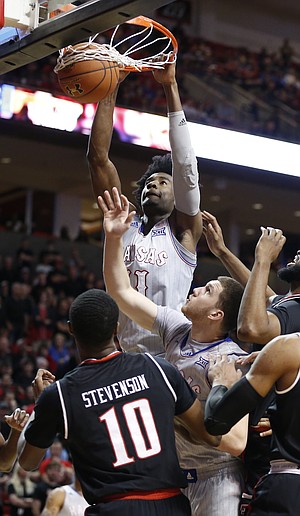 View a gallery of image from Saturday's game between the Jayhawks and Red Raiders in Lubbock.
After missed free throws by Landen Lucas and Jackson and a turnover and missed shot by Texas Tech (16-9, 4-8), which kept the score tied 79-all, Devonte' Graham grabbed a rebound with 15 seconds left and the frantic final seconds began.
"I told 'em just go score when we got the rebound, and wasn't gonna use it," Self said of KU's final timeout. "And then Devonte' hesitated and Josh, he was at halfcourt, so I figured we better use one. I drew up a crap play in the first (timeout), which I guarantee wouldn't have worked, and then we kind of got a break because (Tech coach) Chris (Beard) called one right after that and we changed it and said, 'Heck with it, just give the ball to Josh and get out of his way.'"
Podcast episode
Bill Self on Josh Jackson's big day and KU's one-point win at Texas Tech
The first play, which involved a down screen and a hand-off, also was called for Jackson, but Self said he thought it would've taken too long to develop and would've put Kansas in jeopardy of blowing through the final 5.4 seconds without a good shot. So in the redesign, Self called for a screen to free him and the inbouds pass from sophomore Lagerald Vick to go directly to Jackson. The play worked to perfection and Jackson was eager to credit Lucas after the game.
"I think the play that made the game was the screen that Landen set to get me open," said Jackson of a ferocious pick that leveled Tech's Justin Gray and forced Zach Smith to defend Jackson with a running start. "It was an amazing screen and that's what won the game for us."
After the game, Beard said he thought the screen that led to Jackson's game-winning free throw could have set up a much different finish.
"I didn't get a great look at it," Beard said of the decisive play. "I don't know; I thought there was an illegal screen to get him open. That's why we called a timeout. When we saw the setup we knew that screen would be there, so I told Justin, 'Don't flop. Respect the game. Play the game. But if you get hit, take the hit.'
"So I was disappointed we didn't get the call. But it's not an excuse, it's just what happened. You asked the question, I'm answering. Then with Jackson, he's just a special player, one-on-one. He just made a move and Zach had to make a play. It's either let him lay it in or make a play. But I didn't have a great look at it. Those were three good officials today. I thought they called a nice game."
Lucas agreed with that last part and said he thought the screen was clean.
"A hundred percent," Lucas said. "I was set the whole time. He just ran into me."
That's how it will go down in the history books and the Jayhawks certainly will take it, especially on a day when leading scorer and team leader Frank Mason III played through an illness and fouled out with 3:05 to play.
"With Frank being a little under the weather and fouled out, I just had to come out and make a couple extra shots," Jackson said of his career-high night that came on 12-of-15 shooting from the floor, 2-of-4 from 3-point range and 5-of-7 from the free throw line.
Of Jackson's final free throw, which came after missing the first of two shots with 2.8 seconds to play — his second free throw miss in the final minute after making his first four of the day — his teammates said they knew he would make it and Jackson did his best to follow their lead.
"It was a big moment in the game, of course," he said. "But after I missed the first one, I just tried not to think about missing it too much.... I just kept telling myself to knock it down and that's what happened."
It was evident from the jump that Jackson was poised for a big game. He looked locked in defensively, was aggressive on the offensive end and hit the glass on both sides to pace the Jayhawks in the early going.
He scored KU's first six points on 3-of-3 shooting and added two rebounds, including a dunk off of an offensive rebound to get the scoring started.
Jackson opened the second half much like he opened the first, playing fast, attacking the rim and finishing another monster follow-dunk of a Mason miss in transition that nearly brought down the basket.
After leading 34-22 late in the first half, Kansas took a 42-35 lead into the locker room. The Jayhawks opened the second half with an 11-6 run to reclaim a double-digit lead at 52-41 on Mason's first basket of the game with 15:45 to play. But 6:44 later the lead was gone and Kansas trailed.
The Jayhawks never got behind by more than four points in the final 10 minutes, thanks in large part to some big time work on the offensive glass by both Jackson and Lucas.
On one possession, with KU trailing by four with 7:30 to play, Lucas grabbed a missed three by Mason, kicked it out to Graham, who missed a three of his own, only to see Jackson grab that miss and fire back out to Mason who made good on his next try to pull the Jayhawks within a point.
"Those extra possessions are huge," said Lucas, who finished with 13 points and five rebounds in 30 minutes. "Especially at the end of the game."
From that point on, neither team again trailed by more than a single possession, and, instead of backing down from the big moment and letting someone else make or break the Jayhawks' fate, Jackson called for it.
"I asked him at the timeout, 'You want it?' He said, 'Yeah, I want it; that's a dumb question,'" Self recalled of the late-game conversation with Jackson. "And then he did a good job driving it downhill.... He played great. Offensively, we were gonna put the ball in Josh's hands regardless.... Josh kind of became our Frank down the stretch."
— See what people were saying about the game during KUsports.com's live coverage.
---
More news and notes from Kansas vs. Texas Tech
---