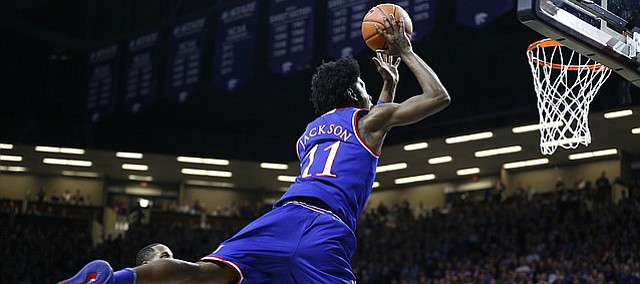 Manhattan — The play called for the ball to go to Josh Jackson in the post and it did, where two defenders quickly crowded him. Thinking and acting quickly, as is his way, Jackson whistled the ball to Sviatoslav Mykhailiuk for a wide-open 3 that he hit late to help Kansas score a 74-71 victory over Kansas State in a battle played in front of 12,528 rowdy witnesses. 
"Biggest shot of the game," Kansas coach Bill Self said of the Svi 3 that broke a tie with 2:34 left. Kansas led the rest of the way.
Jackson consistently does a nice job of finding Svi for open shots.
"He's really good at driving and kicking," Mykhailiuk said, and then thought about it. "He's really good at everything."
Photo Gallery
Kansas basketball v. Kansas State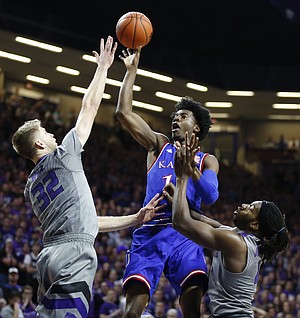 View a gallery of images from Monday night's game between the Jayhawks and Wildcats at Bramlage Coliseum.
Such as defending a variety of players, sometimes stripping the ball from them, other times stripping them of their confidence. Kansas State's 6-foot-10 forward Dean Wade aggressively hunted shots when Svi was on him and finished the night with 20 points on 8-of-12 shooting from the field and 3-of-3 from beyond the arc. He looked so confident, except when Jackson switched onto him. He looked to dish when that happened.
Svi is almost accurate in saying Jackson is "really good at everything." Even 3-point shooting now.
Self could have turned Jackson's green light when open from 3-point range to a red one, but he didn't. The coach nurtured the star's confidence. Jackson rewarded him for doing so. He has made 13 of his past 24 3-pointers and there was no one on the planet who could have predicted that.
Podcast episode
Kansas basketball coach Bill Self speaks with the media following the Jayhawks' 74-71 Big Monday victory at Kansas State.
Jackson came out for the second half and buried two quick 3-pointers on his way to an 18-point, three-steal night.
"It's all about confidence," Jackson said. "I always knew I could shoot, I just needed confidence and now I have it."
Except from the free-throw line, where he made just 2 of 5 Monday night.
"I do need to get better at that," Jackson said. 
Jackson has made just 16 of his last 34 free throws, an ugly reality that could lead to teams employing a hack-a-Jackson strategy late in games.
Just as Self didn't discourage Jackson from shooting open 3-pointers, he's not going to bench him late in games. He can't. Jackson does everything else so well that he can't afford to put someone else on the floor for him.
And just as Jackson turned himself into a way better long-range shooter, he'll figure out a way to make freebies.
Or is that a harder puzzle to solve?
"I don't think it's harder, but the one thing about shooting the ball from the perimeter, you don't have time to think about it," Self said. "Shooting free throws, you have 10 seconds to think about it. I thought tonight it was a little mental. But the thing about it, the one he made late was soft. I think he can make them. I think he will make them. We're not going to take him out to avoid him getting fouled. He's going to have to make them because the ball's going to be in his hands in late-game situations."
Jackson's too good a scorer, too skilled a passer, for it not to be in his hands and it can't be in his hands if he's at the scorer's table waiting to check back in to play defense.
Foul trouble is the other area on which Jackson needs to improve. He's done a better job at checking his temper, his early season technicals fading in the rear-view mirror.
Staying out of foul trouble is not as easy a challenge for a player who defends so aggressively.
He picked up his fourth foul with 9:56 left, sat out for more than four minutes and checked back in with Kansas leading by a point.
"I was going to keep him out for as long as I could as long as we kept the lead," Self said.
Excessive fouling will send Jackson to the bench and in fact limited him to 25 minutes in this one. Trouble shooting foul shots won't. He has a soft touch, so there is a path to becoming a decent free-throw shooter before long. The smart money says he'll figure it out quickly and that deficiency also will be in his rear-view mirror.  
— See what people were saying about the game during KUsports.com's live coverage.
---
More news and notes from Kansas vs. Kansas State
---