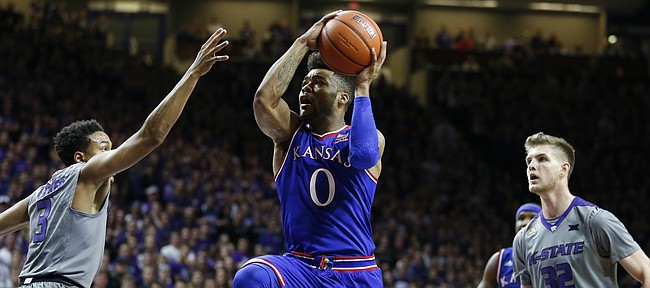 Manhattan — Playing on its rival's home floor at Bramlage Coliseum Monday night, the Kansas basketball team, coming off a rare home loss two days earlier, withstood a valiant second-half rally from Kansas State for a 74-71 victory.
The Wildcats, who trailed by nine early in the second half, came back to take a one-point lead with less than five minutes remaining. But Jayhawks senior point guard Frank Mason III wasn't interested in losing on his final visit to K-State. Mason scored seven of his 21 points in the final four and a half minutes — a stretch in which he also went Hollywood stuntman to dive for a loose ball, only to return to the court and steal it.
Devonte' Graham closed out the bounce-back win with four free throws in the final 30 seconds, and finished with 10 points, seven rebounds and a game-high six assists.
Freshman Josh Jackson, who scored 11 in the first half, finished with 18 after going through some foul trouble as the Jayhawks (21-3 overall, 9-2 Big 12) completed a season sweep of the Wildcats.
Photo Gallery
Kansas basketball v. Kansas State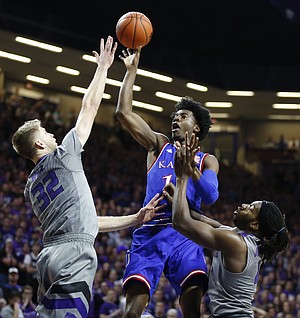 View a gallery of images from Monday night's game between the Jayhawks and Wildcats at Bramlage Coliseum.
Here's a quick look back at some of the action:
• The game turned when: The Jayhawks opened the second half with a strong offensive push, reminiscent of what they showed late in the first, following a slow start to the Big Monday clash and a 12-point deficit.
Kansas only led 37-35 at intermission. But that changed in a hurry with the help of Jackson. The dynamic 6-foot-8 freshman, who entered his first trip to Manhattan having made 11 of 21 3-pointers in KU's past five games, showed off his touch from downtown yet again. Jackson drained back-to-back 3-pointers, from the same spot on the left wing, in the opening minute after halftime.
Podcast episode
Kansas basketball coach Bill Self speaks with the media following the Jayhawks' 74-71 Big Monday victory at Kansas State.
A Landen Lucas dunk and a Mason jumper — after the senior guard struggled to score in the first half, shooting 3-for-11 — followed soon after, as KU made a 10-3 run out of the break.
K-State did what a solid team should on its home court and clawed its way back, but the Jayhawks wouldn't have stood a chance without their productive start to the second.
• Offensive highlight: KU's two-man bench connected in the first half for a crisp sequence in the midst of KU's offensive resurgence.
Carlton Bragg worked his way to a post up on the left block with K-State strong man D.J. Johnson checking him. Unable to put a move on the Wildcats' most physical interior presence to create his own shot, Bragg didn't panic or force a bad shot.
Instead, the sophomore forward saw fellow backup Lagerald Vick cutting from up top and hit the sophomore wing with a perfect dish for a jam.
The interior teamwork from an unexpected combination cut the K-State lead to 27-24, as the Jayhawks started rolling toward a strong close to the half.
• Defensive highlight: KU went for almost 28 minutes on K-State's home court without blocking a shot attempt. Then Dwight Coleby checked in for the first time.
Replacing Kansas starting center Lucas after he picked up his second foul, Bill Self turned to the seldom-used big from the Bahamas shortly after Bragg suffered a minor injury to his left ankle and was unavailable.
Five seconds after shedding his warmup suit, Coleby had a chance to make an impact. As Kamau Stokes drove in looking for a layup with his team trailing by seven in the second half, Coleby, who didn't play Saturday versus Iowa State, leapt up and at the K-State guard and smacked the floater out of the air.
Coleby returned to the bench after playing just one minute, but his cameo wasn't a waste.
• Key stat: Offensive rebounds. The Jayhawks struggled to finish half-court stops with defensive boards, and that allowed K-State to stick around once KU recovered from its bad start.
The Wildcats scored 21 points on 20 offensive boards. The Jayhawks could've made things much easier for themselves by matching their rivals' work on the glass.
• Up next: The Jayhawks remain on the road, and have a much longer trip ahead of them this weekend. KU plays at Texas Tech Saturday (1 p.m., ESPN or ESPN 2).
— See what people were saying about the game during KUsports.com's live coverage.
---
More news and notes from Kansas vs. Kansas State
---