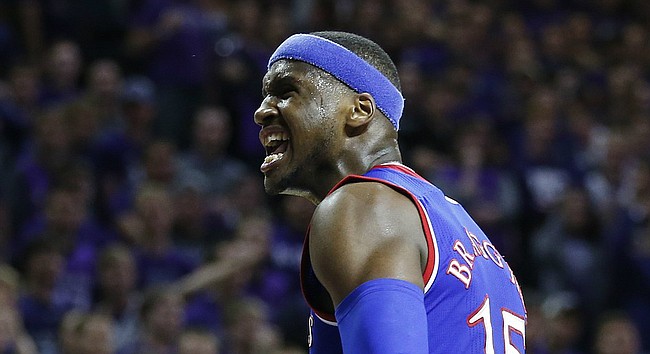 Manhattan — The three-game suspension served by Kansas sophomore Carlton Bragg Jr., officially ended Monday night at Bramlage Coliseum, 4:58 into KU's 74-71 victory over Kansas State.
That was when Bragg first checked into Monday's game after missing the last three games because of a suspension that stemmed from charges on possession of drug paraphernalia.
That off-the-court issue — Bragg's second of the season — ended with the 21-year-old Cleveland native being granted a diversion, and the Jayhawks are hopeful that it's what Bragg delivered Monday night, and not up to that point, that they will get the rest of the way.
In 13 minutes, the KU forward delivered six points, three rebounds and two assists while making 3-of-4 shots from the field and using his 6-foot-10 frame to disrupt the Wildcats inside.
"I thought Carlton did fine," said Self after the game, noting later that he felt the three-game suspension was enough. "I thought he gave us some great minutes the first half."
Photo Gallery
Kansas basketball v. Kansas State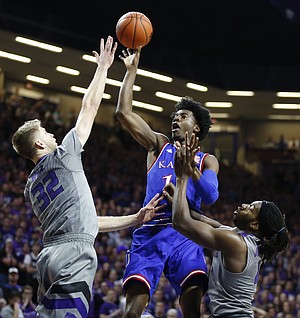 View a gallery of images from Monday night's game between the Jayhawks and Wildcats at Bramlage Coliseum.
Bragg's teammates agreed and said they were thrilled to have the former McDonald's All-American back in the rotation.
"Super big," KU freshman Josh Jackson said. "Guys don't really have to play as many minutes now, and I thought he played really good on defense, got a couple of big rebounds and did a little scoring out there, too. It's always good to have an extra guy come in and give you production."
Added junior Devonte' Graham: "Great to have him back. He gave us good energy, got some big buckets and played great on defense."
As for where Graham expected Bragg to take things from here, the KU guard sounded optimistic that more good days were ahead.
"All that pressure that was on him for this game, he kind of settled in and he'll be good and it's just nothing but up from here," Graham said.
Bragg injured his left foot or ankle midway through the second half but, after a trip to the locker room, returned to the game. Self had no update on his status after the game.
Kansas pride
For the second time this season, K-State sophomore Dean Wade delivered a monster game against the Jayhawks.
This, after struggling in three games against KU as a true freshman a season ago.
Asked for a reaction on why Wade presented such a mismatch for the Jayhawks, Self preferred to give Wade a tip of the cap.
"I don't know that there's been a mismatch problem," Self said. "I just think he's a good player. He's a Kansas kid playing against KU just like Perry Ellis was a Kansas kid playing against K-State.... He is a good player and he shot the heck out of it."
Podcast episode
Kansas basketball coach Bill Self speaks with the media following the Jayhawks' 74-71 Big Monday victory at Kansas State.
Wade, a St. John native, finished 8-of-12 from the floor, including 3-of-3 from 3-point range, for 20 points in 34 minutes.
Said Wade of facing the Jayhawks, "I think it means the same to the whole team. It was a big game and we were all ready for it. We had a lot of energy and emotions going into it. I think growing up as a kid and watching it, it means a lot to me."
Hostile environment
As expected, the Kansas State student section was seated and screaming more than 90 minutes before tip-off of Monday's game.
Known for their wild ways, loud jeers and clever signage, the KSU students had extra motivation on Monday night given the fact that the first meeting between the Sunflower State rivals ended with a traveling violation by KU's Svi Mykhailiuk that was not called. To that end, the KSU faithful brought out their traveling signals and dozens of signs referencing Mykhailiuk and the infraction.
Some of the best included: A list of Svi's likely pregame play list, which included seven songs that referenced walking or traveling in the title; a list of Svi's hobbies, which included walking the dog, long walks on the beach and traveling; a drawing of a referee uniform with the caption "Next jersey to be hung in Allen Fieldhouse"; and "Svi has more rushing yards than KU football #WalkChalk."
The K-State fans also chanted "Guil-ty, Guil-ty" at Bragg, Vick and other Jayhawks throughout the game.
"I'll be honest, the crowd helped us win the game," Self said. "There's no doubt about that. That's all we talked about was use their energy to give you energy."
Jayhawks still 3rd
Kansas held its spot at No. 3 in this week's Associated Press poll despite falling to unranked Iowa State at home last Saturday.
The Jayhawks, 20-3 overall and 8-2 in the Big 12, likely maintained their place in the top-three on the strength of their home victory over No. 2 Baylor last Wednesday. The Bears, who also lost to Kansas State over the weekend, fell just four spots to No. 6 and sit one game back of Kansas in the Big 12 race.
Unbeaten Gonzaga (24-0) remained No. 1 for the second week in a row and Villanova (22-2) jumped back into the No. 2 spot. The Zags received 59 first-place votes and 'Nova picked up the other six. Louisville (19-4) and Oregon (21-3) round out this week's top-five, while 13th-ranked West Virginia (18-5) joined KU and Baylor as the only Big 12 teams in this week's Top 25.
Iowa State (3) Oklahoma State (1) and Kansas State (1) each received votes in this week's poll.
This and that...
KU now leads the all-time series with K-State, 193-93, including a 77-47 mark in Manhattan and 25-4 record in Bramlage Coliseum.... Self improved to 29-5 all-time against the Wildcats while K-State coach Bruce Weber dropped to 2-11 all-time against the Jayhawks.... KU is now 6-1 in true road games this season and 10-2 away from Allen Fieldhouse.... KU has now won 21 games or more for the 28th consecutive season.
— See what people were saying about the game during KUsports.com's live coverage.
---
More news and notes from Kansas vs. Kansas State
---