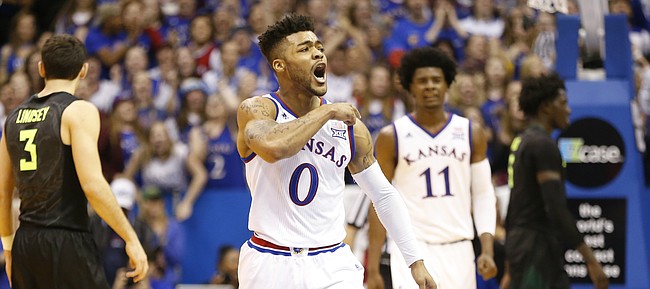 About 30 minutes after the third-ranked Jayhawks secured a 73-68 victory on Wednesday night over No. 2 Baylor at Allen Fieldhouse, junior guard Devonte' Graham found himself laughing while thinking back to a question posed by KU coach Bill Self to his team a couple of weeks ago.
"It's funny, because coach asked us if we would rather be down two with the ball or up two and have to get a stop (to win)," Graham began. "And a lot of us said up two and get that stop. That's what it was tonight. We were up three, but we just needed to get that stop and get the win."
Never had the Kansas defense looked better this season in doing it, as the Jayhawks played the part of a boa constrictor suffocating its daily meal during the frantic final 18 seconds, as the Bears desperately searched for enough daylight to try a game-tying 3-pointer.
It never came.
Photo Gallery
Kansas basketball v. Baylor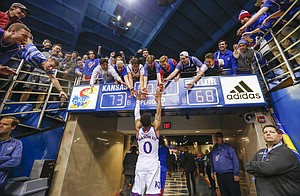 View a gallery of images from Wednesday night's game between the Jayhawks and Bears at Allen Fieldhouse.
With Frank Mason III hounding Baylor point guard Manu Lecomte and Kansas trapping both on the initial ball screen and a second pass, the Bears finally broke and turned the ball over with a bad pass out of bounds with 1.3 seconds showing on the clock.
The Jayhawks roared. Allen Fieldhouse exploded. And Kansas (20-2 overall, 8-1 Big 12) moved into sole possession of first place in the conference.
"We were really locked in," Graham said of the game's final meaningful possession. "It was the last possession of the game. We needed a stop, and we did a good job of flying around and getting that stop."
Never one to pass out praise unless he believes it absolutely has been earned, Self whole-heartedly agreed.
"Our guys kept hanging in there and kept grinding and we really played good defense the last two or three minutes," he said. "Really good."
All week, as Kansas and Baylor tumbled toward a Wednesday clash at the top of the Big 12 Conference standings, the focus was on how this Baylor team was different than previous Scott Drew squads, because of their ability to defend.
And then, for two magnificent hours at Allen Fieldhouse, where big shot was answered by big shot and every tough play seemingly was answered by an even tougher play, the Jayhawks showed that, while Baylor may be playing a slightly different brand of basketball, they are closing in on a return to their old ways.
Podcast episode
Kansas basketball coach Bill Self discussed his team's 73-68 win over Baylor on Wednesday, KU's defense down the stretch and finishing 2-1 against three straight ranked opponents.
In a season marked by Kansas' ability to outscore opponents and win with high-powered offense, the Jayhawks won this one on the defensive end, with the best moments saved for the very end.
"They're talented and they're competitive," Self said when asked what traits allow his team to pull out wins like this. "It's been a unique period of time, but the guys' attitudes are great and I thought tonight was definitely a big-boy game. It took everything we could (give) to get the 'W.'"
The Jayhawks opened in attack mode and were not shy about driving against the zone or finding freshman Josh Jackson (23 points, 10 rebounds) in the high post, where he has been so good all season and was again good on Wednesday, both driving to create for himself and remaining poised and looking for the open man.
Meanwhile, Baylor big man Johnathan Motley (16 points, 10 rebounds) had a monster first half, tallying 14 points and six rebounds and creating problems for the Jayhawks all over the floor.
Kansas adjusted by trapping Motley on the catch a few times and throwing yet another zone at the Bears at other times in the second half. And the Jayhawks needed every trick in their bag to step into the winner's circle.
The Bears delivered the first true punch of the game with just over six minutes to play in the first half. After trading baskets and rebounds, turnovers and missed opportunities for the first 13 minutes of the game, Baylor turned a 19-18 deficit into a 28-21 lead with a 10-2 run that spanned two minutes.
Motley scored two baskets during the run and Lecomte and Jo Lual-Acuil Jr. each cashed in from 3-point range to push the Bears to a six-point halftime edge.
Baylor (20-2, 7-2) actually had a chance to go up 10 with just over a minute remaining in the first half, but KU forward Mitch Lightfoot held his ground against a hard-charging Terry Maston in the post and offered just enough resistance to force Maston to fumble the ball out of bounds. Mason connected on a tough floater on the other end and Kansas trailed just 34-28 at halftime instead of facing the possibility of a double-digit deficit.
"I didn't know if we were gonna get a rebound in the first half," Self said. "But the second half that flipped, and then we actually out-rebounded them."
It wasn't all defense that won this one, of course. Kansas shot 45 percent from 3-point range and got a 12-for-12 effort at the free-throw line from leading scorer Mason, who finished with 19 points, six assists and four rebounds.
The Jayhawks came charging out of the locker room to start the second half, and, behind back-to-back 3-pointers from Svi Mykhailuk (11 points on 3-of-5 3-point shooting), erased Baylor's lead in the first 2:44 of the second half. Kansas then added to its lead but watched the Bears climb back in front almost as quickly as they fell behind.
That set the stage for the thrilling final 12 minutes, and, ultimately, an eight-minute stretch in which the teams did not distance themselves by more than four points until the very end.
"Another typical Big 12 game," said Baylor coach Scott Drew, who fell to 0-10 in Lawrence and now has one more loss inside KU's home building than Self. "It comes down to the last possession. Kansas executed down the stretch better than we did and we came up short. One day we'll win up here. Just not this year."
Added Self: "That was a fabulous basketball game. That was two really good teams playing.... The bottom line is, I thought our guys hunkered down and guarded probably about as good of a stretch as we've had all year. And, of course, we had to in order to win the game." 
— See what people were saying about the game during KUsports.com's live coverage.
---
More news and notes from Kansas vs. Baylor
---