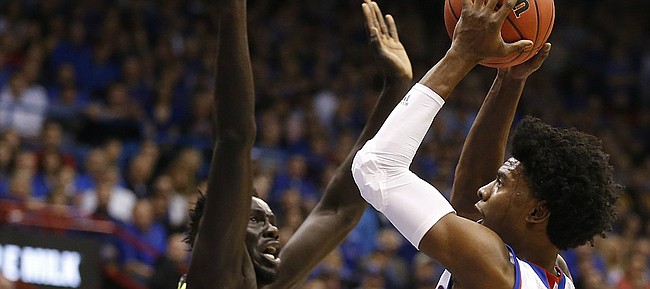 Back-to-back games against top-five teams, one in enemy territory with more than 24,000 rooting against him, the other in the building that supplies college basketball's most outrageous home-court advantage.
Time for Josh Jackson to show the nation how much he loves to play basketball, how much he loves to win.
As Kentucky on Saturday and Baylor on Wednesday night can attest, he was more than up to the challenge.
Jackson dropped 23 points and 10 rebounds to lead Kansas past Baylor, 73-68, after dropping 20 and 10 on Kentucky.
The better the competition, the more rapidly Jackson improves his game. It's why he came to Kansas, to take on all comers, to compete and to win.
"Steel sharpens steel," Jackson said. "I don't feel like you would get better if you were playing against a bunch of guys who don't really want to compete or want to win. It's even harder being Kansas because everyone just wants to beat you so bad."
Photo Gallery
Kansas basketball v. Baylor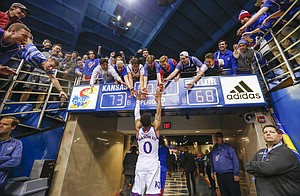 View a gallery of images from Wednesday night's game between the Jayhawks and Bears at Allen Fieldhouse.
Even with Kansas splashed across his chest and a No. 1 Rivals ranking on his shoulders, Jackson can take comfort in knowing he's never going to face anyone who wants to beat him worse than he wants to win.
Veteran guards Frank Mason and Devonte' Graham play huge parts in Kansas knowing how to win close games and so does Jackson, a freshman in name only. They make Kansas such a clutch team.
"Our will to win is what makes them clutch," Jackson said. "This group of guys, everybody on the team, the thing that comes first is just winning. We get it in tight, we come together and we all just do what we have to do to help each other win the game."
Jackson carried the team in the first half with 46 percent of the points (13) and 44 percent of the rebounds (seven) and made a huge play that broke a tie with 2:26 left and sent Kansas on its way.
He pump-faked a 3-pointer from the right corner and drove it in for a two-handed slam that put KU up, 66-64.
"I had made a three a couple of possessions before and I figured if I up-faked the guy would jump and Landen (Lucas) helped really tremendously, sealing the other big on the baseline so he couldn't come and contest my shot, so it was an easy bucket."
Kansas led the rest of the way and coach Bill Self called it a "big, big basket, maybe the biggest basket in the game."
It came from the most talented player on the floor.
"He's a great, great player," Self said. "I think he's been great all year long, but I really think he's even more comfortable now that what he has been. He's shooting the ball better. He made 2 of 4 shots from three tonight. That makes him 10 for his last 18 from three."
Podcast episode
Kansas basketball coach Bill Self discussed his team's 73-68 win over Baylor on Wednesday, KU's defense down the stretch and finishing 2-1 against three straight ranked opponents.
The stats confirm the accuracy of the quote.
"I feel like part of the reason my shot has gotten a little better, I'm not thinking about it much and just playing basketball," Jackson said.
He has made zoning Kansas tough because of how well he passes from the middle of it. This was his first experience against a zone that covered so much space, so he adjusted.
"Normally when I get the ball in there those guys are looking to pass out," Jackson said. "But those guys were so long and they were just fanned out on the wings. They just left me open in the middle and I did a pretty decent job of attacking the basket, but I feel like I could have done a little bit better at attacking the zone."
And he probably will be next time he faces it because he's smart enough to adapt.
"He's beyond his years. He's a freshman but he's not really a freshman," Self said. "A lot of these kids who come out now, they're really further along than what you think because of all the experiences they've had, USA Basketball, playing for gold medals and things like that. Everything that he does is not a surprise to me. We've gotten to the point where we expect it and we'd be disappointed if we did not."
— See what people were saying about the game during KUsports.com's live coverage.
---
More news and notes from Kansas vs. Baylor
---
More like this story on KUsports.com