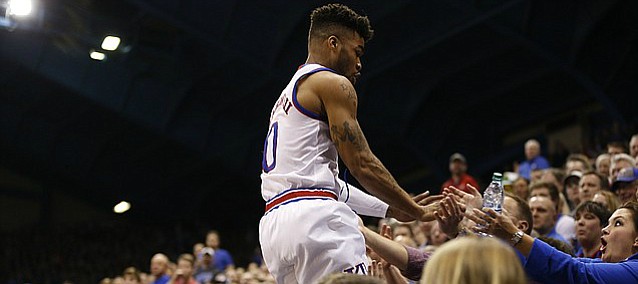 These are the games that get remembered when a team rips off a streak that is talked about in every conference town and at the beginning and end of every college basketball season.
Third-ranked Kansas took a huge step toward winning a record-tying 13th consecutive Big 12 Conference regular season title with its 73-68 victory over No. 2 Baylor on Wednesday night at Allen Fieldhouse.
And that thought never really crossed the minds of the Jayhawk players until it was over.
"We haven't even talked about that," KU coach Bill Self said after the victory. "We mentioned it before the season, you know, 'Hey, do you want this to be the team that doesn't do it,' or whatnot. And we know it's gonna be hard.... If we hadn't have won tonight, obviously, we weren't out of the race, but we know it would've been more of an uphill climb. I think (when) you get three or four more games into it then guys will start thinking about that more."
Added KU senior Frank Mason, shedding a little light onto why the topic rarely comes up: "I think everyone knows what position we're in and we've gotta make it happen."
Photo Gallery
Kansas basketball v. Baylor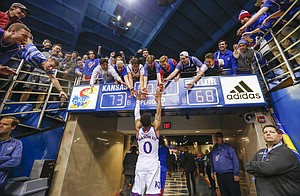 View a gallery of images from Wednesday night's game between the Jayhawks and Bears at Allen Fieldhouse.
Despite the fact that they have not talked much about continuing the streak, the Jayhawks (20-2, 8-1 Big 12) were well aware of how big Wednesday's victory was toward achieving that goal.
"It was big," Graham said. "It was for first place. We knew we had to come out and get that W so we could remain in first and now we just need to take that momentum and keep it rolling."
Lucas big late
After a rough first half in which he struggled to get the ball in the basket, Kansas forward Landen Lucas, who, once again, stayed out of serious foul trouble, delivered a couple of monster buckets that Kansas absolutely had to have.
The first came with Kansas leading, 57-56, with just under six minutes to play. Lucas buried Baylor big man Jo Lual-Acuil Jr., in the paint and caught the ball deep enough to find an easy finish. The second, which came in the final two minutes and put Kansas up 70-66, came with Lucas using his lower-body strength to just power his way to the rim.
"He was struggling at first in the first half," Graham said. "Everybody talked to him in the locker room at halftime and told him it was his half, the second half, and (we were) just trying to keep throwing him the ball and telling him to go straight up and finish through the contact. He came through with some big buckets."
Added Self: "He didn't dunk it on anybody, but he did a good job twice of backing guys down and showing a nice touch. I thought he was really good. He flipped a switch at halftime and I thought he was great."
Podcast episode
Kansas basketball coach Bill Self discussed his team's 73-68 win over Baylor on Wednesday, KU's defense down the stretch and finishing 2-1 against three straight ranked opponents.
Self also was pleased with the minutes that Mitch Lightfoot (2 points, 2 blocks in 5 minutes) and Dwight Coleby (6 rebounds in 6 minutes) gave in support of Lucas up front.
"I thought Mitch looked like Dwight against Kentucky and Dwight looked like Mitch against Kentucky tonight," Self said. "They were still good minutes that they got us... It was a good team win."
Newman ill
Self said after the game that red-shirt transfer Malik Newman, who cannot play this season, was not in attendance on Wednesday because he had the flu and team doctors told him to stay away.
Absent in the physical sense, Newman was not fully removed from supporting his team, as he watched on television and Tweeted throughout.
Meanwhile, sophomore Carlton Bragg Jr., also was not in attendance on Wednesday night as he continues to serve an indefinite suspension that has kept him out of KU's past two games. Asked if there was any change in Bragg's status, Self said, "No, no, no. He's still suspended indefinitely."
Self on Vick report
Asked about a recent report from the Kansas City Star in which sophomore guard Lagerald Vick reportedly was the subject of a KU investigation into whether he hit a female student in late 2015, Self read a prepared statement and offered no details about anything relating to the report.
"I have been told that I cannot comment on a university investigation or whether one is or is not taking place or has ever taken place," Self said. "Due to previous practice by the university and the athletic department, I would not be giving any details of such investigation. What was reported was reported. I haven't been made aware of anything."
Vick played 14 minutes and was 0-of-4 from the floor, 0-of-2 from 3-point range and added one rebound, one assist, one turnover and a foul.
This and that...
Kansas now leads the all-time series with Baylor, 28-4, including a 14-0 mark in Allen Fieldhouse.... KU now has won at least 20 games for the 28th consecutive season.... The win gave Self nine consecutive home wins over top-five teams, which is the longest active streak in the country.... KU's 10 fouls were the fewest by a KU team in conference play since 2011, when KU committed just seven fouls against Iowa State.... Mason's 12-for-12 night at the free throw line was the most free throws made without a miss since Darnell Valentine also went 12-for-12 against Oklahoma in 1980.
— See what people were saying about the game during KUsports.com's live coverage.
---
More news and notes from Kansas vs. Baylor
---