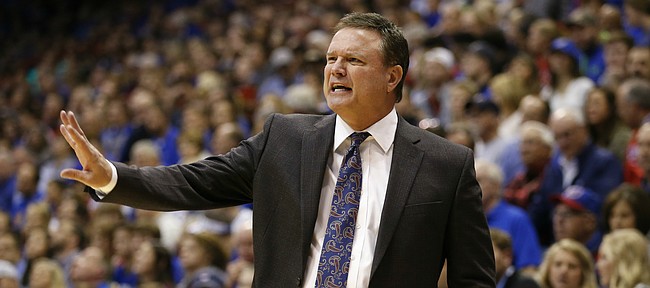 Every basketball box score produces a slew of numbers, some of them surprising, others impressive but expected. Even the unspectacular victory that Kansas scored over Siena, 86-65, Friday night in Allen Fieldhouse had its share.
Carlton Bragg had a double-double (15 points, 11 rebounds), Devonté Graham handed out nine assists without turning it over. Lagerald Vick produced 12 points and eight rebounds.
Nice numbers, all of them, yet dwarfed by a number combination so mind-blowing it's difficult to grasp. In becoming the winningest Allen Fieldhouse coach in Kansas history, Bill Self's record in the building improved to 207-9.
As everyone knows by now, the Kansas coach has more Big 12 regular-season titles (12) than Allen Fieldhouse losses.
Photo Gallery
Kansas basketball v. Siena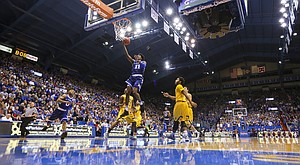 View a gallery of images from the Jayhawks' Friday night matchup against the Saints at Allen Fieldhouse.
No school has beaten him twice in his favorite building. Richmond, Iowa State, Nevada, Kansas State, Oral Roberts, Texas A & M, Texas, Oklahoma State and San Diego State each have gotten him once, but no school twice.
The Jayhawks ran their fieldhouse winning streak to 41 games Friday. Siena coach Jimmy Patsos, whose Loyola Maryland team also was on the wrong end of one of the 207, called Self's record in Allen, "crazy."
"This building, the aura, that's one thing," Patsos said. "But he has great players and they play really hard. He's a great coach. He seems to make adjustments as he goes. He can play lots of different ways. They can score a lot of points and they can grind it out."
Kansas did a little of both Friday.
A longtime assistant to Gary Williams at Maryland before launching his head-coaching career, Patsos mentioned he talked to Maryland's coach, former Kansas point guard Mark Turgeon, earlier in the day.
"He asked his wife to marry him on the (Allen Fieldhouse) floor," Patsos said of Turgeon. "He met Anne here. And I said, 'Yeah, are you coming back to play here?' And he said, 'Hell no,' and now I know why."
Allen Fieldhouse losses are so rare for Self that it's easy to recall details from them, such as:
Nevada's Nick Fazekas and KU assistant coach Joe Dooley exchanging pleasantries in the handshake line. Kansas State's little-known Dramane Diarra turning into Mitch Richmond for one game. Marcello Vealy having a miraculous (even by Oral Roberts standards) shooting day. Acie Law, well-guarded by Brandon Rush, creating space for himself with a jab step and hitting a three-pointer. Marcus Smart executing a  spontaneous backflip on the court after the buzzer sounded. Self could rattle off many more and would be more comfortable doing so than talking about his latest record.
How has the coach done it?
Bragg did a nice job of summing it up.
"He's a special coach and this is a special place," Bragg said. "You put those two things together and special things happen."
Winning at home is so routine for Kansas that it's not always as easy to remember the details of the games that send fans home happy.
For this one, maybe the memory of the cherry on top of it will endure. Self's son, fifth-year walk-on Tyler, hit a big shot, a fade-away jumper just inside the three-point line with 1:14 remaining to put Kansas up by 23 points.
"You know what, I would never think like that, but now that you mentioned it, yeah, it's nice," Self said. "I don't know that I would consider it a big shot when you're up 20, but still it's nice that he got in there and made the shot."
Self's wife, Cindy, and friends celebrated the shot. Might her son's shot even have meant more to Cindy than her husband getting the record?
"Oh, there's no question," the coach said. "I think that him making the shot would probably trump 500 wins in the building."
Self one day celebrating 500 wins in Allen Fieldhouse? Nah. Can't happen. Or can it?
— See what people were saying about the game during KUsports.com's live coverage.
---
More news and notes from Kansas vs. Siena
---