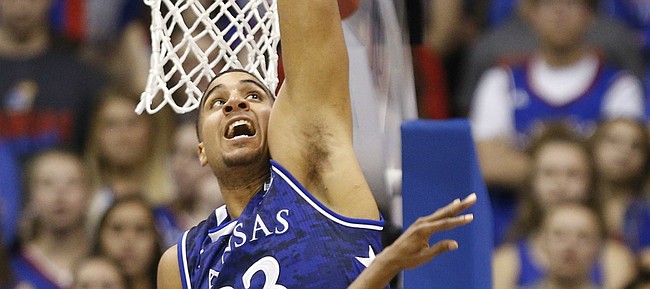 For the third consecutive game to open his senior season, KU forward Landen Lucas spent more time laboring and less time on the floor than he did during the final stretch of his sensational junior season, when he proved to be an indespensable part of KU's Elite Eight team.
Players struggle. Slumps come and go. Seasons change and roles change with them. KU coach Bill Self can accept all of that. What he can't accept is what Lucas (six points, five rebounds, five blocks in 21 minutes) is doing when things don't go his way on the floor.
"He's a fifth-year senior and he stops to question an official twice, back-to-back, when the other team has the ball. That's ridiculous," Self said following his team's 86-65 win over Siena at Allen Fieldhouse.
Lucas has battled a sore foot throughout the early portion of the 2016-17 season, but every time Self has been asked about it, he has divulged that he believes Lucas is fine, physically. So what could be the factor that has kept Lucas from looking like his old self so far this season? Self had an answer for that, as well.
Photo Gallery
Kansas basketball v. Siena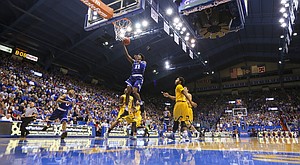 View a gallery of images from the Jayhawks' Friday night matchup against the Saints at Allen Fieldhouse.
"I think a lot of that is being tired. I think a lot of it is just fatigue," he said. "I think if he would just play to who he is, I think he's a better player than he was last year on who he is. But when he gets outside of that and tries to do some things.... You know, offensively, he should know what his go-to moves are as opposed to playing to what (are) not his go-to moves. He can tighten that up. I think he'll get better moving forward with that."
Bragg's career night
After a slow start to the season, including sub-par performances in KU's two exhibition games, sophomore Carlton Bragg took another step forward Friday night.
His 15 points and 11 rebounds both were career-highs and they came, according to Bragg himself, as a result of him thinking less and acting more.
"It felt good to be back, staying aggressive and just playing my game," Bragg said after the victory. "I just have to keep going."
Bragg's points came in a variety of ways, but offense had not been his biggest issue thus far. Rebounding and playing down low had, and Self said he was proud of the way Bragg approached Friday's game.
"He played like a big man," Self said. "Played inside-out."
Bragg plans to keep his roll going from here and knows exactly the way he's going to do it.
"My focus is just rebounding and helping the team out," he said.
Scooter update
After another recent scary moment left KU academic advisor Scott "Scooter" Ward hospitalized and trying to recover from heart issues that put him in the hospital in the first place, Self provided an update on Ward's condition, complete with a bit of humor coming from his Kansas City hospital room.
"Certainly, he's going through a tough deal," Self said. "I told people the other day, he texted me. He said, 'Good gosh, you guys had a 12-point lead, you about gave me a heart attack.' He's had two unbelievable things that have happened. We're very fortunate that he got the attention when he did. He's had two surgeries (on his aorta) and they had to crack his sternum open both times. He's going through a tough time right now, but he's tough as nails and I know he knows he's loved and we miss him around here."
This and that...
Senior guard Frank Mason III led the Jayhawks in scoring for the third consecutive game and now is averaging 23 points per game this season.... The Jayhawks wore the all-blue, alternate uniforms they wore to honor Veteran's Day and Pearl Harbor in Honolulu because of a decision that was made three months ago. The superstitious Self said he was not thrilled about wearing the same uniforms KU donned in its season-opening loss to Indiana, but did not protest.... KU now has started 2-1 for the 13th time in the 14-year Bill Self era.... KU's victory extended its winning streak at Allen Fieldhouse to 41 games and gave Kansas an NCAA-leading, 43-game home court winning streak when counting games played at Sprint Center.... KU is now 745-109 all-time in Allen Fieldhouse, with 207 of those wins and just nine of those losses belonging to Self, who improved his KU record to 387-84 all-time. 
— See what people were saying about the game during KUsports.com's live coverage.
---
More news and notes from Kansas vs. Siena
---