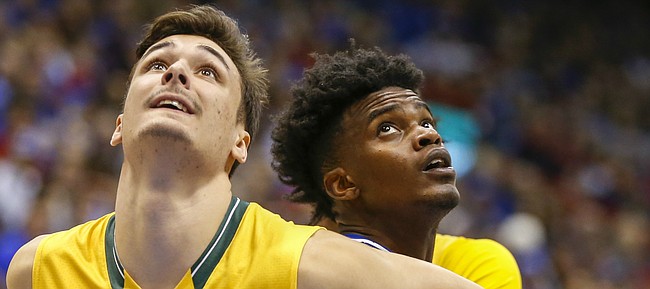 Last Tuesday night, in its win over No. 1 Duke in New York City, the Kansas backcourt was tested by, and wound up out-dueling, some of the best guards in the country.
Friday night in the home opener against Siena, KU's backcourt turned in an inconsistent effort but delivered when it had to in knocking out the Saints, 86-65, to give head coach Bill Self his 207th victory in Allen Fieldhouse, the most of all-time.
The win marked the 43rd consecutive home opener that went right for the Jayhawks (2-1), but also carried a much bigger meaning for this particular team.
Regardless of who Self starts or how he divvies up the minutes, this team will go as its guards go. And sometimes that may mean looking beyond starters Frank Mason III and Devonté Graham.
Photo Gallery
Kansas basketball v. Siena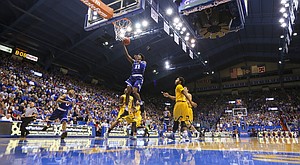 View a gallery of images from the Jayhawks' Friday night matchup against the Saints at Allen Fieldhouse.
Siena coach Jimmy Patsos did exactly that before the loss, and, in it, he wound up seeing one of his big fears come true when KU sophomore Lagerald Vick touched his team for career-highs of 12 points and eight rebounds in a career-best 32 minutes.
"He's the guy that I was like, 'Wow, I didn't know they had him.' He's a killer at our level," Patsos said. "He's just a stat stuffer. I just like him. He can switch and guard anybody. I like his energy.... When you win a national championship, you need a guy like that on your team."
No title was on the line Friday night, but Vick played like something was. He finished 6-of-9 from the floor, grabbed three of his eight boards on the offensive end and also added two assists, a steal and a block. Some of his biggest contributions came in the second half, when Siena refused to go away and Vick helped the Jayhawks maintain control.
On a night when Self called Mason (18 points on 6-of-13 shooting) and Graham (13 points on 4-of-7) "just average," Vick picked up some of their slack and turned in a line that looked like it belonged on the same highlight screen.
"I thought Lagerald was active and did some good things for us," Self said.
That, on a night when Self admitted that there was not much about his team's effort with which he was pleased.
"I didn't think that we played very tough, I didn't think we played very fast, we looked slow defensively and I thought our big guys really struggled early," Self said.
Vick avoided nearly all of those pitfalls, finishing lobs, attacking the rim off the dribble and crashing the glass even when he did not come away with the rebound.
The reason? Maturity, Vick said.
"I'm definitely comfortable," he said. "I've been with the program for two years now and it was time for me to step up."
One of the other factors that has helped Vick leap out to a strong start to his sophomore season is the fact that he rarely is caught waiting for his opportunities to come or wishing he had done something with them when they did. When he's on the floor, at least so far, he generally is playing at one speed — all-out attack mode.
"When my time comes, it comes," he said. "I just do the small things, whatever coach asks. I do those."
It's important to remember that Self said average, not awful, when talking about Mason and Graham. And he said he thought there was a reason they didn't play up to their usual standards.
"I felt like Frank and Devonté looked tired," Self said.
Nobody used fatigue as an excuse for Friday's performance, but you could hardly blame the Jayhawks for being a little sluggish in their home opener.
After all, the week leading up to Friday's 21-point victory over the Saints included 11,000 miles of travel, a couple of dreamy destinations and a pair of high-profile games against top-10 teams and college basketball blue bloods that drew national attention and serious buzz.
The win over Siena was merely one of 10 top-25 games on Friday night in a college basketball season that's still barely getting going.
Even some of the highlights were a little bit boring. On one play late in the first half, the Jayhawks executed a perfect back-door lob from Sviatoslav Mykhailiuk (eight points in 19 minutes) to Lagerald Vick, but the whole thing appeared to play out in slow motion. First was the pass from Mason to Mykhailiuk at the top of the key, which Mason softly tossed without even looking. Then, once he had the ball, Mykhailiuk stood flat-footed and watched and waited as Vick began his cut in front of the Siena bench. The pass was perfect, but even the finish seemed a bit tame, with the rim barely moving as Vick flushed it through.
After a timeout, the Jayhawks ran a similar play on the very next possession and Vick scored another easy lob. Kansas led 40-30 at halftime and even though Siena trimmed the KU lead to as few as five with 7:28 to play, the Jayhawks outscored the Saints 23-7 the rest of the way to slam the door.
A win is a win and the Jayhawks have stacked two of them together after dropping the season opener to Indiana in Hawaii. Still, nobody on this team walked away from Allen Fieldhouse on Friday thinking the Jayhawks were in mid-season form.
"Not too good," said Mason when asked how he thought the team followed up those high-profile season openers on Friday night. "There's a lot of things we could've done better. We'll look at the tape tomorrow and prepare for the next game."
Next up is UAB in the CBE Classic at 8:30 Monday night at Sprint Center.
— See what people were saying about the game during KUsports.com's live coverage.
---
More news and notes from Kansas vs. Siena
---