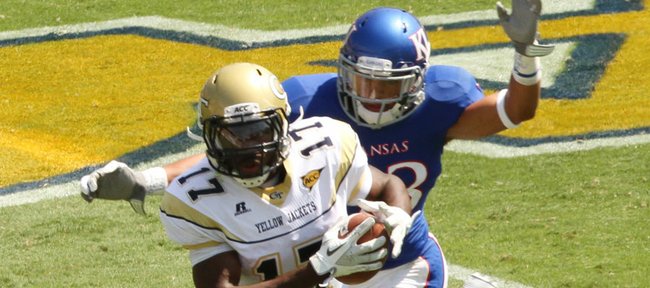 Podcast episode
Kansas coach Turner Gill talks to reporters following the Jayhawks' 66-24 loss to Georgia Tech on Sept. 17, 2011, in Atlanta.
Podcast episode
Kansas defensive coordinator Vic Shealy took responsibility for the defensive performance in his team's 66-24 loss to Georgia Tech on Sept. 17, 2011.
KU vs. Georgia Tech
Atlanta — The points Georgia Tech scored didn't do justice to the more revealing indictment of Kansas University's defense, which was the ease with which the Yellow Jackets scored them.
Never mind two-hand touch below the belt. If the rules had been one-hand touch anywhere, Tech still would have scored most of its touchdowns.
From Tech's first play, a beautifully designed counter with a fake by quarterback Tevin Washington that sucked the entire defense in one direction so that running back Orwin Smith could sprint untouched for a 95-yard touchdown, the crowd of 42,025 in Bobby Dodd Stadium watched the home team lock up the front of KU's defense and sprint away from the back of it with astonishing ease.
Early in the fourth quarter, the announcements noting school and ACC records started, and once they started they never stopped, much like the Tech offense.
The numbers looked like those compiled by eight-man football teams. Tech amassed 604 rushing yards and 768 total yards, averaged 41 yards per reception and averaged 13.5 yards on its 57 plays from scrimmage.
How did a team that lost a year ago to KU execute such a thoroughly humiliating payback? First, the longer players have been schooled by fourth-year Georgia Tech coach Paul Johnson, the more in sync with his unconventional offense they become. Also, the fewer players in the program who played for his predecessor, the better, because when not everybody follows the leader blindly, the whole isn't always as great as the sum of its parts. Johnson's word is gospel to all the players now.
The next ingredient in this perfect storm of a domination of KU's defense had to do with emotion. The Yellow Jackets were embarrassed by last year's loss and it showed.
Kansas defensive coordinator Vic Shealy threw himself onto the list of factors. Shealy said that the Jayhawks took pretty much the same approach against the run-oriented option offense as it did a year ago, when it was coordinated by retired Carl Torbush.
"That might, in effect, be the downfall of what we did because we got schemed," Shealy said.
Johnson figured because what Kansas did a year ago worked, the Jayhawks would try it again. He figured right and ditched a couple of key menu items — veer-option schemes and a fullback-based dive, according to Shealy — and replaced them with a couple of others (a "Belly-G" and "Belly-G option," Shealy said.)
"Completely counter to how we planned and we couldn't get out of it," Shealy said.
When KU did make adjustments, Johnson was introducing play-action passes that resulted in receivers galloping into the end zone untouched.
"Whenever your plan gets schemed, it comes back to me," Shealy said. "What happened today is on Vic Shealy. I take responsibility for us."
That's the right thing for Shealy to say and in fact the game plan did play into Johnson's hands, but no tactical approach would have resulted in a victory for a Kansas team that has serious defensive deficiencies.
The 3-4 defense does not have anyone in the front three that has shown the ability to shed blocks and get into the backfield. The two who had the best chance of doing so — Patrick Dorsey and John Williams (out for the season) — are injured.
So which is a bigger factor, the lack of production from the line or the lack of experience in the back of the defense? Tough to say because they are so linked together, but the secondary at least has a chance to improve.
"We would probably like to have a few more dynamic reactions out on the field to make some plays on the back end, the front end, and in the coach's box, but we didn't get it done," Shealy said.
Kansas hasn't been able to recruit a disruptive, get-off-the-ball-and-blow-into-the-backfield defensive tackle since James McClinton. He graduated high school in 2004. Georgia Tech's offense doesn't have anything to do with that.
"Sometimes we'd like to have a guy who's a beast who can thrash guys out of the way and make some plays, sure," said Shealy, before pointing to an area of hope. "We're at a point athletically where we don't look so slow chasing the ball. We're getting in pace with the play, so we're making some progress. Getting to the point where we can overcome being in a bad call, we're not there yet, so as a coach, I've got to put us in a really good call every play."
Shealy doesn't buy that KU's young defense doesn't have any talented playmakers.
"I think Toben (Opurum) can make some plays. Steven Johnson can make some plays. Greg Brown had a couple of errors against Northern Illinois, but I still think Greg Brown can make some plays," Shealy said. "I think Bradley McDougald can make some plays. Do we have some young guys who are struggling a little bit? Yes, but that's one of the reasons why we didn't try to do more in our plan this week."
KU's defensive coordinator said that Georgia Tech doing things so different from conventional offenses and in some cases so different from what it has done in the past was a factor in defensive players at times looking "frozen."
"Fortunately, we don't have to play a scheme like that (again this season)," Shealy said. "And hopefully Georgia Tech, Army and Air Force are not on the schedule the next few years."
Not so fast. Syracuse and Pittsburgh are on their way to the ACC and Texas and Kansas could join them to form a 16-team conference. Oklahoma wants the Pac-12, but the Pac-12 doesn't want Oklahoma State, so does that mean Oklahoma goes with its neighbor to the SEC? Or does it mean Oklahoma does the right thing Monday and decides to keep the Big 12 together?
Those questions are as difficult to answer as the riddle that is Georgia Tech's offense.