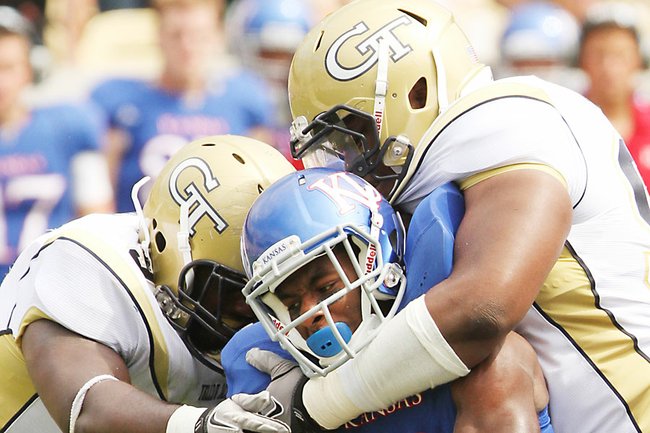 Podcast episode
Kansas coach Turner Gill talks to reporters following the Jayhawks' 66-24 loss to Georgia Tech on Sept. 17, 2011, in Atlanta.
Podcast episode
Kansas defensive coordinator Vic Shealy took responsibility for the defensive performance in his team's 66-24 loss to Georgia Tech on Sept. 17, 2011.
KU vs. Georgia Tech
Atlanta — Georgia Tech's players made it clear following Saturday's 66-24 victory over Kansas that this game had extra significance.
Last year, the Jayhawks defeated the Yellow Jackets, 28-25, in Lawrence.
"Coach (Paul) Johnson, one of his favorite quotes is, 'Revenge is a great motivator for those who care,'" Georgia Tech linebacker Steven Sylvester said. "So we came out here and we cared today."
The Yellow Jackets seemed especially miffed by certain comments made by KU's players.
"We had to listen to them say it was easy last year and they had fun, this and that," Georgia Tech A-back Embry Peeples said. "So this year, we wanted to show them that last year was a fluke and the fun that they had was not going to be had today."
Other Georgia Tech players referenced a quote from KU linebacker Steven Johnson that was transcribed from the Jayhawks' Tuesday press conference.
Here it is:
"I'm actually used to their offense, because that's the offense we ran in high school, and it isn't too complicated — you just really have to be sound in your assignments and technique," Johnson said. "They still have a lot of great players out there, so we'll still have to play the football game. You can't take them lightly."
A few Yellow Jackets took issue with their offense being referred to as simple.
"It's easy to say the offense is easy when you win," said A-back Orwin Smith, who had five carries for 157 yards and two catches for 108 yards with two scores. "They won last year, so you kind of expect guys to talk. I don't really listen to things guys say, because you're supposed to think positive.
"But our offense is not easy. I can say if I was on defense, I wouldn't be able to stop it."
Added quarterback Tevin Washington: "If it's a high school offense, we just put up 700 yards. So, I mean, if it works at this level, it'll work at any level, I think."
The Georgia Tech coaches also pulled from the 2010 KU-Georgia Tech game for added motivation.
On Friday night, defensive coordinator Al Groh made his players watch a video of all his team's breakdowns against KU's offense.
When the film ended, Groh set down the remote and walked out of the room without saying anything.
"We saw that as a challenge. We had been called out," Sylvester said. "We had read in the paper all week about how excited they were and about how that was the most fun they had ever had on the football field last year.
"In the back of your mind — as a team, as a football player — it hurts."
The Yellow Jackets — who led 24-17 at halftime — scored touchdowns on their first six second-half possessions before running out the clock in their final drive.
"Today, you really saw that when we get our blocks, it's like playing a video game," Peeples said. "Scores after scores after scores."