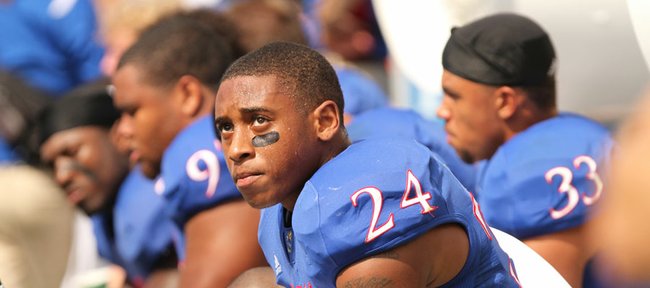 Podcast episode
Kansas coach Turner Gill talks to reporters following the Jayhawks' 66-24 loss to Georgia Tech on Sept. 17, 2011, in Atlanta.
Podcast episode
Kansas defensive coordinator Vic Shealy took responsibility for the defensive performance in his team's 66-24 loss to Georgia Tech on Sept. 17, 2011.
KU vs. Georgia Tech
Atlanta — If reports are true that Kansas University has become a target of the ACC, it's a safe bet the Georgia Tech football team is OK with it.
In a game that may soon be known a conference match-up, ACC powerhouse Georgia Tech roughed up Kansas, 66-24, Saturday at Bobby Dodd Stadium and reminded the Jayhawks that they play football in this conference, too.
Behind 768 yards of total offense and three scoring drives that took just one play, the Yellow Jackets exacted revenge for last year's loss in Lawrence and shredded the Kansas defense in just about every way imaginable.
"This team here, they can really expose you," KU coach Turner Gill said of GT. "Unfortunately, we did get pretty much exposed in the running game and the passing game."
At least in total yardage terms, Saturday's loss was KU's second worst defensive performance of all-time. Only Nebraska, with 799 yards in 1978, gained more against a KU defense.
Georgia Tech's 604 yards rushing also represented school records for both sides. Prior to Saturday, the previous record for rushing yards by a KU opponent belonged to Nebraska, which, in 1983, rushed for 567 yards in a 67-13 victory in Lincoln, Neb. The quarterback on that NU team? Turner Gill. Although it's unlikely that Gill took much credit for Nebraska's performance in that one, he shouldered all of the blame for Saturday's debacle.
"I'm always accountable," he said. "I'm the head football coach. Everything needs to go right here on me. I understand that."
Despite staying close for two quarters — KU trailed just 24-17 at halftime — the Jayhawks helped Georgia Tech rewrite several school, conference and national records with their inability to stop the Yellow Jackets' ground game.
Not only did Tech set school records for rushing yards and total yards, it also eclipsed the ACC record for rushing yards in a game and helped break a national record for yards per attempt (minimum 50 rushes). Georgia Tech's whopping 12.1 yards-per-carry snapped the previous NCAA record of 11.9, set by Alabama when they tallied 748 yards on 63 carries in a rout of Virginia Tech in 1973.
"It's very frustrating," sophomore cornerback Tyler Patmon said. "It's one of the most embarrassing games I've ever been a part of. It's so frustrating because it feels just like last year. But we're determined to not let it be like last year."
As for how it all happened, the Jayhawks simply said Georgia Tech outschemed them throughout the day. Despite spending countless hours last week trying to prepare for the Yellow Jackets' triple-option attack, Gill said his defense encountered several looks it had not seen on film. Beyond that, several Jayhawks said it was as if the Yellow Jackets knew what was coming on most plays and simply ran the other way.
"They were definitely prepared for it," junior safety Bradley McDougald said. "Once they noticed some of the corrections that we made, they just dialed up another play that would go long. They did a great job of playing chess out there."
Added Patmon: "I think they knew what we were about to do. It got to a point where they were kind of reading our defense and knowing what we were gonna run."
In all, the GT offense delivered eight plays of 30 yards or more, including four over 50 and a 95-yard touchdown on its first offensive play of the game. While the Jayhawks, behind another strong half from quarterback Jordan Webb, tied the game at 7 and 14, the KU offense just could not keep up with the defense's inability to slow Tech's attack.
"It's definitely hard when you look up at the score and they're scoring on first plays and stuff like that," said Webb, who finished 11-of-19 for 148 yards. "It's hard to keep any momentum."
Momentum also cost the Jayhawks defensively, as the Yellow Jackets (3-0) seemed to operate smoothly from start to finish, even with the reserves playing the final quarter or so.
"We couldn't get 'em out of a rhythm," Gill said. "They continued to make plays, big plays, and that's the thing you gotta minimize against any offense but particularly against this one here. They get some big plays on you and they continue to multiply and then it's very, very tough."
Despite the rough loss, the Jayhawks vowed to not let one bad day turn into five or six bad weeks the way they did a season ago.
"We'll harp on it for a little bit," linebacker Steven Johnson said. "But I'm already putting it behind me. We're gonna use this as motivation. It's a humbling experience. But it only makes a soldier stronger, when he loses, so I have no doubt that we're gonna rebound from this."
The Jayhawks (2-1) will be off this week and next will play Saturday, Oct. 1, against Texas Tech at home.