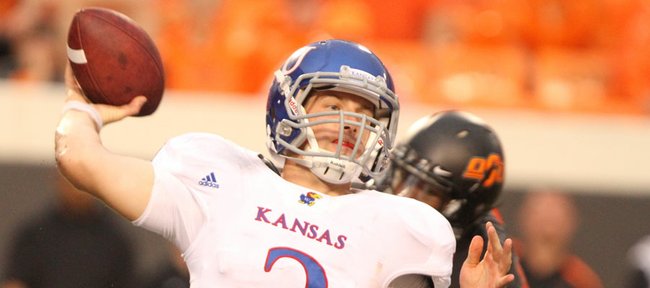 Stillwater, Okla. — Message boards, Twitter feeds and a variety of KU websites raged with a similar message during and after the Kansas University football team's latest lopsided loss, a 70-28 setback at Oklahoma State on Saturday.
That message? Fire Turner Gill.
Although Gill is just five games into his second season as head coach at Kansas, it's clear that the fan base has grown tired of watching his team give up huge yardage and point totals on a weekly basis. While the Jayhawks' performance has taken a toll on the players themselves, several said it's far too simple-minded to pinpoint Gill as the main problem.
"It's definitely too soon," said sophomore quarterback Jordan Webb. "People who are questioning us outside of the program, they can say what they want, but we're going to keep working hard and try our best. We're just gonna shut their opinions out because it really doesn't matter. If they knew half of what they thought they knew, they'd be in the coaching profession."
Added junior cornerback Greg Brown: "Coach Gill, he's the least of our problems. We just have to keep things positive and go out there and face what you have in front of you."
Why the hurry?
Despite squaring off against an offense that tries to get in as many as 100 plays per game, the KU offense seemed to be equally up-tempo throughout Saturday's game.
Asked why he didn't try to counter OSU's fast pace by milking the clock on every possession, Gill said he chose to stick with what had worked for his offense all season.
"It's a rhythm," Gill said. "I'm not gonna say we never will change our plan to maybe slow it down, but that's the way we have practiced, and, if you do that, you may be a little off-kilter. There's time to do that, slow it down. We're not necessarily in a fast pace sometimes. We're trying to get in the right play call."
He continued: "Looking at the overall picture, what's best for our football team, at this time I feel like we need to continue to have a rhythm and I think this first five ballgames, offensively, we've played well. So there hasn't been a specific reason to say, 'The offense is struggling. Let's change this up a little bit and try this or try that.'"
Webb, Biere lead KU offense
Both Gill and offensive coordinator Chuck Long said they were impressed with Webb's performance Saturday, as much from a competitive standpoint as from his final stat line.
Webb finished 25-of-36 passing for a career-high 316 yards and two touchdowns. He also threw two interceptions and lost a fumble.
"I thought Jordan, overall, threw the ball well," Long said. "Thirty-six attempts is probably our top end. We'd like to keep that around 30 or less, but it was just one of those games."
Webb's best drive of the day came in the first quarter, when he led the Jayhawks on a 10-play, 80-yard touchdown drive that gave Kansas a 7-0 lead to open the game. Webb was 6-of-7 on the possession, which included a 10-yard touchdown pass to tight end Tim Biere.
"We always talk about starting fast and we did just that," Webb said. "It's frustrating that we didn't build on that."
Speaking of Biere, the senior from Omaha recorded career-highs in both receptions (seven) and yards (93) to lead KU's receivers. His 35-yard catch on the opening drive also was a career long, and he became the 13th different Jayhawk to score a TD this season.
"Tim's one of our best offensive players," Webb said. "He definitely is. And I feel like we've gotta keep finding ways to get him the ball."
Injury update
Red-shirt freshman running back Brandon Bourbon got his bell rung on a kickoff return during Saturday's loss.
"Obviously, I think he had a little concussion," Gill said. "He didn't really know where he was at, and we'll get that reassessed. When you have something like that, we're all going to protect him, and he's not going to go back in at that time. We'll see how it all goes in the next week."
Safety Keeston Terry also left Saturday's game because of injury. Gill said after the game he did not know the type or severity of Terry's injury.
This and that ...
For the first time in five games, the Jayhawks lost Saturday's coin toss. Oklahoma State chose to defer its choice to the second halfm and Kansas elected to receive. ... Nick Sizemore's blocked punt in the third quarter was KU's first since the 2008 Insight Bowl. ... The 68-yard touchdown pass from Webb to freshman JaCorey Shepherd in the fourth quarter marked a career long for both players. ... Junior wide receiver Kale Pick recorded a career-high five receptions for 49 yards. ... Red-shirt freshman Ricki Herod snagged his first career reception. ... Temperature at kickoff was 83 degrees, under partly cloudy skies with winds gusting from 21-31 miles per hour out of the east.