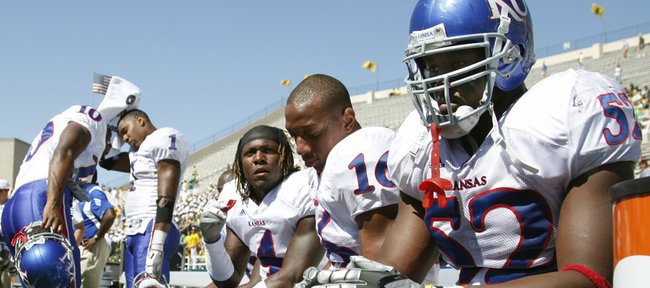 Feature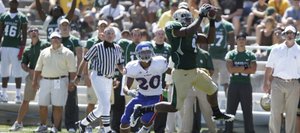 Baylor dismantled Kansas, 55-7, Saturday, October 2, 2010 in Waco, Texas.
KU vs. Baylor
Waco, Texas — If it were a high school game, it would've been one of those in which the coaches agreed at halftime to play the final two quarters with a running clock.
That fact was not lost on the Baylor fans, who, near the end of Saturday's 55-7 beating of Kansas University, chanted "Kansas high school" at the Jayhawks on the sideline.
Harsh? Maybe. Accurate? It was Saturday.
"Yeah, I heard 'em," said KU sophomore receiver D.J. Beshears, who finished with 137 total yards. "Man. I just come out here to play and win games. I don't really pay attention to it."
Of all the wild and brutal things that unfolded during Saturday's game, what spoke loudest were Baylor's offensive totals. During four long quarters on a sunny Saturday in central Texas, the Bears racked up 678 yards of total offense — 434 passing and 244 rushing — marking the fifth-most by a Kansas opponent in school history and the most since Auburn gained 680 yards in 1988.
In the first half alone, Baylor scored touchdowns on drives of 90, 94 and 97 yards — one of them a one-play pitch-and-catch from Robert Griffin III to Josh Gordon. By the time he went to the sideline midway through the fourth quarter, Griffin had tallied 434 total yards and three touchdowns — both career highs — on 26-of-36 passing. The stat that best sums up just how effective Griffin was on Saturday? He was 10 yards shy of his career high in passing yards … by halftime.
"He executed their offense," KU coach Turner Gill said of Griffin. "He did what he was supposed to do. He kept moving the chains, made the big plays when they had to (have) them, made the throws he had to make, ran the ball when he had to, kept their offense in rhythm and kept us out of rhythm."
And he did it all day.
Even when it looked as if Baylor was content to run out the clock on the first half and take a 24-7 lead into halftime, Griffin and the Bears moved into scoring position, and Aaron Jones drilled a 50-yard field goal as time expired.
That scoring drive was kept alive by an eight-yard run on third-and-seven by sophomore halfback Jarred Salubi. Salubi first was hit after three yards, encountered a trio of KU tacklers after five, yet still found the fight to power forward for three more yards and the first down.
Yep, it was almost as if the Bears couldn't help but score.
That the Kansas defense played passively for most of the afternoon only helped Baylor's march into history. The 678 yards surpassed a BU school record. The 55 points were Baylor's most ever in a Big 12 game. And the 48-point margin of victory also was a Big 12-best for the Bears.
"We were always a step too slow on a lot of things on offense and defense," Gill said. "You gotta get lined up right so you can get yourself in the right position. And then when you are lined up right, you gotta make a play. We just weren't quite in sync, and they were."
While the Bears effortlessly moved up and down the field, the Jayhawks struggled. KU quarterback Jordan Webb faced constant pressure and, even when he did have time to throw, was off target or trying to force things.
"This was probably the one game he didn't quite play as well as far as some reads and some different things, but there were some other people who didn't play well, either, too," Gill said.
Added Webb: "There were times I just got out of the system a little bit and tried to do too much. I'm a competitor, and it's hard sometimes, but I just gotta stay within the system and take what they give us."
When Webb was able to move the Jayhawks down the field — like he was on the seven-play, 70-yard drive that ended with a TD pass to Daymond Patterson and kept KU close at 17-7 — the offense often had trouble finishing its drives.
Webb threw two interceptions — one was returned for a touchdown and came just 12 seconds after a previous Baylor TD made it 41-7 — and KU fumbled twice, one coming from Webb.
"There's no way you're going to be able to stay in the ballgame, playing like that and turning the ball over," Patterson said.
It wasn't just the highly visible mistakes that cost the Jayhawks in this one. Several false-start penalties killed their offensive flow. A couple of holding calls backed them into third-and-long situations, and a frustration personal foul from Jake Laptad and missed field goal by Jacob Branstetter added to the misery. KU even suffered a false start by Bradley Dedeaux on the game's final play, a meaningless snap with 24 seconds remaining in which all KU had to do was snap the ball and end the game.
On the flip side, back-to-back holding calls on Baylor during a third-quarter scoring drive still resulted in first downs for the Bears.
"I just think they played better than we did, and we got outcoached," Gill said. "I'm disappointed. It obviously wasn't a very good job by us as a coaching staff, and Baylor played an outstanding football game. We just couldn't ever get anything going."
Senior safety Olaitan Oguntodu, who finished with a career-high 10 tackles, went one step farther than disappointing.
"Overall, it was an embarrassing game," he said. "Just embarrassing all the way around."