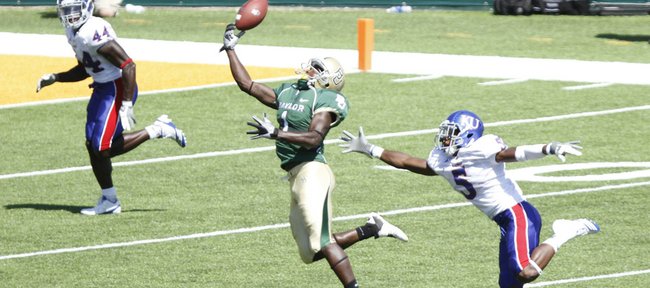 Feature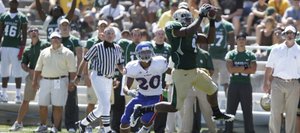 Baylor dismantled Kansas, 55-7, Saturday, October 2, 2010 in Waco, Texas.
KU vs. Baylor
Waco, Texas — Kansas University football coaches and players prepared for the wrong Baylor offense in the Bears' 55-7 victory Saturday.
"We were expecting pass, but not passes like that," KU linebacker Steven Johnson said. "They were running hitches and bubbles and screens, and that was it. They got us going lateral really fast. That was really all they were doing at first, and we weren't really expecting it."
KU safety Olaitan Oguntodu said KU's gameplan for defending Baylor quarterback Robert Griffin III was to keep him in the pocket and limit his deep passes.
The Jayhawks instead were beaten consistently by short throws to the outside.
"When they just kept throwing the ball, it started getting us tired, because we were sideline to sideline to sideline," Johnson said. "That same thing happened at Southern Miss, so we've got to learn from it and get better at it so it won't happen again."
The short passes accomplished more than just wearing down the Jayhawks.
Once the Kansas players committed themselves to the outside passes, Baylor counter-attacked with a trick play.
Early in the third quarter, Griffin threw a lateral to receiver Kendall Wright, who then tossed a 50-yard touchdown pass to Terrance Williams — who was uncovered because all of KU's defenders were pursuing Wright.
The receiver screens also helped Baylor's running backs.
"When you get us going sideways, and then when you run the ball, it will soften up," Johnson said, "because we're expecting to go lateral instead of upfield."
Johnson said KU was anticipating more intermediate routes from Baylor receivers.
"I was looking for a lot more digs and in-cuts, and they really weren't doing that," Johnson said. "They were throwing hitches and getting yards off of that — six or seven yards every pop."
Ironically, in trying to defend against deep passes, KU surrendered the longest pass play in Baylor history on a short throw.
After catching a receiver screen, Josh Gordon broke a tackle and sprinted 94 yards down the sideline for a touchdown.
"You can't let a quick screen go to the outside," Oguntodu said. "That's what they want. They want to go on the outside. We'll watch film. We'll figure it out."
Against KU, Baylor threw for 434 yards. The Jayhawks had allowed just 514 passing yards in their first four games combined.
"It's not my place to single out any individual, but I'll tell you this: When you play football, and when you play defense, you play as a team," Oguntodu said. "And when you don't do that, you get embarrassed."
More like this story on KUsports.com