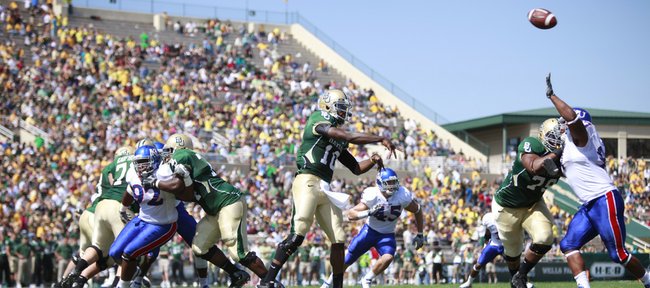 Waco, Texas — In the days leading up to Saturday's Big 12 Conference opener for both teams, Baylor quarterback Robert Griffin III took it upon himself to do more than work on plays. He also worked on the minds of teammates.
"Kansas is a good team," Griffin III said after leading the Bears to a 55-7 blowout victory against the Jayhawks. "They've been great, and they've been bad. I tried to get everyone in the mind-set that Kansas was going to bring its best."
Griffin succeeded in convincing teammates, Kansas brought its worst, and the result left Baylor with its most one-sided victory in Big 12 history.
Griffin III — also known as G3 —completed 26 of 36 passes for 380 yards and three touchdowns. He rushed for 64 yards and one touchdown. His line gave him a surplus of time, and when the protection broke down, he bought more time. He throws an accurate long ball and scans the field well to find the man.
"He's a good football player," third-year Baylor coach Art Briles understated. "He's dedicated, disciplined, determined and intelligent."
Sensing the awe in the room from reporters who had witnessed the likable G3's awesome performance, Briles smiled and sprinkled some caution in the air, saying, "There's not an 'S' on his chest yet."
Maybe not, but there are $$ in his future, lots of them.
A third-year sophomore, Griffin stood out as a freshman, suffered a season-ending knee injury in his third game and applied for and received a medical hardship to restore a year of eligibility.
Saturday, he set a career high for passing yards (380) and tied career highs for completions (26), attempts (36) and passing touchdowns (three). He also set a single-game Baylor record with 444 yards of total offense.
Even when things broke down Saturday, G3 fixed them. He dropped a snap and turned it into an 11-yard touchdown pass to Terrance Williams.
"I'm thinking I've got to get back there and do something," he said. "I got back there, and nobody's there. I just had to outrun the linebacker (Justin Springer), and Terrance Williams is sitting there in the end zone with nobody on him."
Griffin said when he made it to the sideline, "Everybody was just laughing. It was a self-inflicted wound with me dropping it. I run around awhile and throw a touchdown. It was hysterical."
Griffin said the other play that stood out in his mind was the 94-yard touchdown pass to Josh Gordon.
"A five-yard sideways pass to go 94 yards," he said. "That was great. And he stopped running after about 30 yards."
More like this story on KUsports.com