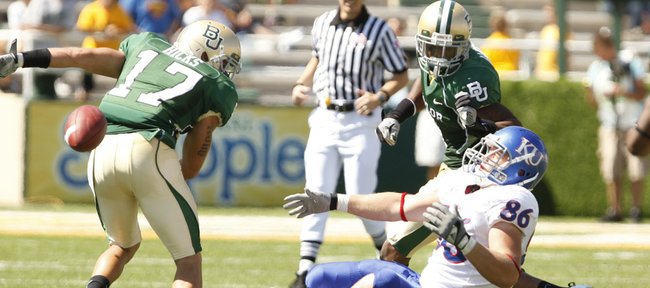 Feature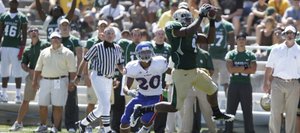 Baylor dismantled Kansas, 55-7, Saturday, October 2, 2010 in Waco, Texas.
KU vs. Baylor
Waco, Texas — It didn't in any way feel like just one game. It felt like a college football program on the rise mauling one on the decline. It left no room for ambiguity. Baylor football sits at one level, Kansas University football another. Don't forget to include Baylor when listing the schools Kansas must stand behind when knocking on the doors of football recruits from Texas.
It felt a lot more one-sided than Baylor 55, Kansas 7 on Saturday in Floyd Casey Stadium. It felt like Tiger Woods meets Charles Barkley in a golf match, Danica Patrick gets chased by Fred Flintstone on a banked oval, a beauty contest between Cher's original face and her most recent face-lift.
Chuck Wepner, known as the Bayonne Bleeder and the inspiration for the "Rocky" movies, all 50 of them, took some serious beatings during his fighting days, but when it grew too ugly to continue, too ugly to watch, a referee could send him to his corner, where the trainer would begin the process of trying to put his face back together. No such trap door was available for KU to use to save face, though Baylor was penalized 100 yards. The rules required the game play out until the clock expired.
"When I went out there, they were bigger than what I thought," Kansas linebacker Steven Johnson said. "All of them were big. And I was just like, 'What in the world are they eating?' You know what I mean? Like, 'Dang, how are they that big?'"
Baylor didn't look as big in losing to TCU, 45-10, two weeks ago, but the Bears have come a long way under third-year coach, Texas-to-the-bone Art Briles, a creative offensive genius who cut his coaching teeth winning Texas high school games under Friday night lights.
When the players headed to the locker rooms at the half, a peek at the scoreboard wasn't necessary to identify the team leading 27-7. The Bears ran together off the field, heads held high. The Jayhawks walked off it, staring at the ground, in no particular hurry to hear about it.
The wounds to the KU football program from this one cut so deep because Baylor always represented the best chance to beat a team from the South, and it might still, and how depressing is that? Starting next autumn, Kansas must play all six South teams every season and play just three teams a year from the current North. The tables flip, it becomes twice as difficult to win, and as it is, Kansas has had just one winning record in the Big 12, when it went 7-1 in 2007.
Nothing about the way Kansas stumbled inspired a belief that this is a program being steered in the right direction. For example, why did head coach Turner Gill need to burn a timeout on fourth down after a lengthy replay review supplied ample time to get everyone organized for the next play? The sideline looked so chaotic. It's the fifth week of the season. Not good.
On defense, the coverage was so soft the Bears had time to catch the ball and turn into running backs, which left KU defenders forever having to make open-field tackles, the obvious cause of so many whiffs.
Baylor can't match Kansas in either facilities or crowd support, but has a geographic advantage. The Bears also have a game film to show recruits bypassed by Texas and Oklahoma and considering BU and KU.
More like this story on KUsports.com