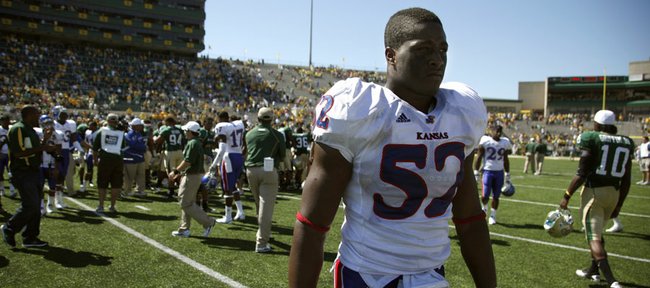 Feature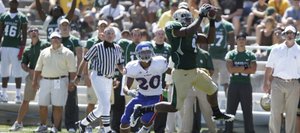 Baylor dismantled Kansas, 55-7, Saturday, October 2, 2010 in Waco, Texas.
KU vs. Baylor
Kick returner still a weapon
Kansas University sophomore D.J. Beshears did enough his first two kickoff returns Saturday to make Baylor coach Art Briles change his mind about giving the dynamic return man another chance.
After opening the game with a 30-yard return and popping a 28-yarder on his next chance, Beshears had just one more opportunity the rest of the day, as the Bears elected to employ a directional-kicking scheme to neutralize him.
"I don't really like it, but I really can't do anything about that," Beshears said. "I guess they're intimidated by me back there returning kicks."
Beshears gained 70 yards on three kickoff returns, the last of which came when Baylor had the game well under control.
Beshears, who set up for kick returns three times in the game's first five minutes, said he was at a loss to explain why things went south so quickly Saturday.
"I was really shocked," he said. "The big thing was they just came to play more physical than us, and they executed. And we didn't. Coming into Big 12, everybody's going to give it their all. It's either you come out and you go hard, or you go home. It's plain and simple."
Zlatnik injured?
Red-shirt freshman Duane Zlatnik, an offensive guard from Rossville who has logged increasing playing time in recent weeks, went down because of an injury midway through the second half and momentarily left the game. After hobbling off the field, Zlatnik re-entered the contest a few plays later and appeared to be fine after the game.
"He sprained his ankle," KU coach Turner Gill said. "He ended up going back in and playing, so I think he'll be fine."
Bye week up next
The Jayhawks will have a few extra days to stew over their most recent loss since this is the team's bye week. The Jayhawks will not play again until they face Kansas State at home on a Thursday, Oct. 14.
Though the time off will give KU more time to reflect on Saturday's struggles, many Jayhawks said it also would help the team refocus.
"Of course we want to go out there and play again as soon as possible," KU quarterback Jordan Webb said. "But it'll be good to get everybody back healthy."
Added Daymond Patterson: "I think this might be a good time. I think we need to regroup, look and see what we're doing, see what we need to fix, get some guys healthy and just rest your body a little bit."
This and that...
KU won the game's opening coin toss for the first time this season. The Jayhawks called tails and, after winning the toss, elected to receive. In KU's four previous games, its opponent won the toss and chose to defer the choice to the second half..... The 94-yard touchdown pass from Robert Griffin to Josh Gordon late in the second quarter was a career long for both players and also was the longest pass play in Baylor history.... KU's Ted McNulty made the first start of his career.... With his six receptions for 53 yards on Saturday, Patterson has recorded at least four catches in every game this season.... Six Jayhawks set career-highs in tackles on Saturday. They were: Lubbock Smith (12), Olaitan Oguntodu (10), Quintin Woods (5), Prinz Kande (3), Greg Brown (3) and Steve Mestan (3). Steven Johnson also matched a career-high with 10 tackles.... Saturday's game kicked off just after 11 a.m. and was played under sunny skies, a temperature of 74 degrees and a light wind of 9 mph from the north.
More like this story on KUsports.com