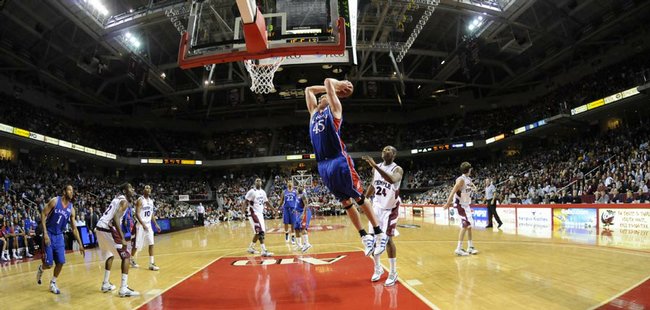 FINAL: KU defeats Temple, 84-52
C.J. Henry takes an ill-advised shot, pulling up for a 24-foot fadeaway that clanks away. Thomas Robinson gets the rebound, though, but he bricks the one-handed follow try. At a break, Self yells to him: "Thomas, two hands! Two hands!"
The Rock Chalk Chant starts with 2 1/2 minutes left, always an interesting sound on someone else's home court.
Elijah Johnson puts in two free throws to put KU up 31, and Self empties his bench. Jeff Withey and Chase Buford check in.
Withey elevates for a block in the lane, and Chase Buford rips down a defensive rebound before getting fouled. He makes one of two free throws.
The Jayhawks run out the clock on a dominating 84-52 victory.
KU 74/Temple 48 — 3:39 left in game
Xavier Henry puts in a short shot with a whistle. After Xavier's free throw, KU extends its lead to 28.
C.J. Henry gets free at the top of the lane, and he swishes the straight-on three. C.J. is now 10-for-17 (58.8 percent) from the three-point line this year.
Marcus Morris misses a baseline fadeaway, but Aldrich is there on the weak side for the offensive board and one-handed slam.
The Jayhawks are coming at the Owls from everywhere right now on the offensive glass. Xavier Henry misses, but Markieff Morris is there with sticky hands for the tough catch and stickback.
Self yells, "Take him! Take him!" to Collins from the sideline, and Collins does just that to his defender, using a pair of ankle-breaking crossovers to clear space before putting in a one-handed floater.
The most an opponent had scored on Temple all year was 70. At the last media timeout, KU has 74 already.
KU 60/Temple 35 — 7:51 left in game
Marcus Morris takes his man one-on-one, backing to his left shoulder before putting in a 5-footer.
Another miss by Temple, and the Owls haven't scored in over five minutes. Brooks' three over Collins was their last basket.
C.J. Henry checks into the game, and he gets in before Elijah Johnson's first action.
KU 58/Temple 35 — 10:22 left in game
Ryan Brooks hits a tough three right over the top of Collins, but Taylor answers with a drive and short shot off the glass.
Reed follows with a long three that swishes through, and Taylor extends the run with an 18-footer that falls in. Temple calls timeout, and it only has one left with KU extending its lead to 23.
Robinson manages a defensive possession without a foul, and after Reed misses a three, Robinson corrals the offensive rebound before trying to put up a shot. The big man travels, but Self — breaking out a big smile — taps Robinson on the backside and seems especially pleased with the effort.
KU 51/Temple 31 — 14:31 left in game
Morningstar draws some attention, then fires a nice pass over a defender to a cutting Xavier Henry for a layup.
Robinson puts his hand straight up defensively, but he picks up his third foul. He can't breathe without getting a whistle right now. Self looks upset with the call as well.
KU 49/Temple 27 — 15:47 left in game
KU doesn't start with the best second half offensively. Aldrich bangs a shot off the side of the backboard, and though Taylor is wide open crosscourt, Xavier Henry doesn't even look at him before jacking up a guarded three that falls off.
Collins breaks the drought with a deep three, holding his follow-through up a few extra seconds.
Aldrich with a ferocious block, pinning a shot by Craig Williams against the glass before coming down with the rebound as well. The big man fires ahead to Taylor, who is fouled before making two free throws.
Collins draws two defenders before dumping on the baseline to Aldrich, who swings to the basket before throwing in a hard slam. Collins is playing his best offensive basketball of the year, not only scoring but making his teammates better.
Williams has a pass bounce off his head, and he decides not to hustle after the ball. Marcus Morris does, though, and he throws down an uncontested, one-handed slam. Timeout Temple, and Morris leaps up to back-bump Collins on the court.
KU scoring — Sherron Collins 9, Marcus Morris 9, Xavier Henry 8, Cole Aldrich 4, Brady Morningstar 3, Markieff Morris 3, Thomas Robinson 2, Tyshawn Taylor 2.
KU was 16-for-26 from the floor (61.5 percent), 3-for-4 from three (75 percent) and 5-for-6 from the free-throw line (83.3 percent).
Temple was 7-for-31 from the floor (22.6 percent), 4-for-16 from three (25 percent) and 5-for-6 from the free-throw line (83.3 percent).
KU had 19 rebounds to Temple's 15. Both teams had three turnovers at half.
Some thoughts
• Wow, looking at those shooting percentages (KU at 62 percent, Temple at 23 percent), the Owls might be lucky to just be down 17 at half. By the way, Temple's opponents had shot 33.3 percent from the floor against the Owls coming into this game.
• Only three first-half turnovers from KU. As I said before the game, that's a huge stat, and credit to the Jayhawks for not having that many unforced turnovers in the opening 20 minutes.
• Didn't it look like Marcus Morris settled down a bit after his three-point play? Following his two missed layups early, he responded with a good scoring line (9 points) in just 14 minutes.
• Juan Fernandez was just 1-for-9 from the floor in the first half and 1-for-5 from three-point range. Again, credit goes to Taylor, Reed and Morningstar for making it tough on him to get his shot up without interference.
KU 40/Temple 23 — Halftime
Tyrel Reed, not always known for his defense, fights hard through a screen to disrupt a Fernandez three. The shot falls off the rim, and KU comes down with the rebound.
Marcus Morris bursts for a quick move through the lane, putting in a layup under the goal.
Temple's shot selection hasn't been the best so far, as the Owls seem to be jacking up lots of bad threes. After two offensive rebounds, though, Lavoy Allen finally gets a baby hook to fall in the lane.
Aldrich has the ball knocked away inside, but he and Marcus Morris retrieve it under the basket. Aldrich follows with a tough fallaway that drops through, and KU has scored nearly at will against Temple's tough D in the first half.
Marcus Morris executes well on Temple's last offensive possession, staying with a Temple guard after a screen. The Owls follow with a lazy pass that is stolen away, and KU goes into the break with an impressive 17-point lead.
KU 36/Temple 21 — 2:39 left in 1st half
Luis Guzman drives to the basket, and he picks up a foul. He shoots Temple's fifth and sixth free throws of the game already. Remember from our pregame notes, Temple only average 14.8 freebies per game, so the Owls might be on their way to more today.
Xavier Henry doesn't have a defender follow him around a screen, so he calmly steps up to the line to swish a three-pointer.
Collins has an ugly pass go off the scoreboard, but Marcus grabs the carom and puts it off the rim for two.
Markieff Morris rips down a defensive rebound, and on the other end, Marcus Morris shows some toughness in throwing down a short shot for two.
Temple's defense doesn't follow Taylor, and he drives all the way to the rim for two. Temple coach Fran Dunphy calls his second timeout in the last two minutes, and KU has opened up a 36-21 lead with this 17-4 run.
KU 26/Temple 17 — 6:24 left in 1st half
Nice defense by Taylor on sharpshooter Rudy Fernandez, as the tight D forces an airball from the Temple guard.
Aldrich is allowing himself to get pushed around inside by Temple on the offensive end. Though the big man started with good position, he was shoved further to the baseline, and his ensuing shot was off.
The next possession, Taylor can't stay with Fernandez, and the sophomore rings one up for three.
Marcus Morris sure looks nervous. He blows his second wide-open layup of the game.
Collins comes through with another short jumper, then steps in for his second steal of the game. It leads to transition for KU, and Morningstar cans an open three.
KU scrambles on the floor for a loose ball, and Marcus Morris finally comes up with it. He takes it straight to the rim for two, and he also draws a blocking call on the defender. From my vantagepoint, that looked like an easy charge call, and the Temple fans are going nuts at the call.
KU 19/Temple 14 — 10:23 left in 1st half
Aldrich rips down another defensive rebound, and it leads to a 2-on-1 break for KU. A bounce pass from Collins goes to Xavier Henry, and the freshman puts home a two-handed slam to the delight of the KU fans behind that basket.
Markieff Morris misses a free throw, and even down 9-3, the Temple fans won't give up on the "Overrated" chant. Markieff makes the second free throw.
Temple's offensive struggles have shown through early, as the Owls start just 1 of 10 from the floor.
Thomas Robinson checks in, and he puts in a short shot immediately after receiving a nice bounce pass inside from Brady Morningstar.
Xavier is hit on his way up for a three, and he hits all three of his ensuing free throws.
Robinson picks up two quick fouls, and Aldrich will check back in.
KU could be up more if it wasn't missing easy shots. Taylor, Marcus Morris and Aldrich all have missed shots with four feet.
The Jayhawks nearly force a shot clock violation, but with one on the clock, forward Craig Williams threw in a three from about 26 feet. KU answers immediately, though, and Aldrich gets his baseline shot to roll in.
KU 7/Temple 3 — 15:59 left in 1st half
Sherron Collins anticipates a pass and picks off a steal on Temple's first possession. The KU guard takes it all the way to the other end for an uncontested three.
Ryan Brooks answers with a three to give Temple its first lead.
KU has slowed its pace offensively so far, matching the deliberate play that the Owls want to have. Collins somehow keeps his dribble in the lane, and he puts up a high-arching shot off the glass for two.
Collins follows with a deep three from the left wing, and he screams out toward the Kansas bench. He has KU's first seven points, and he's fired up to boot.
KU has dominated the boards so far, as Temple is only getting one shot per possession because of the Jayhawks' rebounding. KU leads the battle on the boards, 5-3, so far.
4:34 p.m. CST
Temple's fans turned their backs and chanted "Overrated" while KU's starting lineup was announced. Isn't it a little early for that?
4:27 p.m.
OK, I underestimated the KU following. It's at least 20 percent KU fans here, and possibly more. A loud "Let's Go Jayhawks" chant just rang across the floor. Maybe even this won't be a true road environment.
4:18 p.m. CST
Here are some additional notes about Temple, which comes into the game with an 11-2 record.
• The Owls are used to slowing the pace down. They average 63 possessions per game, while the national average is 69 possessions per game. KU has not played a game with fewer than 65 possessions this season.
• Temple is second in the nation in three-point defense, as opponents have made just 24 percent of their three-point tries against the Owls.
• In Temple's 13 games, it has held the opponent to 50 points or less six times.
• Temple averages only 10.5 turnovers per game.
• Senior guard Ryan Brooks leads Temple with a 15.8-point-per-game scoring average. He's scored at least 19 points in each of his last four games.
• Sophomore guard Ryan Fernandez is second on the team, averaging 14.3 points per game. He has made 32 of his 69 three-point attempts this year (46.4 percent). He also was at his best in Temple's upset of No. 3 Villanova on Dec. 13, scoring a career-high 33 points on 11-of-15 shooting (and 7-of-9 shooting from three-point range). I'd assume we'll see lots of Brady Morningstar on him.
3:58 p.m. CST
Let's get into some description of the Liacouras Center here on the Temple University campus.
The first thing that you notice walking in is the building isn't that old (despite what Marcus Morris might say).
The building has a fresh feel, with each of the 10,224 seats surrounding the court wearing Temple's maroon color.
Behind one basket, where the student section is located, there is no upper deck. In fact, there are only about 15 rows of seats behind that basket.
The ceiling isn't that high, because the arena isn't large or as "airy" as, for example, UCLA's Pauley Pavilion. That means, if Temple were to make a run, I would think the noise should reverberate easily, which would make this an extremely loud atmosphere.
There is good news for KU, and that is that there are quite a few KU fans in the arena. Blue shirts are splotched in seats around the building, and though there aren't as many Jayhawk fans here as there were in L.A., I'd still say that the KU contingent, at this point, makes up at least 10 percent of the fans here.
3:08 p.m. CST
Welcome back to the Newell Post Live, coming to you from the Liacouras Center in Philadelphia where the top-ranked Kansas Jayhawks are getting set to take on the 18th-ranked Temple Owls.
This game will feature a battle of two of the best defenses in the nation. According to KenPom.com, KU is second in the nation in adjusted defensive efficiency, while Temple is seventh. Temple also is second in the nation in scoring defense, as teams have scored just 54.2 points per game against the Owls.
To me, this game will come down to the Jayhawks taking advantage of a pair of weaknesses that Temple has displayed so far.
Though the Owls are about as sound as a team can be defensively, there is one area where they don't thrive: turnovers. Temple only forces 12.3 turnovers per game. Opponents turn the ball over 19.3 percent of possessions, which is 247th nationally (NCAA average is 21.0 percent).
So one of the biggest keys for KU will be to follow that trend and not turn the ball over. It's going to be tough enough for the Jayhawks to score against Temple's stingy defense, but if the Jayhawks turn it over 15 or more times against a team that doesn't force many turnovers, they're asking for their first loss of the season.
Temple also struggles in another area: getting to the free-throw line.
The Owls average 14.8 free throws per game, which isn't a large number. They also have made just 63.7 percent of their free throws this year.
Obviously, this will be an emotional game played in front of a super-charged crowd. In these types of games on the road, the officiating can sometimes be inconsistent.
Still, KU can't afford to give a team that struggles offensively (and that normally doesn't shoot many free throws) too many free opportunities for points on the free-throw line.
While Temple should be KU's toughest opponent of the year, the biggest two keys for KU might just be playing well in areas that it definitely has an edge. Be sure to keep an eye on KU's offensive turnovers and also Temple's free-throw attempts in today's game.
Be sure to vote in the poll on the left, and also use #kubball to have your tweets appear on the left side of the page.
And, though I'm convinced now that no one reads this far down into the blog, I still feel obligated to put http://justin.tv/sremlahc10, password: phog in this spot so that I feel like I at least tried to tell everyone where the game was online.