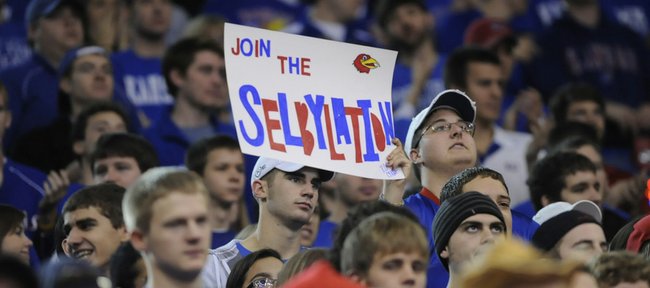 KU vs. USC
Videos
KU vs. USC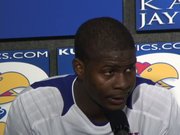 Kansas defeated USC, 70-68 on Saturday, Dec. 18, 2010 at Allen Fieldhouse. Freshman Josh Selby scored a game-high 21 points in his debut, including a three pointer with 24 seconds left in the game to give KU win.
Saturday afternoon at Kansas University's Allen Fieldhouse, two highly touted college basketball players made their 2010-11 debuts.
One, KU freshman Josh Selby, drew non-stop adoration from the raucous home crowd and led the Jayhawks to a 70-68 victory against Southern Cal. In 27 minutes, Selby scored 21 points, including a late three-pointer that proved to be the game-winner.
The other, USC guard Jio Fontan, a junior and former high school teammate of KU's Tyshawn Taylor, was left to speak about falling short in his first game with the Trojans after transferring from Fordham.
Both players had good days, flashed serious skills on the offensive end and were responsible for a good chunk of their team's offenses.
In the end, Fontan needed only a few words to compare and contrast the openers.
"He won. I didn't," Fontan said. "It's as simple as that. It doesn't really matter how many points he had or how many points I had. He hit a big three."
That three-pointer — one of five from Selby — came with 26 seconds remaining and put KU ahead by one. From there, the focus shifted to Fontan, who, with 6.2 seconds remaining and USC trailing by one, took an inbounds pass in front of the USC bench but was hounded so closely by KU's Brady Morningstar that he stepped out of bounds and turned the ball over.
Perhaps the most telling sign of just how much Fontan means to the Trojans was that USC coach Kevin O'Neill called Fontan's number in that final sequence.
"It had many different options," Fontan said of the play. "But we were trying to get me the ball. I've just gotta do a better job of getting open and getting my feet in bounds."
Though the costly miscue was the one that stuck with him, Fontan had more good moments than bad. In 35 minutes, he finished with 15 points and two assists on 4-of-9 shooting. He added five turnovers, but also earned the respect of KU coach Bill Self.
"(With Fontan on the floor), they go from a team that labors offensively to a team that is much more confident offensively," Self said. "It allows them to have three offensive players on the floor at the same time who can score and stretch it, which allows them to isolate the post."
In turn, Selby earned praise from Fontan, who said he thought he had played against the KU freshman in the past but could not remember. Regardless, Fontan and the rest of the Trojans knew they'd have to hold Selby down if they wanted to win.
"When you're an All-American and you're the No. 1 player in the country, obviously you're gonna be a focus," Fontan said. "We were aware that he could score the ball. He came in hyped up to be a one-and-done kind of guy, and he lived up to it today. He played really well, and I tip my hat off to him."
Fontan said the experience was one he'd remember for a while.
"Definitely a tough place to play, whether it's your first game or the last game of the season," he said of Allen Fieldhouse. "This isn't exactly the easiest place to play, but I'm glad I got the opportunity to play here. For it to be my first game as a Trojan, I'm disappointed that we lost, but I'm glad I got to play here."