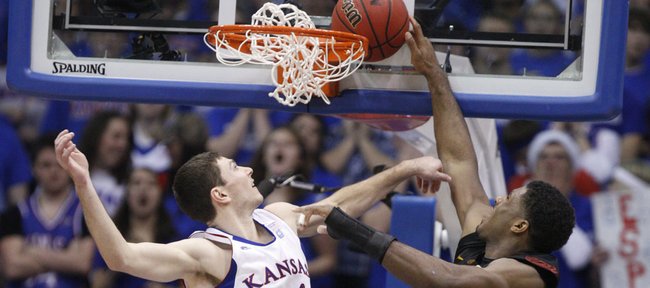 KU vs. USC
Videos
KU vs. USC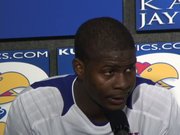 Kansas defeated USC, 70-68 on Saturday, Dec. 18, 2010 at Allen Fieldhouse. Freshman Josh Selby scored a game-high 21 points in his debut, including a three pointer with 24 seconds left in the game to give KU win.
Brady Morningstar's defense was dandy on an inbounds pass play that resulted in a USC turnover with :05 left and KU up, 69-68, in Saturday's 70-68 victory over the Trojans.
USC's Jio Fontan, who was tightly guarded by senior defensive stopper Morningstar, stepped out of bounds in front of the Trojans bench after accepting a feed from Donte Smith.
"Brady's in his hip pocket, so he (Fontan) has to go three feet further out," said KU coach Bill Self, noting, "We put supposedly our best defensive team out there on 'out of bounds under' (USC goal).
"Maybe the pass was off a little bit, I have no idea, but I think he was obviously on the line. Brady deserves credit for that."
Noted Morningstar: "Before the ball is in bounds, you've got to get set and run him (Fontan) off a screen. That's what I did. Thankfully he caught it out of bounds. The whistle blew after he caught it. He shrugged a bit."
He tried to make it
KU senior guard Tyrel Reed, who was fouled on the ensuing inbounds play after Morningstar's stop, made the first free throw then missed the second with :04 left.
His one make gave KU a not-so-safe 70-68 lead.
"He was trying to make them," Self said, noting the strategy was different from the UCLA game in which Mario Little purposely missed the second toss in the closing moments of a 77-76 victory.
"Afterward, he (jokingly) said, 'Hey, I missed way out in the corner, so it took up time and they didn't get off a good look (on Maurice Jones' missed halfcourt shot at buzzer).'
"He's right. They didn't (get good look). Tyrel's a bright kid. He's already graduated. He had it all planned out.
"In that situation, you've got to make it," Self added in a serious tone. "Then we'd have called timeout on the second make and probably fouled when they threw it in (up three). It worked out well for us."
Joked Reed: "It's what I said: 'Miss it on purpose' because it worked out for the best. They couldn't set anything up. 'Kieff (Markieff Morris) tipped it to the corner, and that wasted some time. I should have made it. It's just one of those things."
Off day
Tyshawn Taylor had one assist, six turnovers and seven points.
"I'll be honest. I didn't see much (from Taylor)," Self said. "That was poor play, and he knows that. I'm sure he feels bad but that was poor play today."
Off the bench
Power forward Markieff Morris didn't start because of coach's decision, not any disciplinary reason. Travis Releford opened in Markieff's place and had one point, one rebound and two steals in 15 minutes. Markieff Morris had 11 points and eight boards in 30 minutes.
Little not with team
Little, who was arrested on four counts of battery, two counts of criminal damage to property and one count of criminal trespassing Thursday, remains on suspension. He did not attend the game, but remains on the team.
"He was told that he shouldn't be here (by Self). He's still part of our team, but I don't know what the next move is because I haven't talked to enough people in the know about exactly what is going on," Self said. "If the rumors (of violent behavior) are true, which I'm not saying they are or aren't, it (punishment) will be significant, if or when he comes back. A lot depends what the police report says and what the judge says, obviously."
Ellis in the house
Wichita Heights junior forward Perry Ellis, who has a final list of KU, Kansas State, Kentucky, Memphis, Oklahoma and Wichita State, attended with other members of his high school team.
Hoopla
Signs in the building read, "Josh Chalk Jayhawk," "It's showtime," and "All I want For Christmas is No. 32". ... A funny, crowd-pleasing holiday video shown in the first half had Jayhawk player and coach mugshots superimposed on the bodies of Santa's elves.