KU vs. USC
Videos
KU vs. USC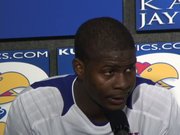 Kansas defeated USC, 70-68 on Saturday, Dec. 18, 2010 at Allen Fieldhouse. Freshman Josh Selby scored a game-high 21 points in his debut, including a three pointer with 24 seconds left in the game to give KU win.
Josh "Showtime" Selby gazed into the lower-level, southwest-corner bleachers of Allen Fieldhouse.
Kansas University's 6-foot-2 freshman combo guard was looking for a loved one after draining his dramatic, game-winning three-pointer with 26 seconds left in Saturday's spine-tingling 70-68 victory over Southern California.
"I blew my mom a kiss," Selby said of Maeshon Witherspoon, who was seated next to a party of nine family members and friends who'd made the 18-hour drive from Baltimore — battling a snowstorm in Ohio on the way — for Selby's made-for-Hollywood KU debut.
Mama was too busy wildly cheering Selby's fifth three-pointer in eight tries, which erased a 68-66 deficit, to return the gesture.
"I was a little nervous," Witherspoon said of Josh letting it fly after accepting a pass from Marcus Morris. Earlier in the same possession, Morris air-balled a 12-footer into the hands of brother Markieff, who quickly returned the ball to Marcus.
"When it went in, I was like, 'Oh yes!" she added.
Selby — he came off the bench to a thunderous ovation at the 15:53 mark of the first half and knocked down a pair of threes on his first two shot attempts — showed guts in taking the shot most responsible for keeping KU's school-record homecourt win streak alive at 65.
"It's confidence. I hit a lot of big shots in my career. I've been there before," said Selby, who told reporters he once hit 10 three-pointers in a game at Baltimore's Lake Clifton High.
Rivals.com's No. 1-rated prospect in the recruiting Class of 2010 was well positioned deep off the wing to accept the feed from Marcus Morris.
"I didn't think he was going to shoot an airball. I thought Marcus was going to make it and get an 'and-one,'" Selby said. "When Kieff got the offensive rebound, I gave 'Mook' (Marcus) a little look. He threw it to me. I fake-passed to Tyshawn (Taylor, seven points, six turnovers) because I knew the defender was going to jump. I just let it go and it went in."
At that point, "I wanted to get to my teammates in the locker room. I wanted the game to be over with after that shot," Selby said.
The game was far from over. Brady Morningstar's aggressive defense on an inbounds pass play resulted in Jio Fontan stepping out of bounds with :05 left, with KU still up by one.
Tyrel Reed, who was fouled on the ensuing inbounds, made one free throw, then missed a second at :04.
No matter.
KU — which led by as many as 14 in the first half and by 11 at halftime — survived a halfcourt heave from Maurice Jones that sailed off the mark at the buzzer.
That Jones miss assured a storybook debut for Selby, who finished with 21 points, most by a KU freshman since Xavier Henry's 27 against Hofstra last season.
"He bailed us out. He saved us," said KU coach Bill Self, quite quotable after KU's 10th win of the season against no losses. USC fell to 6-5. "Of course it's nice to have a guy who wants it in that position. We found out he's that kind of guy for us. He's just a street-tough kid. He likes this stage. I think he's a gamer."
Self wasn't surprised Selby was willing to try a game-winning three.
"That's Sherron Jr. right there," Self said, comparing Selby to former KU guard/bulldog Sherron Collins. "There's no way he was passing up that last one. That ball was going up.
"I was walking in (locker room) with Marcus. "(I said), 'Say what you want, that dude has got ... (it's a word) similar to courage or guts,'" Self added with a laugh. "You can't deny that."
Self said it's fitting Selby emerged as hero. He's had a tough go of it, sitting out nine games as penalty for accepting benefits from Carmelo Anthony's business manager, who happens also to be a family friend.
"This moment for here makes the last six months worthwhile. I think that's pretty cool," Self said. "First game back ... national stage ... national TV ... where he is going to be the talk of the country ... I'm really happy for Josh and his mother because they have made a lot of sacrifices to make sure this day occurred."
Witherspoon was a wreck before the game.
"Crying, nervous, wondering if he was going to fit in with the team, because the team has been playing so well. If we didn't get the 'W,' I didn't want him to be blamed for it and all the phone calls and things like that," she said.
Selby seemed calm at a family dinner Friday night.
"If he was nervous, he didn't show us," Witherspoon said, noting she sent him one text Saturday.
"I told him his grandmother (back in Baltimore) says she loves you and to pray before the game. That was it."
Josh says those words and those of his KU teammates kept him calm.
"The night before, my teammates said, 'Do what you do, and you'll fit right in. Don't worry about trying to do too much.' When they said that, I was relaxed," Selby said.
"I think it is a relief," he conceded after hitting five of 11 shots overall, with five rebounds, four turnovers and one assist in 27 minutes. "Now I think my teammates trust me more, and the coaches trust me more."
After saluting adoring fans as he exited the court — Witherspoon called it "Josh's sanctuary" — through the northwest tunnel following a postgame interview with ESPN, Selby conducted more interviews, then signed autographs and posed for pictures for fans, including a 2- or 3-year-old girl whom Selby held in his arms.
Quite a day. Quite a night ahead.
"We'll eat some dinner and relax," Witherspoon said of plans after the early 11 a.m. start. "Probably some more hugs and crying. He's going to have to take some phone calls from back home. It's a beautiful blessed day."
KU will meet California, another Pac-10 team, at 10 p.m. Wednesday in Berkeley, Calif.
More like this story on KUsports.com