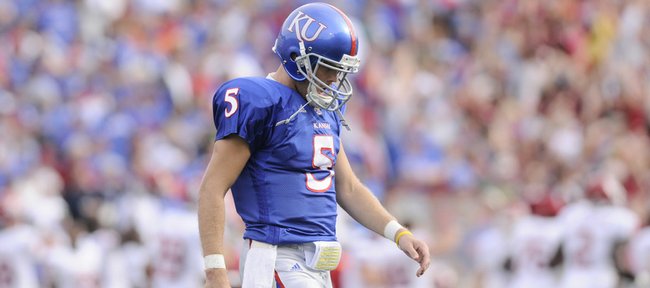 Podcast episode
Jesse Newell and Tom Keegan discuss the KU football team's 35-13 loss to Oklahoma. What does the future hold for KU football this season? How many more games will the Jayhawks win? Do they still have a shot at the Big 12 championship game? Who is the favorite for the ...
Reader poll
0

8%

235 votes

1

13%

404 votes

2

31%

898 votes

3

33%

956 votes

4

10%

305 votes

5

3%

89 votes
2887 total votes.
Videos
KU vs. Oklahoma video highlights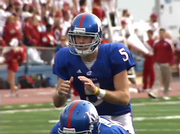 Oklahoma defeated KU, 35-13 Saturday, Oct. 24, 2009 at Memorial Stadium.
KU vs. OU
The Oklahoma Sooners stopped Superman on Saturday.
It was kind of a weird thing. Through six games this season, no one had stopped Kansas University quarterback Todd Reesing. Here was a guy who was among the nation's leaders in most significant quarterback categories. A guy who had thrown for a touchdown in 24 straight games, the nation's longest streak. A guy who, after putting together another 300-yard passing performance and leading his team to another victory, has been known to sit in postgame news conferences and talk about the things he didn't do.
Stop Todd Reesing? No one had much managed to slow him down.
But Saturday at Memorial Stadium, during the No. 24 Jayhawks' 35-13 loss to visiting Oklahoma, the Sooners stopped him. They made him feel helpless, and when Superman feels helpless, it can be a troubling thing to behold.
"It's tough, man," said Reesing, who threw three first-half interceptions in what was the worst game of his four-year Kansas career. "Because when you can't get anything going in the right direction, you just don't know what to do. You try to stay positive and excited and ready to go out there for the next series and get something going, and then series after series when you fail to get the ball in the end zone and capitalize on opportunities you have, it becomes almost overwhelming."
Before Saturday's game, the idea of Kansas' offense — or any member of it — feeling overwhelmed was laughable. The offensive unit was the team's unofficial security blanket. It routinely helped the defense out of jams, gave it a good deal of leeway. Defense gives up 36 points to Iowa State? No big deal; the offense goes out and puts up 41. No big deal. Kind of like the football equivalent of a guardian angel.
And this is what made Saturday's developments so shocking.
A previously unstoppable offense — the one that ranked second in the nation in total offense and fifth in scoring offense — couldn't get anything right. The Jayhawks (5-2 overall, 1-2 in the Big 12) turned the ball over and gave up sacks and were held to a season-low 305 yards of total offense. They dropped potential touchdown passes and employed a brief and highly unsuccessful Wildcat formation and, at times, were booed by their own fans.
If not for a garbage-time touchdown in the final five minutes, in fact, Saturday's game would have marked the first time since 2005 Kansas had failed to record a touchdown in a game.
And despite the assertions of teammates that their senior quarterback would be fine — "Todd Reesing is never down, you hear me?" center Jeremiah Hatch said. "... Todd Reesing is a soldier." — it was hard not to attempt to gauge the game's effects on Reesing, who finished just 22-of-42 passing for 224 yards and failed to throw a touchdown pass for the first time in 25 games.
Taking into account last week's loss to Colorado, in which the quarterback's two first-half turnovers led to 14 Buffaloes points and proved to be the difference in the game, it's accurate to conclude that Reesing is engulfed in the first significant slump of his four-year career.
"There are no excuses," said KU coach Mark Mangino, who shouldered much of the blame for Reesing's struggles. "He has made some throws that he should not have. He knows that. We all know that. He understands that. He's not offering any excuses, and neither am I."
Of course, in the end, even a flawless performance from the quarterback might not have been enough to piece together a victory Saturday.
Despite the offensive struggles, the first half went promisingly enough, as a 57-yard field goal from kicker Jacob Branstetter in the final seconds of the half pulled Kansas within a possession, 14-6.
But following an encouraging first-half performance in which it held the Sooners to just 110 yards of total offense, the Kansas defense reverted back to its old ways in the final two quarters, giving up three second-half touchdowns to a team playing without its Heisman Trophy-winning quarterback (Sam Bradford), All-American tight end (Jermaine Gresham) and top running back (DeMarco Murray).
And so it went on a day in which the race for the Big 12 North title grew increasingly murky.
Thanks to the weekend struggles of North favorite Nebraska, which fell, 9-7, to Iowa State earlier in the day, the Jayhawks remain in the thick of things heading into their final five games, though, with remaining road games against No. 3 Texas and No. 21 Texas Tech, the margin for error is becoming increasingly minuscule.
"We can't sit here and look back and feel bad for ourselves, because we're still very much in the hunt of things" Reesing said. "Just looking around at what's going on in the conference, everyone's got a loss or two in the North.
"There's a lot of football to be played," he added. "By no means are we out of it."
More like this story on KUsports.com