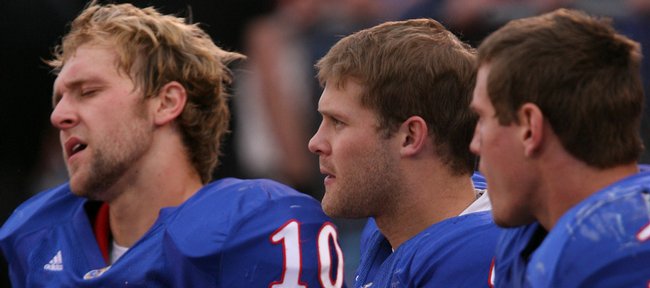 Podcast episode
Jesse Newell and Tom Keegan discuss the KU football team's 35-13 loss to Oklahoma. What does the future hold for KU football this season? How many more games will the Jayhawks win? Do they still have a shot at the Big 12 championship game? Who is the favorite for the ...
Reader poll
0

8%

235 votes

1

13%

404 votes

2

31%

898 votes

3

33%

956 votes

4

10%

305 votes

5

3%

89 votes
2887 total votes.
Reader poll
A loss to Colorado and a win over Oklahoma

70%

149 votes

A win over Colorado and a loss to Oklahoma

25%

54 votes

Undecided

4%

9 votes
212 total votes.
Videos
KU vs. Oklahoma video highlights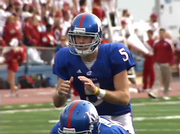 Oklahoma defeated KU, 35-13 Saturday, Oct. 24, 2009 at Memorial Stadium.
KU vs. OU
That southbound train to nowhere known as the Big 12 North looked uglier than ever Saturday. Even so, it seemed absurd to discuss Kansas University's chances of winning the division and making it to the conference title game scheduled for Dec. 5 at Cowboys Stadium.
Nothing about the way KU stumbled its way through a 35-13 loss to Oklahoma in packed Memorial Stadium suggested such a lofty goal could apply to a team that is without question a work in regress.
It's time to lower expectations for a squad that made it through the soft nonconference portion of the schedule undefeated and in doing so remained a mystery. How good were these Jayhawks who in their Big 12 opener extended their record to 5-0 with a narrow victory against Iowa State? Was a road loss to Colorado the next week merely a fluke?
The mystery is gone. The answers to those questions are, not very good, and, no, it wasn't a fluke.
Somebody has to win the Big 12 North because the rules won't allow Texas to line up 11 tackling dummies and have at it, though such a matchup no doubt would pack Cowboys Stadium with folks wearing burnt orange from head to toe, hungry to witness a rout.
Understandably, the Big 12 title game was not on KU coach Mark Mangino's mind after the sloppy loss.
"We've got to get better as a football team," Mangino said. "We can't worry about who's winning, who's got a chance to do this, do that. We've got to focus on what we need to do in this building and what we need to do on the practice fields this week to prepare. We're not even going to talk about where we stand or anything like that."
At this point, Kansas (5-2 overall, 1-2 in the Big 12) hasn't shown it's good enough to take anything for granted, not even a bowl invitation. Five games remain, just one in Memorial Stadium. Kansas will be a heavy underdog in road contests against Texas Tech and Texas. On paper, at the moment, the other three games — at Kansas State on Nov. 7; at home against Nebraska, Nov. 14; at Arrowhead vs. Missouri on Nov. 28 — shape up as tossups, give or take a field goal.
Six victories are needed to become bowl-eligible, but as KU experienced in 2006 when it went 6-6 and stayed home, seven are preferable to lock up a bid.
Saturday's game shaped up as a prime opportunity for an upset. Oklahoma's running game has been sabotaged by injury and an inexperienced offensive line. Red-shirt freshman quarterback Landry Jones is finding his way, and injuries to the receiving fleet make the Sooners less than what they normally are.
A quick start from the Kansas offense against one of the country's best defenses would have lit up the crowd, but for the second week in a row quick Todd Reesing turnovers made KU play catch-up. Reesing's longest day since winning the starting job as a sophomore included the end of his streak of 24 consecutive games with at least one touchdown pass. It wasted a strong first half from the much maligned KU defense.
That always seems to be the way with so-so teams in any sport. On days when the offense clicks, the defense sputters. When the defense shows up, the offense doesn't. So far, so-so.
More like this story on KUsports.com