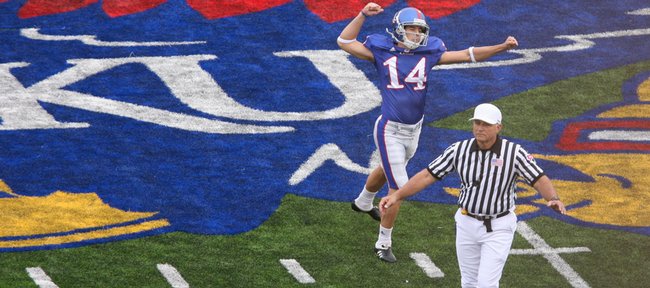 Podcast episode
Jesse Newell and Tom Keegan discuss the KU football team's 35-13 loss to Oklahoma. What does the future hold for KU football this season? How many more games will the Jayhawks win? Do they still have a shot at the Big 12 championship game? Who is the favorite for the ...
Reader poll
0

8%

235 votes

1

13%

404 votes

2

31%

898 votes

3

33%

956 votes

4

10%

305 votes

5

3%

89 votes
2887 total votes.
Reader poll
A loss to Colorado and a win over Oklahoma

70%

149 votes

A win over Colorado and a loss to Oklahoma

25%

54 votes

Undecided

4%

9 votes
212 total votes.
Videos
KU vs. Oklahoma video highlights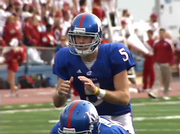 Oklahoma defeated KU, 35-13 Saturday, Oct. 24, 2009 at Memorial Stadium.
KU vs. OU
Jacob Branstetter had good reason to be excited after his 57-yard field goal to end the first half.
"That," the Kansas University kicker said, "was the greatest moment of my life."
Though KU fell, 35-13, to Oklahoma on Saturday, it can't be said that the Jayhawks didn't have a chance at halftime.
KU's players went into the locker room with plenty of positive feelings after watching Branstetter's line-drive kick sail through the uprights. The kick tied for the fourth-longest in KU history; Dan Eichloff still holds the team record with a 61-yarder against Ball State in 1992.
Branstetter predicted that about 65- to 70-percent of the time on a field-goal try that long, he would get the distance needed to clear the crossbar.
He knew the kick had a chance immediately after striking it well.
From his vantage point, Branstetter saw the kick start straight, then veer off a bit toward the end.
It stayed true, though, which set off a zany celebration from the Lawton, Okla., native.
Branstetter raised his arms in celebration, then sprinted off the field, leading his team into the locker room.
"That was probably the craziest I've ever left a field or the craziest celebration I've ever had," Branstetter said. "I was just kind of trying to think, 'Don't get hurt on your celebration.' Everyone likes to make fun of the kickers that get hurt when they're celebrating. I was like, 'Don't trip and fall.'"
After arriving at the locker room first, Branstetter high-fived all the KU players to try to pump them up for the second half.
With the field goal, KU still only trailed OU 14-6 at the break.
"At that moment," Branstetter said, "I thought that was the momentum we needed — that was the 'mo,' so to say, that was going to change the tide of the game."
That ended up not being the case.
In perhaps the game's most crucial drive, OU started the second half with a nine-play, 75-yard touchdown drive, capped by an Adron Tennell nine-yard touchdown catch.
"It was definitely deflating for them to be able to go out there and move the ball on us," KU cornerback Ryan Murphy said.
On that possession, KU forced a third-and-six, but a missed coverage resulted in a 13-yard gain by OU's Brandon Caleb.
Later, after an incompletion, OU would have faced a third-and-15 if KU's Jeff Wheeler had not been called for a roughing-the-passer penalty.
"We defeated ourselves," KU safety Darrell Stuckey said. "Any time you make undisciplined mistakes and penalties on defense, it hurts you. It comes back to hurt you regardless."
More like this story on KUsports.com