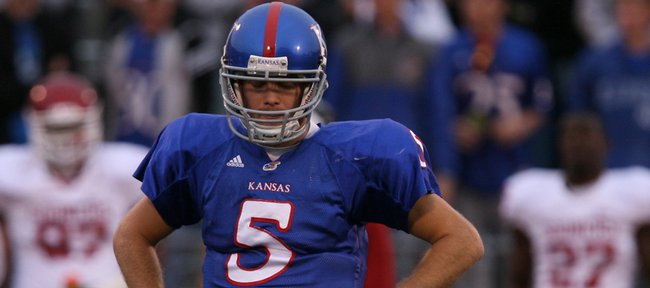 Podcast episode
Jesse Newell and Tom Keegan discuss the KU football team's 35-13 loss to Oklahoma. What does the future hold for KU football this season? How many more games will the Jayhawks win? Do they still have a shot at the Big 12 championship game? Who is the favorite for the ...
Reader poll
0

8%

235 votes

1

13%

404 votes

2

31%

898 votes

3

33%

956 votes

4

10%

305 votes

5

3%

89 votes
2887 total votes.
Reader poll
A loss to Colorado and a win over Oklahoma

70%

149 votes

A win over Colorado and a loss to Oklahoma

25%

54 votes

Undecided

4%

9 votes
212 total votes.
Videos
KU vs. Oklahoma video highlights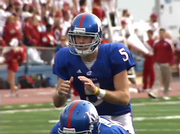 Oklahoma defeated KU, 35-13 Saturday, Oct. 24, 2009 at Memorial Stadium.
KU vs. OU
Oklahoma cornerback Dominique Franks actually felt as if he were the intended receiver — not a ball-hawking defender — on one of the biggest plays in the Sooners' 35-13 rout of Kansas on Saturday afternoon in Memorial Stadium.
"When he pumped it, with his shoulder to me, I was like, 'He's throwing it to me,''' Franks said of KU quarterback Todd Reesing, whose second-down pass in the direction of KU's Bradley McDougald was intercepted by Franks and returned 85 yards for a shocking score.
The pick-six, on a second-and-goal call from the OU 14, was a huge momentum-changer.
Instead of KU completing a possible game-tying drive, the Sooners went ahead by two scores, 14-0, just 1:19 into the second quarter.
"It was a bubble slant," Franks said of KU's designed play. "He (Reesing) looked for the slant, but my safety played it. We had great pressure on him, so he tried to turn and not take a sack. He threw it, and I happened to be standing there."
The 6-foot-1, 190-pound junior from Tulsa — who is one of the leading candidates to win the Thorpe Award, which goes to the country's top defensive back — sprinted 85 yards with no Jayhawk in his way.
"Just hold onto it and score," Franks said of his thoughts while racing downfield alone. "I kind of looked up at the Jumbotron as I was running to make sure there wasn't anybody behind me. It was exciting. I was glad to help my team out and score points."
Oklahoma coach Bob Stoops said the play was monumental.
"They had the momentum, and we take it all the way back. That was big," Stoops said.
OU picked off three of Reesing's passes and sacked the KU standout three times.
"I thought defensively we were special, outstanding in how we played in every position," Stoops said. "I complimented Brian Jackson (senior cornerback). He had a huge game being nose-to-nose with Dezmon Briscoe quite a bit of the day."
Wide receiver Briscoe, who bobbled, then dropped, a certain TD pass that could have cut a 14-3 deficit to 14-10 (KU settled for a field goal before half to make it 14-6), finished with seven catches for 60 yards.
Briscoe had 269 receiving yards in a loss to Oklahoma last season at OU.
"We watched on film ... they didn't like playing man coverage," Franks said. "We wanted to get up there and crowd the line and not give those guys great releases. If we got up on them every time, we knew our D-line was going to get great pressure, get a sack or force him to throw the ball away or, better yet, get a turnover."
Stoops was thrilled with an OU defense that also performed well in last week's 16-13 loss to Texas.
"Two weeks in a row we've shut down good teams. Those are explosive offenses," Stoops said. "Our defense came up with some big turnovers, pressure, sacks."
"We are getting better every week," said OU defensive end Jeremy Beal, who had an interception as well as four tackles. "To hold an offense like that to 13 points ... that's a great job."
More like this story on KUsports.com