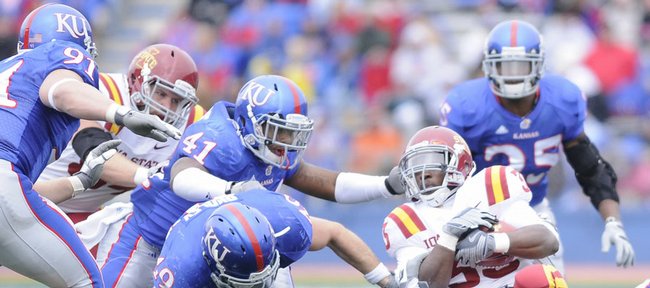 Kansas University is the worst undefeated Football Bowl Subdivision team in the nation. Do you consider that: 1) a compliment, 2) an insult, 3) reality, 4) all of the above, 5) false?
Unless you believe Kansas is better than South Florida and answered 5) — not a ridiculous opinion — then the only honest response must be 4) a compliment, an insult and reality.
It's a compliment to the KU offense that a team so defensively challenged can remain undefeated. It's an insult to the KU defense that a team with such a skilled, precise, explosive offense can come so close to losing at home to a team coming off a Farmageddon loss to Kansas State.
Thanks to Todd Reesing dealing and banking on an offensive line and a running back who protected him superbly and a pair of historically great Kansas receivers showing why they'll be remembered forever, the Jayhawks survived Iowa State, 41-36, and advanced with an unblemished record.
On a cold, gray, windy day, the pregame atmosphere brimmed with a big-time feel. Tailgates buzzed. Yet, the student crowd again showed it's not there yet. Many left at the half of a game Kansas led, 20-12. That would be 16th-ranked Kansas. Unbelievable.
Nobody could blame the students for wanting only to watch half the game, but there was a way to do so without missing the suspense attached to the outcome. They could have watched when Kansas had the ball and closed their eyes when Iowa State had it. That way, they would have left thinking they had a team capable of contending for a national title and had twice as good a time wherever it was they went after leaving Memorial Stadium.
The offense looked that good. Reesing said it was the best protection he has received at Kansas. Coach Mark Mangino said Reesing was "phenomenal" and added it was "one of the finest jobs of pass protection that I think I've ever been associated with in a single game."
Reesing threaded a beauty to Briscoe for a 23-yard, third-quarter score in the left corner of the end zone, a play made possible when running back Toben Opurum halted a blitzer dead in his tracks. That Reesing-Briscoe connection paled when compared to the bomb Reesing threw into the wind for a 46-yard score on which the ball traveled 53 yards. Briscoe stretched his arms out to catch it on his finger tips.
"I put all I had into it to get it there into the wind, and Dez made an unbelievable catch," Reesing said.
The degree of difficulty?
"That's about a 10 out of 10," he said. "That's one of the better throws I probably ever made in college because of how long it was and the small margin of error. ... Those are throws you might get one or two out of 10 on."
It's troubling to think such a great play was needed to beat Iowa State, but to think that means Kansas will get blown out by the likes of Oklahoma and Nebraska would be a mistake, just as it would foolish to think because Kansas has such a dynamite offense it's a given the Jayhawks will win Saturday in Boulder. The offense looks good enough to score on anyone, the defense vulnerable enough to get exposed by any Big 12 offense.
Prepare for a season packed with exciting, gut-twisting shootouts.
More like this story on KUsports.com