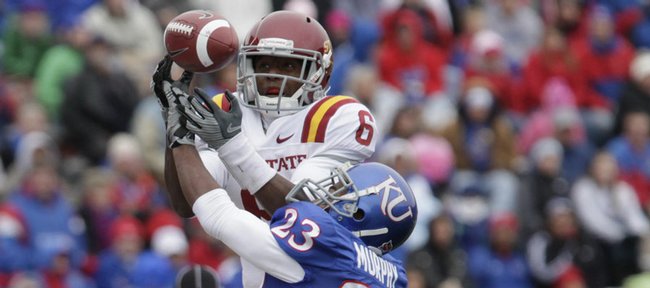 As right-handed Iowa State quarterback Austen Arnaud scrambled to his left, he spotted speedy receiver Darius Darks improvising a route straight up-field.
All Arnaud had to do was get the ball to a wide-open Darks, and the unranked Cyclones would storm past No. 16-rated Kansas University in the closing seconds of Saturday's Big 12 shootout at Memorial Stadium.
"I thought we had him. I threw it about a yard or two too far," Arnaud lamented after the Cyclones' 41-36 loss to the Jayhawks.
The pass — with the wind, but with the QB under heavy pressure — came on a fourth-and-nine call from KU's 31 with a little over a minute to play.
"For a second I thought I was going to catch up to it," said Darks, who hauled in five catches for 35 yards and a touchdown on a day Arnaud completed 25 of 40 passes for 293 yards and two touchdowns.
"It was probably about three yards — three or four yards (overthrown)," Darks added.
It was oh, so close, but no cigar on a day the Cyclones burned KU's defense for 512 total yards.
"I want to get my hands on the ball every play, but I guess that's just the competitor in me. Definitely if I would have touched it I would have caught it," Darks said.
He and Arnaud didn't say anything to each other after the missile soared over its target.
"Every time we come off a drive and something like that happens, whether it's good or bad, we lock eyes. It's kind of a silent thing, but we know," Darks said.
Everybody on Iowa State's sidelines knew how close the Cyclones (3-3 overall, 0-2 Big 12) came to downing the unbeaten Jayhawks (5-0, 1-0).
"Shoot, we had a chance," first-year ISU coach Paul Rhoads said. "Maybe if it's two yards shorter we're having a heck of a celebration right now."
He can understand reasons why the pass fell incomplete.
"When he released it, I thought it was too far down-field already when he threw it," Rhoads said. "When you are scrambling for your life, going to your left as a right-handed quarterback, you've got five guys in blue jerseys chasing you … I thought he did a good job to throw a spiral, let alone one that gave us a chance. They did a nice job of bringing the heat on the last two plays."
ISU also had a pass fall incomplete on third down of the final Cyclone drive.
Rhoads had no complaints on a day kicker Grant Mahoney missed two extra-point tries and had a short 26-yard field-goal try thwarted because of a snap bobbled by the holder. It was a week after the Cyclones had an extra point blocked as the final play in a 24-23 setback to Kansas State.
His message to his team?
"That we've got a good team, and we've got to continue to do the things we're doing in practice and learn how to win," Rhoads said. "We're growing and we're coming."
Notes
• ISU running back Alexander Robinson gained 152 yards off 27 carries and scored two touchdowns. Not bad for a guy nursing a groin injury.
"He was pretty dang healthy, not 100 percent, but pretty dang healthy," Rhoads said of the player who hurt his shoulder late in the game.
• Rhoads credited KU's crowd for a botched snap on the 26-yard field-goal try that resulted in an incomplete pass, not three points.
"It was loud, and that affected the communication between our holder and the snapper on the play," Rhoads said. "That's the way it is when you are in a hostile environment. That's why they call it the home-field advantage."
• A previous version of this story contained an error.
More like this story on KUsports.com