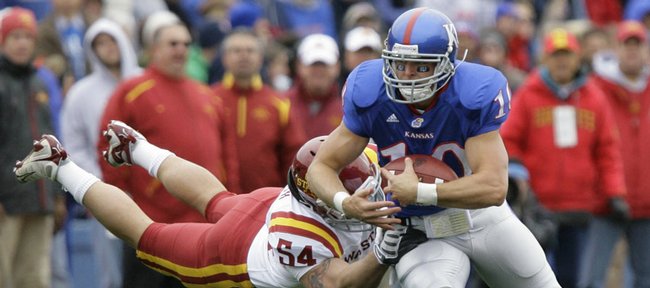 Kerry Meier says it wasn't good sleep at night or Wheaties in the morning that helped him to his record-setting performance Saturday.
Instead, it was a pep talk from his older brother, Dylan.
"It was just some brotherly talk," Kerry said Saturday after grabbing a school-record 16 receptions in Kansas University's 41-36 victory over Iowa State. "The way Dylan is, he's an easy guy that lets life (come) to him. He just takes it all in."
Though Dylan (who played quarterback at Kansas State from 2002-06) usually comes to KU games with their parents, this week he came to Lawrence a day early. The brothers spent Friday talking about Iowa State, football and life in general.
"He's done playing football now, and he's just talking to me about how much he respects the game and how much he's going to miss it," Kerry said.
So what was Dylan's message to Kerry?
Enjoy what you're doing. Respect what you're doing. And have some fun as well.
"I'm one of four Meiers, and right now, I'm the last one playing. Right now, I'm kind of playing for all them," Kerry said. "Their careers are done, (they're) done playing ball. Right now, I'm playing for my three brothers and honoring them and doing some good things for them."
Kerry certainly didn't let down his siblings Saturday.
His 16 receptions were the most by a Big 12 player this season and were just two shy of the conference record. The previous high at KU was 14 catches, which was accomplished by Meier and Dezmon Briscoe in separate games last season.
Meier's performance (142 receiving yards, two touchdowns) was so impressive that even KU coach Mark Mangino was finding different ways to laud the senior.
"He is playing so well and has played so well for such a long period of time that I think people expect him to do that," Mangino said. "Do you know how hard it is to catch 16 balls in a game? ... That's tough to do, but he is just a really talented player, a really smart guy."
Meier now sits atop the KU career receiving charts with 167 catches, as he passed Mark Simmons' record of 155 receptions.
Briscoe is right behind Meier with 165 catches.
"During the game, (Briscoe) was on top. Then at the end of the game, I finished out on top," Meier said. "I think it's good for both of us. We're going to keep pushing each other and make ourselves better."
Meier admitted that there was a friendly competition going on between him and Briscoe.
"It kind of gets that feel of you see one guy do one thing," Meier said, "the other guy is going to try and step up and do something better."
More like this story on KUsports.com