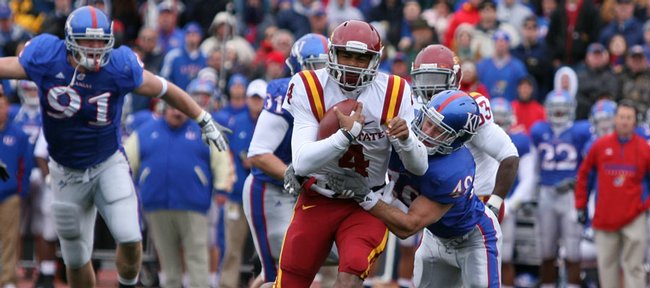 Yeah, the Kansas University football team did what it had to do Saturday at Memorial Stadium, holding off Iowa State.
And, yeah, at this point in the season, a victory is a valuable commodity, no matter how you go about getting it.
But, man …
In KU's much-too-close-for-comfort 41-36 homecoming victory, the Cyclones shined a harsh light upon the 16th-ranked Jayhawks, exposing, in great detail, the flaws and imperfections of a clearly problematic defense.
Easily one of the conference's worst offensive units throughout the first month-and-a-half of the season, the Cyclones had their way with the Jayhawks, rolling up 512 yards and raising serious questions about whether the Jayhawks can survive what promises to be a grueling Big 12 Conference schedule.
"It was not a pretty picture," Kansas coach Mark Mangino said of his team's defensive effort, and that was a bit of an understatement.
In fact, before Iowa State quarterback Austen Arnaud narrowly overthrew receiver Darius Darks in the end zone for what would have been the go-ahead score, there was good reason to think the Cyclones were about to pull off the biggest upset of the young conference season.
Instead, however, Kansas survived, jogging off the field a few minutes later with its unbeaten record — if not its self-confidence — intact.
Following a near-upset at the hands of the Cyclones in last year's conference opener, players spent much of last week assuring a similar letdown wouldn't occur this time around, that the 2008 game had taught them that no Big 12 opponent can be taken lightly.
But then they took the field and, apparently, forgot to take their own advice.
Kansas' dismal defensive performance made Arnaud look like a Heisman Trophy contender for much of the afternoon. The junior, who entered the game ranked last in the conference in passing yards per game, completed 25 of 40 passes for 293 yards and two touchdowns without an interception, adding 67 yards and another score on the ground.
Four ISU receivers finished with at least four receptions, meanwhile, while the team gained an average of 6.1 yards per play and converted six of seven red-zone opportunities.
Even a KU run defense that entered the game ranked third nationally wasn't immune, giving up 219 rushing yards, including a career-high 152 to Cyclones junior tailback Alexander Robinson.
In the end, it was a multi-faceted lesson in defensive futility.
"We just weren't getting off blocks, weren't making tackles," said KU safety Ryan Murphy, who along with true freshman linebacker Huldon Tharp earned his first career start Saturday. "We just really weren't making plays."
The defensive miscues, meanwhile, overshadowed a near-flawless performance by the team's offensive unit.
Behind quarterback Todd Reesing, who set a career high with 442 passing yards and finished 37-of-49 with five total touchdowns, the Jayhawks' offense was able to overcome the defense's shortcomings.
Receiver Kerry Meier grabbed a school-record 16 passes for 142 yards and two scores, Dezmon Briscoe added 12 catches for 186 yards and another two scores, and the Jayhawks scored twice in the fourth quarter to turn a 30-27 deficit into a 41-30 lead.
As Kansas defensive back Justin Thornton put it, "Thank goodness for Todd."
Following the game, Mangino admitted that he wasn't necessarily surprised by the problems of the team's defense — "I knew in April they were going to get exposed," Mangino told reporters. "You all found out today" — and said the coaching staff might need to re-evaluate (read: simplify) its approach heading into a four-game stretch in which Kansas will play on the road three times and face two of the conference's best offensive teams in Oklahoma and Texas Tech.
"Maybe we have them doing too many things," Mangino said. "Sometimes less is better, and as a coach I've got to understand that. You have to know what your kids can do and what they can't, and maybe I have not assessed that properly.
"Even the best fundamental teachers in the game sometimes get caught up in the scheme business, because it really looks good on the board," he added. "(But) I have to understand that what is good on the board might not be best for our players. And it's up to me to get that worked out."
So where does Saturday's game leave the Jayhawks?
A week ago, the team's matchup with downtrodden Colorado looked like nothing more than a formality leading up to an Oct. 24 meeting with the No. 19 Sooners.
But following an afternoon that raised some troubling questions, it's clear that steps must be taken if Kansas hopes to battle for its first outright Big 12 North title in school history.
"Those kids are in that locker room, and I think they're embarrassed," Mangino said. "They know they didn't play well. As coaches, we know they didn't play well; we didn't coach them well enough. And tomorrow we'll get in our meetings, we'll study it, and we'll make it better."
More like this story on KUsports.com