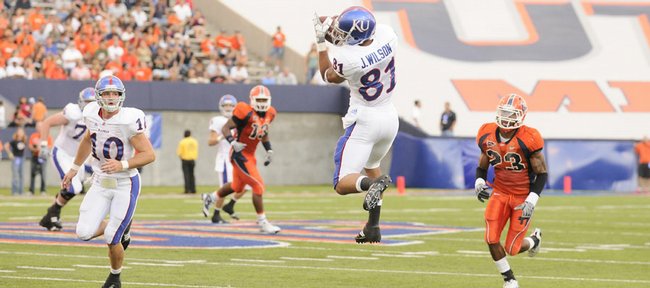 A new era begins
Photo Gallery
KU meets Turner Gill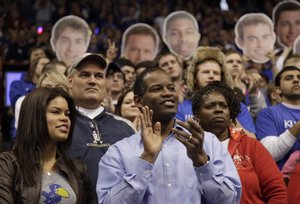 KU Athletic Director Lew Perkins introduced Turner Gill as the new football coach at KU Monday morning.
In the last few days, Johnathan Wilson sent some Facebook messages back and forth to high-school friend Alan Hayes, who is a defensive back on the Buffalo Bulls football team.
The KU junior receiver Wilson wanted to get the scouting report on his new coach Turner Gill.
"Basically, Alan told me, 'You can play your game. Coach Gill's going to let you play your game. He's going to be a disciplinarian, but he's going to let you play your game,'" Wilson said Monday after Gill's introductory press conference. "Sometimes, I feel like not all of our players got to do that. I'm excited about that. I'm going to respect coach Gill as a disciplinarian, because every coach is like that. But I'm excited to play for him."
Wilson said he's most excited about transitioning away from a coaching style that he believed hampered his performance.
"It was playing more not to mess up," Wilson said. "We were scared to mess up. That's a big problem. We were scared to mess up."
Though the results of the formal investigation of coach Mark Mangino never were made public, Mangino had the reputation of being an intimidating figure.
Wilson believes the former coach's tactics hindered more than they helped.
"You're thinking about what mistakes could happen," Wilson said. " ... When you line up out there and you say, 'I'm going to make this play,' then most of the time, it's going to happen. But when you line up like, 'I don't know. What if I don't make this play? What's coach going to say?' Stuff like that. That's when stuff happens, you make a mistake."
Wilson said he wasn't the only one that played to avoid mistakes.
"I was like that. A lot of players were like that," Wilson said. "I don't think we were loose at all times."
It's why the Houston native was relieved to hear Hayes' comforting words about Gill.
"I told (Hayes) about our situation, and some of the stuff he couldn't believe," Wilson said. "He was like, 'He (Gill) is nothing like that. He's a players' coach, and you're going to really enjoy him.'
"One of the biggest things he said to me is that he's going to install confidence in you guys. You don't have to be worried about stuff like your confidence. He believes in you, and he's going to make you believe in your team. That's what I was excited about. I told my teammates that, too."
KU junior cornerback Chris Harris echoed Wilson's assertion that many players were playing in fear of making errors last season.
"That was just the culture here. 'We can't mess up. We can't do anything.' I would say a lot of players played like that," Harris said.
"It just builds stuff in your head to where, 'I can't go make this play, because if I end up making the wrong play, I'm going to come out.' You can see it with the players out there that it does affect them. Y'all have seen it first-hand."
Harris didn't like worrying all the time about a potential miscue.
"I couldn't play like that," Harris said. "I'm pretty sure my teammates didn't have a good [time] playing like that either."
KU freshman quarterback Kale Pick also seemed pleased with Gill's first comments as KU coach.
"I want good relationships with my coaches and to be close to them," Pick said. "I think that'll make our team that much better."