A new era begins
Photo Gallery
KU meets Turner Gill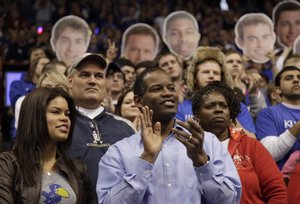 KU Athletic Director Lew Perkins introduced Turner Gill as the new football coach at KU Monday morning.
When University at Buffalo defensive lineman Dane Robinson found out his college football coach, Turner Gill, had officially accepted the head coaching job at Kansas University earlier this week, one of the first things he did was park himself in front of a computer and rattle off an e-mail to current members of the Jayhawks football team.

Among other things, the message — sent directly to the Kansas players who'd recently released a letter of their own voicing their support for KU athletic director Lew Perkins and his ongoing search for a new football coach — detailed the strides the UB program made under Gill over the past four seasons and assured Kansas players that they were getting a talented, high-character head coach.
The letter, which KU offensive lineman Brad Thorson read aloud during a news conference to introduce Gill on Monday, reads as follows:
I just wanted to say to you guys over at KU that you guys are getting a great football coach and should keep your worries minimal. I know that this transition doesnt come off good parting terms with your former coach and I know change can be a scary thing sometimes not knowing what your really getting. But same was the case when I was a freshman back in 2005 and Coach Gill was just as new to me and he is going to be to you. Now I am a senior and he has transformed everything we do here at Buffalo, how we carry ourselves, how we view the game of football, and how we view ourselves as football players. If he has taught us anything here at UB it was to believe, believe in ourselves, believe in this program, and believe in each other. His philosophy and style will always be to treat each one of you guys as people first, players second. He's going you help you use football as a catalyst to better yourself in your life right now and after football. Keep your minds and hearts open to everything that he has to offer you guys. I'll leave you with just one last thought from our mission statement "UB Stands for U BELIEVE" that Coach Gill implemented when he first arrived here, from the acronym B-E-L-I-E-V-E where each letter stood for what this program was going to be all about: B-Believe in each other and the things not yet seen. We did and it has taken us as players, as a team, as a program, and as a community to great things. Good luck to each and every one of you.
Dane Robinson #92
More like this story on KUsports.com