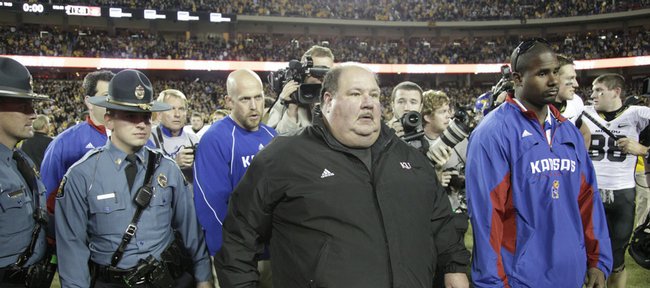 Mangino resigns
Videos
Mangino resigns from Kansas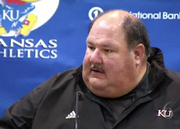 Mark Mangino resigned from the Kansas football team Thursday, Dec. 3, 2009.
Audio clips
Mark Mangino resignation
Reader poll
The Orange Bowl

73%

1930 votes

The back-to-back bowl games

11%

297 votes

The new facilities

2%

75 votes

The investigation

12%

321 votes
2623 total votes.
For a man known largely for his intensity and fire, Kansas University football coach Mark Mangino's departure proved reasonably subtle.
With his days as the program's leader clearly numbered, the embattled eighth-year coach resigned Thursday — less than three weeks after KU athletic director Lew Perkins, prompted by the allegations of a current player, launched an internal investigation into the coach's treatment of players.
On a day rife with rumors and speculation — including false reports of a 4 p.m. KU news conference — the actual announcement proved rather anticlimactic in nature.
Perkins held a 6:30 p.m. meeting with players and assistant coaches Thursday at the Anderson Family Football Complex to inform them of Mangino's decision to step down — though, by that point, news of the coach's departure had already made the rounds through cyberspace.
Around 6:40, the university issued a release in which it indicated the coach and the university had reached an agreement on a buyout that would pay Mangino an undisclosed portion of the roughly $6.6 million he was set to make through 2012. According to the contract, Mangino would have been owed all of his remaining money if he were fired without cause, though he would receive nothing if he were fired with cause.
As part of the agreement, the details of the settlement and the investigation will remain confidential.
Speaking briefly with the media Thursday night, Perkins praised the program's progress under Mangino — who finishes with a 50-48 career record at KU, two wins shy of A.R. Kennedy's school record for victories — but balked at the notion that the coach had been pushed out by the university's administration.
"I didn't make a change," Perkins said. "Coach resigned."
Asked whether Mangino was given the option to stay, however, Perkins declined comment.
Thursday's news marked the end of an arduous two-and-a-half-week stretch in which numerous players spoke out against the coach's aggressive approach.
As allegations of Mangino's mistreatment surfaced and losses piled up (the Jayhawks dropped their final seven games this season after starting 5-0), there was a strong sense that Mangino's tenure in Lawrence had run its course. And as they exited the football complex Thursday night, players feigned no surprise at the news they'd just received.
"We kind of saw it coming," junior defensive end Jake Laptad said.
For the most part, players declined to discuss the specifics of their experiences playing under Mangino, but many expressed relief that the investigation — which began following the team's Nov. 14 loss to Nebraska — had reached a conclusion.

"Now, instead of sitting around and waiting and wondering what's going to happen, we can take the steps necessary to rebound from the situation," said defensive back Justin Thornton, an outgoing senior. "You can't look at it as a negative thing. Change is inevitable. It's just one of those things in life. It's time for this program to move on."
Current defensive coordinator Clint Bowen, receivers coach David Beaty and co-defensive coordinator/linebackers coach Bill Miller will share interim head coaching duties.
A number of former players, however, didn't refrain from airing their concerns of verbal and physical abuse, the most recent of which involved photos provided to the Journal-World that depicted hand injuries sustained by former defensive lineman Cory Kipp after Mangino allegedly ordered the player to bear-crawl across an AstroTurf field in the summer of 2003.
The allegations were the latest in a career that was sprinkled with controversy.
During his first season in Lawrence, Mangino publicly apologized following an incident in which he was seen yelling and pointing a finger at high school officials following a Lawrence High football game in which his son, Tommy, had played quarterback.
Two years later, he made headlines for a postgame news conference in which he criticized officials for their performance in the Jayhawks' narrow loss to Texas, and most recently, the Journal-World detailed a June 2007 incident in which the coach verbally abused a KU Parking & Transit employee who had issued the coach multiple parking tickets.
Despite the coach's messy divorce with the university, however, it's difficult to ignore the progress made under Mangino.
Following a rocky first year in 2002, in which Kansas finished 2-10 and 0-8 in the Big 12, the coach led the team to six or more victories in five of the next seven seasons.
The team's most successful season under Mangino came in 2007, when — with an undersized rookie quarterback and a group of relative unknowns — the Jayhawks climbed as high as No. 2 in the national rankings before finishing 12-1 and beating Virginia Tech in the Orange Bowl. That year, Mangino was named the consensus national coach of the year and signed a contract extension the following summer that was to pay him $2.3 million annually through 2012 — making him the nation's 13th-highest-paid coach at the time.
In 2008, Kansas finished 8-5, topping Minnesota in the Insight Bowl in a game that marked the first time in school history the program had gone to back-to-back bowl games.
As of Thursday night, Perkins said he hadn't yet spoken with any potential replacements — "The job just became available at 5 o'clock tonight," he said — but indicated he'd begin the search process this morning.
Much speculation has centered on Stanford's Jim Harbaugh and Houston's Kevin Sumlin. While at Connecticut, Perkins hired Skip Holtz and Randy Edsall, both of whom are on the national radar as promising coaching prospects. Holtz, now the East Carolina coach, is believed to be pursuing the Virginia vacancy.
What the future holds for Mangino remains less clear.
The coach wasn't present for the meeting between Perkins and players and was unable to be reached for comment Thursday night.
In what would turn out to be his last public comments as head coach of the Kansas football team, Mangino did following last Saturday's season-ending loss to Missouri what he'd done throughout much of the investigation: insisted that he was far from the monster he'd been made out to be by some former players.
"I'm one of the more pleasant people in college football," he said, before making his way from the podium for the last time. "Trust me."
More like this story on KUsports.com