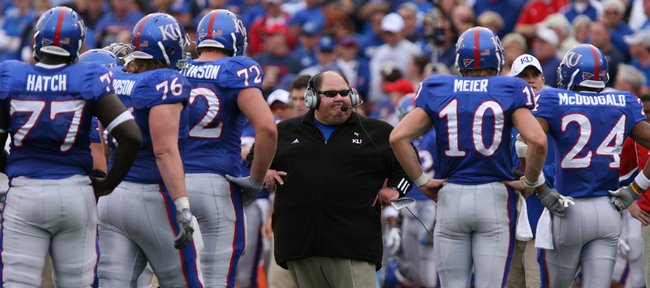 I am standing on Mark Mangino's front porch, getting berated with barks through a closed door by his dog, Yogi. I think I'll recover and won't do anything to try to get Yogi fired from the Mangino family.
Yogi was the only one who came to the door. The coach who elevated the Kansas football program from doormat to 12-1 Orange Bowl champions, then finished with seven consecutive losses, the last two while walking a plank, did not make himself available Thursday night. Mangino no doubt spent the night with his inner circle, which is to say his family. Yogi is a member of a very tight family and any attempt to get him fired for abusing me with yips while protecting the castle would be met with laughter.
Related story
What's next for Mangino is anybody's guess. Will he stay in Lawrence, move back to western Pennsylvania, or head to the next coaching job, perhaps as an offensive coordinator? Tough to say.
Lew Perkins isn't talking either about where Kansas heads next for a football coach, but that isn't quite as tough to determine.
Two candidates stand above the rest and all Perkins has to do is get one of them to say yes to him. Elevating Mangino's salary to $2.3 million and sending KU legend John Hadl out to shake enough trees to build a state-of-the-art football complex makes the Kansas job an appealing one.
The two coaches, both 45, who make the most sense for Perkins to pursue played against each other in the Big Ten from 1983 to 1986, one a quarterback, the other a linebacker.
They both fit the telegenic, people-person profile Perkins seeks as the new face of the football program. Both are proven recruiters and have what it takes to relate to players and boosters, who eventually will be shaken down in an attempt to revive a Gridiron Club ready to be read its last rites.
Stanford coach Jim Harbaugh, former University of Michigan and Chicago Bears quarterback, played against Kevin Sumlin, University of Houston coach and former Purdue linebacker, in college.
Harbaugh has the bigger name and likely would create greater excitement initially than Sumlin, but Sumlin is a better geographic fit as far as recruiting contacts.
Would they come to Kansas? Probably.
The knee-jerk reaction to Harbaugh's candidacy centers on fears he would return to coach at his alma mater 14 years sooner than Roy Williams returned to his. Most think Rich Rodriguez is another losing season from getting fired by Michigan. Don't assume Michigan would be interested in Harbaugh. Bad blood between the school and its former star is well-documented.
Harbaugh burned his bridge back to Ann Arbor during his first year as coach of Stanford when he told the San Francisco Chronicle: "Michigan is a good school and I got a good education there, but the athletic department has ways to get borderline guys in, and when they're in, they steer them to courses in sports communications. They're adulated when they're playing, but when they get out, the people who adulated them won't hire them."
That sat well with the Stanford elite and angered Michigan officials and fans.
Why leave Stanford? Because when word leaked that Harbaugh's pay, estimated at $750,000 in 2009, was on the verge of getting jacked to $1.25 million for 2010, many winced. Kansas can double his new and improved salary.
Harbaughs were born to coach. Jim's father, Jack, won a Div. I-AA national title at Western Kentucky. Jim's brother, John, is head coach of the Baltimore Ravens. His sister, Joani, is married to Indiana basketball coach Tom Crean.
The general consensus of those who are close to the program I polled Thursday night surmised Harbaugh would be the guy Perkins pursues first. If he doesn't get him and can convince Sumlin to head north, Perkins will have landed a coach who masterfully juggles the art of at once being a strict disciplinarian and a players' coach. One anecdote illustrates Sumlin's ability to do so.
A reporter's cell phone went off at a Sumlin news conference this year. The coach smiled and said, "Uh oh," before turning to his players. "What's our punishment for a cell phone?" Three players simultaneously said, "Twenty gassers, coach." The players enjoy playing for him and adhere to his consistent rules.
Houston couldn't match the estimated $1.6 million salary Baylor offered Art Briles, so it doesn't seem possible Houston could compete with Kansas salary-wise.
Buffalo's Turner Gill and Southern Mississippi's Larry Fedora are appealing candidates as well, but if Perkins can land either Harbaugh or Sumlin, there is no reason to explore elsewhere.
More like this story on KUsports.com