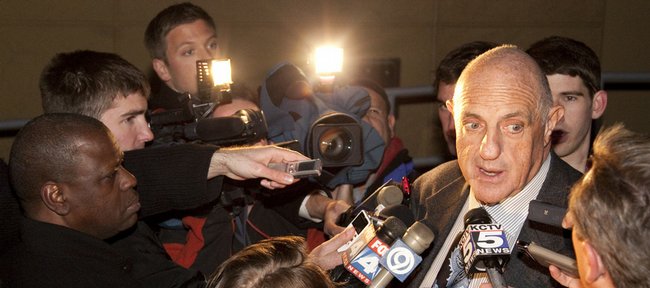 Videos
Mangino resigns from Kansas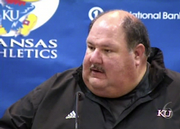 Mark Mangino resigned from the Kansas football team Thursday, Dec. 3, 2009.
Audio clips
Mark Mangino resignation
Reader poll
The Orange Bowl

73%

1930 votes

The back-to-back bowl games

11%

297 votes

The new facilities

2%

75 votes

The investigation

12%

321 votes
2623 total votes.
Kansas University football coach Mark Mangino, whose future with the school has been the subject of much speculation over the past three weeks, resigned Thursday night.
According to a university release, Mangino and the athletic department reached an agreement on a buyout that was less than the approximately $6.6 million remaining on the coach's contract, though athletic director Lew Perkins declined to reveal the agreed-upon sum.
"We appreciate the eight years that Mark has given to rebuilding our football program," Perkins said. "He and I have reached a mutually satisfactory agreement that reflects the appreciation we have for his efforts on behalf of Kansas football."
For the past two weeks, Mangino has been the subject of an internal university investigation into his treatment of players, and multiple players have come forward with allegations against the coach — including verbal and physical abuse.
As part of the coach's agreement with the athletic department, however, the university will keep the results of the investigation confidential.
For the moment, KU offensive coordinator Clint Bowen, receivers coach David Beaty and co-defensive coordinator/linebackers coach Bill Miller will share interim head coaching duties.
Mangino, who took over as head coach at KU in 2002, finishes his eight-year career with a 50-48 record and led the team to arguably its best season in school history in 2007, when the Jayhawks finished 12-1 and beat Virginia Tech in the Orange Bowl. That season, Mangino was named the national coach of the year and was given a contract extension the following summer that made him the nation's 13th-highest paid coach at the time.
The coach's resignation comes on the heels of a 5-7 season in which the Jayhawks — a trendy preseason pick to win a Big 12 North title — failed to gain bowl eligibility for the first time since 2004.