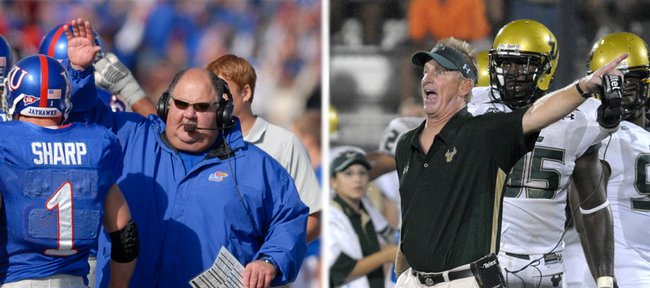 Videos
KU football vs. South Florida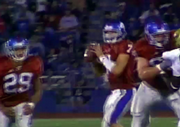 Full video coverage of the Jayhawks' Week 3 showdown with South Florida.
Years ago, when Kansas University coach Mark Mangino and South Florida's Jim Leavitt were toiling away as members of coaching legend Bill Snyder's staff at Kansas State, it was inconceivable they one day would be in the position they are today - coaches of two of the top programs in the land.
Back then, in the mid-90s, they were too busy worrying about keeping their heads above water. There were game plans to be developed and video to break down and recruits to pursue. There was no time to dream.
"A lot of us were just a bunch of young guys, working hard, just trying to stay employed," Mangino says of the group of assistants, many of whom went on to become successful head coaches. "Nobody had time to sit back and think about, 'Well, maybe I'll be a head coach someday.' Or, 'When will that happen?' Heck, you're trying to win games, get a paycheck, take care of your family and just keep at it."
Added Leavitt: "You're just trying to get your work done in the morning, maybe go for a jog at the noon hour and then get out there to practice and go."
But here they are, on the eve of one of the biggest nonconference games of the young college football season, and both coaches are sitting, improbably, at the pinnacle of their profession.
Mangino, in his seventh season at Kansas, was the 2007 consensus national coach of the year. Had South Florida not endured a three-game losing streak after climbing to the No. 2 spot in the polls, Leavitt would have been Mangino's main challenger for the annual postseason honor.
And entering today's 7 p.m. game at Tampa's Raymond James Stadium, the coaches have helped pave the way for the unlikeliest of matchups: Kansas vs. South Florida in a game that not only will be broadcast nationally on ESPN2, but figures to have significant postseason implications.
Adding to the game's intrigue, there are countless similarities that exist between the two programs, from their offensive schemes - both run a variation of the spread - to their undersized quarterbacks - Todd Reesing at Kansas and USF's Matt Grothe - to their rise from relative anonymity.
And in the past year, both programs have managed to create a significant buzz within their local communities.
Without question, the Jayhawks' 12-1, Orange Bowl-championship 2007 season has tilted the axis of power in Lawrence. Previously a "basketball school", the recent success of the football program has evoked an interest never before seen - as evidenced by the school-record crowd of 52,112 on hand to watch the Jayhawks' season-opening victory over lowly Florida International.
In a state long dominated by traditional powers Florida, Florida State and Miami, meanwhile, South Florida has managed to develop a burgeoning fan base of its own, one that this season purchased more than 27,000 season tickets, up from 20,043 a year ago.
And they've managed to matter in a city that already has the NFL's Tampa Bay Bucs and Major League Baseball's Tampa Bay Rays, whose improbable playoff run is the story of the season.
"They have big billboards of George Selvie and the quarterback (around the city)," said Tertavian Ingram, a Kansas wide receiver and Tampa native. "When I got back home, I got kind of mad seeing all those billboards, knowing we had to play them."
Despite all the PR firepower, however, tonight's game is shaping up to be a low-scoring affair, based on statistics through the first two weeks of the season. While the Kansas defense has yet to allow a touchdown this season, giving up a single field goal, South Florida has been equally impressive. Through two games, the Bulls have given up an average of just 161.5 yards per game (67.5 rushing and 94 passing) and feature a number of defensive playmakers - foremost among them, defensive end Selvie.
"(This) is a big game for us," said Selvie, an All-American last season. "It's a big statement game for them. Both teams got a lot on the line."
A loss for either team, of course, wouldn't derail the season. Nor would a victory validate it. Today's game simply offers both teams an opportunity to test themselves against a Top-25 opponent early in the season.
"In no way am I trying to downplay this game," Mangino said. "No way. We're going there to play well and do the best we can to get a win. But this early in the season, if we beat South Florida, I can't tell you after the game that we're going to cruise through the rest of the season. And if we don't, I can't tell you that the rest of the season is going to be a failure, because it won't be."
More like this story on KUsports.com