Videos
KU football vs. South Florida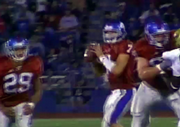 Full video coverage of the Jayhawks' Week 3 showdown with South Florida.
Despite having seen only limited game footage of South Florida as of Tuesday afternoon, members of the Kansas University secondary unit already had seen something eerily familiar while watching Bulls quarterback Matt Grothe pick apart opposing defenses.
"He reminds us of Todd (Reesing)," Kansas cornerback Chris Harris said.
In addition to possessing many of the same physical qualities as Reesing - below-average height, an ability to move well in the pocket - Grothe has something else in common with the Jayhawks' gunslinger: He finds ways to win football games.
Just 12 years after the South Florida program was started from scratch (when the team was founded in 1997, coaches did the team's laundry), the Bulls are a national wonder. They crept to a No. 2 ranking after a 6-0 start last season and enter today's 7 p.m. game against Kansas at Raymond James Stadium with a 2-0 record and a No. 19 national ranking.
While there are various reasons for the Bulls' recent ascension - a top-notch coach in Jim Leavitt, a defense that is currently ranked first in the nation in total defense - there's no denying the impact Grothe has had on the team's success.
A former Florida 4A Player of the Year at Lake Gibson High, Grothe elected to sign with South Florida and, following a red-shirt season, promptly led the Bulls to their first winning season as a member of the Big East Conference.
What has set him apart from various other quarterbacks across the land, however, is his ability to make plays on the ground. He was the Bulls' leading rusher in 2007 with 872 yards and 10 touchdowns and attributes his ability to avoid tackles and make room for himself in the pocket to the years he has spent taking karate (he owns a black belt).
"He's probably the best quarterback we've seen so far this season because of the running ability," Harris said. "He's basically another running back for them. He's not scared to take a hit. He just lowers his shoulder and tries to run over people."
Added Mangino, "He runs various plays that are designed for the quarterback to carry the football in the same way that a tailback would carry the football."
If there's a knock on Grothe, it's that he sometimes struggles with accuracy. Last season, he passed for 2,670 yards and 14 touchdowns with a 59.2-percent completion percentage, but he also threw 14 interceptions, some coming at especially inopportune times.
During the Bulls' three-game losing streak that dropped them from the Top 25, Grothe threw seven picks, including four in a 38-33 loss to Cincinnati.
This season, though, he seems to have benefited from an extra year of experience and the return of 10 offensive starters.
In his first game this season, he threw just eight passes, but two went for touchdowns as South Florida routed UT Martin. Last week, he threw three more touchdowns, one in overtime, to seal the Bulls' 31-24 victory over Central Florida.
"When you have the opportunity to make plays, you have to make plays," UCF coach George O'Leary said. "Their quarterback made those plays."
Tonight, Grothe is hoping to make a few more.
As a red-shirt freshman two years ago, Grothe completed 17 of 32 passes for 196 yards and a touchdown, but threw two costly interceptions in a 12-7 loss to Kansas in Lawrence.
And having had his fill of less-qualified opponents so far this season, he's ready to line up against a nationally ranked opponent.
"I'd rather be playing games like this than cupcakes," he said.
More like this story on KUsports.com