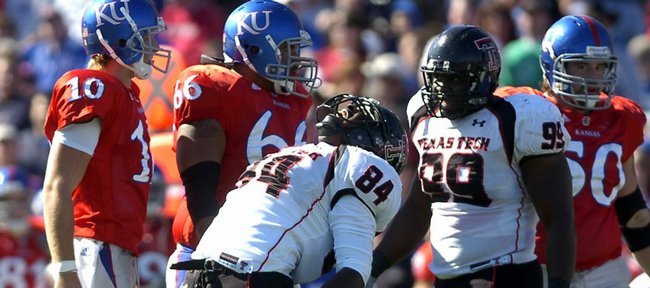 Audio clips
2008 KU-Texas Tech football
Podcast episode
The guys (Tom Keegan, Jesse Newell) analyze what went wrong for KU in its 63-21 loss to Texas Tech. The two also discuss the Jayhawks' chances next week against Kansas State, which also boasts a strong offense.
Podcast episode
In Week 9 of Going Deep, Matt Tait and Eric Sorrentino speak with Cole Manbeck of the Kansas State Collegian. Manbeck discusses a variety of topics, including K-State fans turning on the program, coach Ron Prince's recruiting methods, the impact of Josh Freeman against KU, and what K-State must do ...
It is not an easy thing to put a positive spin on a 42-point college football loss.
It is even more difficult, one would imagine, to do this if the loss occurred at home - during a weekend in which a university's alumni are in town to celebrate said university's history and tradition.
So Saturday, after his team had endured a 63-21 drubbing at the hands of visiting Texas Tech on homecoming weekend, Kansas University coach Mark Mangino didn't try.
"Here's the reality of it," said Mangino, in a statement that was brilliant in its simplicity. "We got a good old-fashioned butt-whoopin' today."
Entering a game in which both teams had a great deal at stake - a Texas Tech victory would have pushed the Red Raiders to 8-0 for the first time since 1976; a Kansas win would have ensured the Jayhawks remained in sole possession of first place in the Big 12 North - the 19th-ranked Jayhawks were a proverbial no-show during a shocking 60 minutes of football that raised serious questions about nearly every aspect of this Kansas team.
No one got off easy against an eighth-ranked Texas Tech team vying for its first Big 12 title in school history. Not a usually potent offense, which turned the ball over a season-high five times. Or a Kansas secondary that, despite a number of personnel changes, couldn't manage a stop until the Red Raiders' 10th offensive series of the game.
Even the Jayhawks' übercomposed quarterback wasn't immune, finishing 16-of-26 passing for 154 yards and a career-worst three interceptions.
"This is the worst loss of any sport I've ever played in my entire life," said Todd Reesing, who failed to surpass 200 yards passing for the first time in 13 games. "It's tough when part of the reason you lose so bad is your own performance. I've never turned the ball over like that before in a game ... There's nothing really else you can sugar-coat it with, it was just a bad day for us."
Of course, even a career day from Reesing might not have made much of a difference Saturday.
Texas Tech quarterback Graham Harrell officially nudged his way into the top tier of Heisman hopefuls, completing 34 of 42 passes for 386 yards and five touchdowns, connecting with 11 receivers in the process. And on the Red Raiders' second offensive play of the game, he wound up and hit Edward Britton for a 55-yard touchdown pass that set the tone for the afternoon.
The Jayhawks were able to hang tough early on, answering each of Tech's first two touchdowns with scores of their own.
After punting on their first possession, Kansas scored twice in a row to keep the Red Raiders within reach. Reesing hit receiver Kerry Meier for a 33-yard touchdown pass and followed it with a 10-yard strike to Dezmon Briscoe on the Jayhawks' next drive. For a short while, it appeared the game was shaping up as the shootout many had expected it to be.
Then, for reasons no one could quite explain, the Jayhawks shut down. The offense stopped moving the ball. The defense stopped defending. The special-teams struggles, which seemed to be fixed following a unit overhaul, returned with a vengeance Saturday.
When the dust had settled, the Red Raiders had accumulated 49 straight points and built a 63-14 lead early in the fourth quarter (Good college football rule of thumb? More often than not, a 49-0 run against a team will not be overcome).
"It happens to everybody from time to time in college football," Mangino said. "You get a day where the snowball starts rolling down the hill, and it gets bigger and bigger and bigger, and before you know it, you've got no chance to stop it, and it runs you over. And that's what happened to us today."
Afterward, players quietly gathered themselves and attempted to pluck a silver lining from the wreckage.
It wasn't easy.
"We're not broken, we've just got to figure out our identity," insisted safety-turned-corner Justin Thornton.
"We could have easily been in the locker room, cussing, hollering, screaming at each other, but it wasn't that, so that's a good sign," said safety Darrell Stuckey.
"We're going to shake it off, I'm going to shake it off, we're all going to have to shake it off; and we're going to have to defnitely bounce back," Meier said.
Barring the unthinkable, Kansas' streak of 17 straight weeks in the top 25 will come to an end once the polls are released this afternoon. Their perch atop the Big 12 North standings is now a three-way tie between the Jayhawks, Missouri and Nebraska. And now, the team's game against Kansas State on Saturday, once thought to be a mere formality, suddenly doesn't look all that alluring.
"This program has had to fight through losses before and tough times, and we will continue to do that," Mangino said. "There's no doubt in my mind that our team will be ready to play next week. I'm not concerned about that."
Go figure
1 Times Texas Tech was forced to punt
3 Interceptions thrown by Kansas' Todd Reesing
2 Sacks recorded by Kansas University's defense
2 Sacks recorded by the Red Raiders
1 NCAA-leading sacks allowed by Tech in its previous seven games
34-42 Completions-attempts for Tech QB Graham Harrell
8.7 Average yards per pass attempt for the Red Raiders
5:26 KU's time of possession in the second and third quarters combined
24:34 Tech's time of possession in the second and third quarters combined
51 Points by Texas Tech's basketball team vs. KU in March
More like this story on KUsports.com