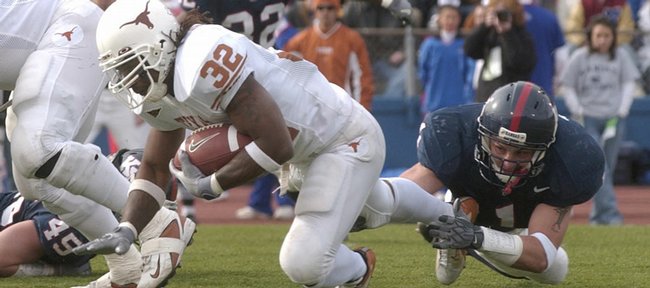 Since the beginning of the season, there really has been no question as to what would emerge as the prominent story line heading into this week's Kansas University-Texas game.
Dollar signs.
Or, more precisely, the controversial ending that sparked Kansas coach Mark Mangino's heated and much-discussed postgame rant.
By now, you know the story. The Jayhawks were leading the Longhorns 23-20 late in the fourth quarter in '04, on the verge of upsetting No. 6 Texas. Facing a third-and-seven from the their own 26-yard line, then-Kansas quarterback Brian Luke found receiver Charles Gordon for what appeared to be a 17-yard gain and game-clinching first down.
Then a flag whipped through the afternoon air and landed nearby. Officials gathered to talk things over. After a few moments, they decided that Gordon had been guilty of pass interference. Texas got the ball back, surgically moved it down the field thanks to some late-game heroics by then-quarterback Vince Young, and, well, that was the end of that.
Afterward, Mangino stood at a podium, adjusted the microphone and unloaded a memorable diatribe against the officiating crew, using the now-notorious terms "dollar signs" and implying that the pass-interference penalty was a conspiracy to help the Longhorns qualify for a BCS bowl game - thus resulting in a hefty payout to the conference.
There was a media uproar, with the incident receiving national headlines, and Mangino eventually issued an apology and was fined $5,000 from the Big 12 Conference.
At 11:30 a.m. Saturday at Memorial Stadium, the Jayhawks will play Texas in Lawrence for the first time since, and if there's one thing Mangino would like to do, it's to move on from the '04 incident.
"That was four years ago," he said. "That's history. I'm not going to go there today. I understand in some quarters that would be a conversation piece, but we're really concerned about Saturday, and that game that happened in 2004 has no bearing."
In truth, much has happened since the teams' last encounter in Lawrence. Most of the players on both teams have since departed, the Jayhawks won themselves a bowl full of oranges, and a new U.S. president has been elected.
And while players were quick to defend their coach's actions this week - "It shows the character of a coach," said junior safety Darrell Stuckey, who was in attendance during the '04 game. "It shows the genuine care of his players and knowing that he wants a fair game for his players" - they also seem ready to move past the incident, as well.
"(It) was an interesting game for sure," senior defensive end John Larson said about the '04 matchup. "But mostly it's just (about), what can this team right now prove? A lot has gone on between now and then, and that game is sort of forgotten. And now it's just two different teams that are facing up against each other."
Earlier this week, Mangino shrugged off suggestions that the '04 game - and everything that followed it - represented any kind of turning point for his program, although it's worth noting that since the game, Mangino's team has gone 32-16, compared to 11-23 before the game.
With just two games left in a regular season that has not turned out quite like the Jayhawks had hoped - Kansas is 6-4 and likely out of the Big 12 North race - the focus is less on what happened four years ago and more about what Kansas can do to make a statement in its final home outing of the year.
If anything, players said, the '04 game represents proof that the Jayhawks, when clicking on all cylinders, can match up against any other team in the nation.
"I think it's any given Saturday," said senior linebacker Joe Mortensen. "If we come out and play our a game, I know we can play with any team in the country. So we've got to get things clicking on defense, and our offense, they're doing well, they've got to keep going. And if we do, I think we can play with anyone in the country."
More like this story on KUsports.com