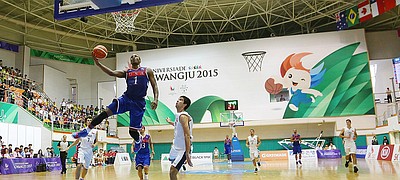 Five seconds into Tuesday's game against Chile, SMU senior guard Nic Moore drained a three-pointer from the right wing. That set the tone for the United States/Kansas University men's basketball team in a 106-41 blowout victory at Muan Indoor Court in the World University Games. By Bobby Nightengale
The Jayhawks dominated Chile in a 106-41 blowout win on Tuesday, July 7.
Blast from the past
"The thing that I really try to make them understand is when you grow up in the state of Texas, right, wrong or indifferent, all eyes are on the University of Texas. Period. So everybody and everything is compared to that. So for me to draw an analogy to a kid, one of the easiest ways for me to do that very quickly is just to tell them, 'Fellas, for me to make you understand what Kansas is, it is the University of Texas in Kansas. It is their Texas. It is just like that.' And it is. This is exactly what it's like here, so when they come here they're like, 'Man, I didn't know it was like this.' How unbelievable the facilities are, the commitment level, the fan following, the town, the location, how it's close to Kansas City, and it's got its own college-town feel to it. It's got the best of both worlds."
— Newly named KU football coach David Beaty, explaining how he recruited Texas kids to Kansas during his time at KU as the wide receivers coach
Read the story
.