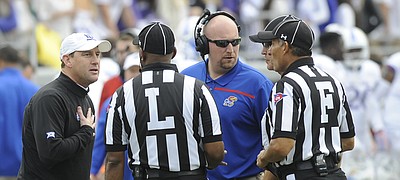 It's one of the great mysteries of our time, ranking right up there with the location of Jimmy Hoffa's corpse, the success of unwatchable reality shows and a giraffe only needing 30 minutes of sleep per day. Why does Kansas compete way better against TCU than vs. any other Big 12 school? It defies explanation.
Basketball
KU Sports Extra
Football
Blast from the past
"We want to bring more respect to this program. We're tired of being looked at as 'Oh, they're going to be a 6-6, 7-5 team and finish in the bottom of the Big 12.' We don't want that anymore. I think we're going to play like that every week."
— Former KU quarterback Todd Reesing following KU's 52-7 victory over Central Michigan that opened the magical 12-1 2007 season
Read the story
.