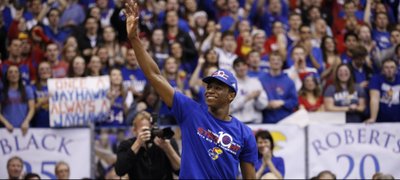 Kansas University basketball coach Bill Self hopes freshman Andrew Wiggins will be named 2014 Big 12 Conference Player of the Year when the league reveals its annual award winners Sunday. By Gary Bedore
Offensive coordinator John Reagan and wide receivers coach Eric Kiesau look forward to what they can accomplish during spring football.
Blast from the past
"I'm fully aware of our deficiencies. I'm fully aware of what they are. In about five seconds, I'm going to be out recruiting to try to plug some of these holes and not have as many deficiencies."
— KU football coach Charlie Weis, talking after his team's season-ending 59-10 loss to West Virginia on Dec. 1, 2012. Read the story.