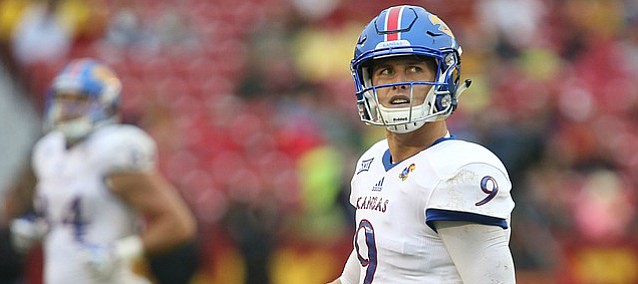 The Kansas football team committed four turnovers in the first half Saturday and lost its 45th consecutive road game against Texas, 42-27, at Darrell K. Royal Stadium.
Once again, the Jayhawks fell into a major hole by halftime and couldn't create enough offense in the second half to mount an upset bid. Receiver Chase Harrell scored the team's only touchdown in the last two quarters, an 18-yard catch with 11 seconds remaining.
The Longhorns (5-5, 4-3 Big 12) led 35-17 at the end of the second quarter. Quarterbacks Shane Buechele (22 of 32 for 249 yards) and Sam Ehlinger (2 of 2, 9 yards) threw one touchdown apiece, but Texas did most of its damage through turnovers and strong field position.
KU (1-9, 0-7) quarterback Carter Stanley was 27-of-43 passing for 268 yards, three touchdowns and three interceptions, including one takeaway that was returned for a score by Texas defensive back Antwaun Davis. Evan Fairs had seven catches for 104 yards, while Steven Sims had nine grabs for 53 yards and a TD.
Stanley led the Jayhawks with 43 rushing yards, while Taylor Martin had 12 carries for 37 yards.
Defensively, Keith Loneker tied Tyrone Miller for a team-high 10 tackles. Loneker added two sacks.
Kansas' 45-game road losing streak is a major conference all-time record, surpassing the 44-game road losing streak by Western State in 1926-36.
Here's a quick look back at some of the action:
• The game turned when: Trailing by 11 points in the second quarter, 28-17, the Kansas defense held the Longhorns to a missed 44-yard field goal attempt and a 3-and-out punt on back-to-back possessions.
Before the Kansas offense could try to cut into its deficit, junior receiver Steven Sims lost a fumble on a punt return. Sims signaled for a fair catch, but the punt from Michael Dickson went through his arms to the turf, eventually recovered by UT's Antwaun Davis.
After recovering the ball at the 22-yard line, Texas converted a pair of fourth down conversions before Lil'Jordan Humphrey found the end zone on a 1-yard run for a 35-17 lead.
• Offensive highlight: Playing about two hours from his hometown of Fulshear, Texas, Fairs secured one of the toughest catches of his young career near the end of the second quarter.
With the Jayhawks trying to cut into their 18-point deficit before halftime, Stanley tossed a high pass toward Fairs' back shoulder along the right sideline. Draped by UT cornerback Davante Davis, Fairs leapt over Davis and pulled down the highlight grab with both hands at the 17-yard line.
Unfortunately for KU's offense, it couldn't make the most out of Fairs' grab. Stanley was intercepted in the end zone four plays later.
• Defensive highlight: Early in the fourth quarter, Kansas junior cornerback Hasan Defense provided a spark when he intercepted a pass from Texas quarterback Shane Buechele. Defense, who appeared to be in zone coverage, jumped up to grab the ball on an out route.
It was Defense's second interception of the season — and only the fourth for the entire defense (the unit, not the player).
• Key stat: Points off turnovers. The Jayhawks turned the ball over four times and were repeatedly punished for it. Antwaun Davis had a pick-six in the first quarter and Texas' offense took advantage of strong field position after another interception and a muffed punt for a pair of scores.
On the other side, Texas committed two turnovers and KU turned it into three points.
• Up next: The Jayhawks will return to Lawrence for their final home game of the 2017 season. KU will meet Oklahoma at Memorial Stadium still in search of its first Big 12 victory of the season.
HOW THEY SCORED
FIRST QUARTER
14:51 — Lorenzo Joe 49 pass from Shane Buechele. Mitchell Backer kick. One-play drive for 49 yards, in 0:09. (UT 7, KU 0.)
8:05 — Antwuan Davis 16 interception return. Becker kick. (UT 14, KU 0.)
5:27 — Steven Sims Jr. 5 pass from Carter Stanley. Gabriel Rui kick. Six-play drive for 56 yards, in 2:31. (UT 14, KU 7.)
3:42 — Toneil Carter 23 run. Becker kick. Five-play drive for 60 yards, in 1:38. (UT 21, KU 7.)
1:55 — Cade Brewer 8 pass from Sam Ehlinger. Two-play drive for nine yards, in 0:28. (UT 28, KU 7.)
SECOND QUARTER
13:11 — Earl Bostick 8 pass from Stanley. Rui kick. Twelve-play drive for75 yards, in 3:44. (UT 28, KU 14.)
12:12 — Rui 36 field goal. Four-play drive for five yards, in 0:51. (UT 28, KU 17.)
4:49 — Lil' Jordan Humphrey 1 run. Becker kick. Nine-play drive for 22 yards, in 3:25. (UT 35, KU 17.)
THIRD QUARTER
5:11 — Rui 32 field goal. Nine-play drive for 49 yards, in 3:49. (UT 35, KU 20.)
FOURTH QUARTER
5:34 — Chris Warren III 1 run. Becker kick. Twelve-play drive for 68 yards, in 5:02. (UT 42, KU 20.)
0:11 — Chase Harrell 18 pass from Stanley. Rui kick. Six-play drive for 80 yards, in 1:19. (UT 42, KU 27.)
---
More news and notes from Kansas vs. Texas